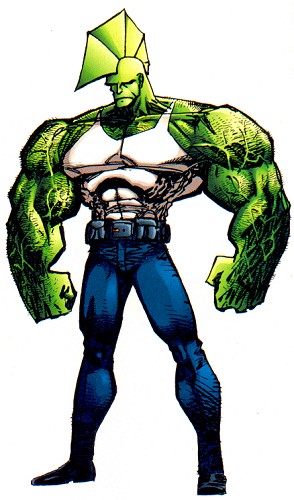 Dragon

Personal Information
Name: Dragon
Real Name: Emperor Kurr
Former Aliases: Savage Dragon
First Appearance: Savage Dragon #1 (Of 3)
Death Issue: Savage Dragon #225
Cause of Death: Blows up after injecting the blood of his son
Group Affiliations: The Chicago Police Department, The Special Operations Strikeforce, The Liberty League, Freak Force
The  Krylans
Height: 5′ 10″ (6′ 6″ at top of fin)
Weight: 450 lbs.
Eyes: Green
Hair: N/A
Date of Birth: December 8, 1962
Place of Birth: deep space
Base of Operations: Chicago, Illinois
Other Distinguishing Features: Two toes, fangs, a fin on his head, disproportionately large upper body and arms
Marital Status: Widowed
Known Relatives: Malcolm Dragon (son), Angel Dragon (step-daughter, deceased), Jennifer Dragon (wife, deceased), Emperor Krull (son, deceased), Maxine Jung Dragon (daughter-in-law), Jack Dragon (grandson), Tyrone Dragon (grandson), Amy Dragon (granddaughter), Paul Dragon (himself from another reality)
Powers: The Dragon has vast superhuman strength. His legs are strong enough to enable him to leap a maximum height of 460 feet straight up in the air, and a maximum distance of 945 feet. He is capable of lifting (pressing) approximately 34 tons. He is very nearly impervious to flame. His skin acts like a bullet proof vest; a bullet isn't capable of penetrating it but a sharp knife thrust by a super human arm can.
History
Found amnesiac in a burning field, a green-skinned freak was taken to Hillman Hospital where he was visited by the Chicago Police Department's Frank Darling who became the first person to speak with him. He soon befriended the man who came to be known as Dragon, a name coined for him by Hillman Hospital nurse, Ann Stevens. Dragon liked the name and had it become his legal identity. His amnesia seemed unique in that he had full recollection of all kinds of things, but nothing about his own identity. This was due to the satellite feed fed directly into his brain, giving him a huge understanding of numerous languages too.
Dragon was asked to join the police force in order to assist them in fighting the Vicious Circle, Chicago's premiere criminal organization. This massive group of super-powered freaks had free reign over the city and the authorities were powerless to stop them. Dragon thought that this responsibility was too much and turned down the offer, instead going to work for Frank's cousin, Fred, at his warehouse.
Frank tried to convince Dragon to join once more and thought that if he witnessed first hand the Vicious Circle's villainy, then he'd be inspired to act. Frank arrange for the criminals to extort Fred, prompting Dragon to leap into action. Fred was killed after the attack and Dragon agreed to join the Chicago Police Department. He was rushed through training as a special case and was soon out on patrol.
Dragon made an instant impact on the streets of Chicago, running in more freaks in his first day than the entire force had done in the previous year. This brought him to the attention of OverLord who dispatched some of his men to eliminate the hero before he became a threat. This clash led to Dragon being badly injured but he was astounded to discover that he had a rapid healing factor, restoring him to full health very quickly.
A young woman named Debbie Harris became known to Dragon, starting with him finding her locked out of her apartment by her mother. He eventually offered a place to sleep and the two ended up spending the night together. The next morning, a knock at the door was heard and Debbie answered. Her ex-boyfriend Arnold Dimple had been informed of her staying with Dragon by her mother, Bonnie. Arnold had hoped to shoot Dragon dead but fired on instinct when Debbie opened the door. Upon realizing that he had killed Debbie, Arnold shot himself before Dragon could stop him. This left the hero devastated, losing his first girlfriend to a terrible act.
Even with his incredible powers, Dragon was only one man and could not hope to take down the Vicious Circle on his own. He lobbied for assistance and was eventually granted that with the arrival of one of Detroit's vigilantes, Dart. They became the first members of the Freak Force program that soon welcomed Barbaric, Rapture and Horridus into their ranks, with Ricochet serving as an unofficial member (due to her young age at the time).
Freak Force soon became frustrated with restrictions placed upon them by the police and decided to break away, becoming bounty hunters instead. They added SuperPatriot and Mighty Man II to their ranks and left Dragon alone on the force once more. Dragon began working with his human colleagues more again, such as Frank and Alex Wilde.
When OverLord's true identity was given up by CyberFace, Dragon attempted to arrest the arch-villain. This initial clash with the criminal mastermind left Dragon badly beaten, with a hole through his torso and a hand missing. It was in the aftermath of this clash that Dragon learned that his healing factor was so advanced that he could regenerate lost limbs and heal from virtually any injury.
It was around this time that Dragon started to date his former teammate Rapture. Due to his previous experience with Debbie Harris, Dragon asked that the couple take their relationship slowly. They soon began a full-blown romance although Rapture's constant jealousy put a strain on their relationship.
Dragon became possessed by the leech-like Wicked Worm and was dispatched on a rampage through Chicago, causing incredible damage before he eventually regained control of his body. His public image had been tarnished by his actions, a situation made worse by a media assassination by newspaper publisher, R. Richard Richards. His Chicago Voice publication began a campaign of hatred that only ended up when Richards himself was arrested for financing the Dragon-Slayer robot.
After the capture of the resurrected CyberFace, Dragon once more had his star witness and went to confront OverLord. This confrontation was less of a fight as Dragon simply neutralized many of his foe's weapons, thanks to intelligence provided by CyberFace, before shooting OverLord through the mouth and killing him. With the city's premiere villain defeated, the public soon began to love the Dragon again.
This new-found adoration was not shared by Bonnie Harris who had become the latest host for the Fiend. She carried out several attacks upon the Dragon that left him with broken bones, severe tissue trauma and even his genitals being torn off, leading to his infertility being reversed as his unknown vasectomy was now reversed.
One assault by the Fiend left Dragon horrifically disfigured when he was left in an industrial smokestack. He eventually broke loose but needed all of his bones to be re-broken by Mighty Man so that they could be set properly. By this time the Gang War was raging out of control for control over the Vicious Circle. Dragon returned to action but even his efforts could not prevent CyberFace from gaining control of the organization.
In the aftermath of the Gang War, Dragon was proposed to by Rapture but he still believed himself to be infertile at this stage. He declined the offer for fear of being able to provide a family for Rapture, only to be told by his girlfriend that she was pregnant. Dragon assumed that Rapture had cheated on him, leading to the end of their relationship. Even after the baby was born and proved without doubt that Dragon was the father, the damage had been done and the couple never really reconciled. The fact that their son, Malcolm, was believed dead after the Covenant of the Sword abducted him (and replaced him with a duplicate) just compounded things. Dragon and Rapture were separated.
When a young woman named Jennifer Murphy discovered that she had mutant powers, it was too late to prevent her from killing her abusive husband. She was cleared of any wrong doing with assistance from Dragon, leading to them becoming friends. Dragon then helped prove her innocence when a serial killer's crimes were blamed on her.
An invasion from Mars left much of the world destroyed and when Dragon abandoned Chicago to take the fight to the Martians' planet, his police superiors were unimpressed. Despite him using newly gained knowledge of alien technology to rid Earth of their enemies, Dragon was suspended for leaving his post. Instead of being left inactive while he fought this disciplinary action, Dragon opted instead to leave the force and become a bounty hunter, vowing to still fight crime.
The United States government were putting together a new team of heroes and approached Dragon to head up the group. He formed the Special Operations Strikeforce with a large number of his friends and allies, causing him to leave Chicago behind for a new home in Washington, DC. Dragon helped train his new teammates whilst also going out on missions to protect his country.
One of the S.O.S.'s first missions was to investigate transfers of land from Earth with that of an alternate world. This led a group to Darkworld and their first clash with DarkLord, the powerful dictator of the planet who was trying to save his people by sending them, and their world, over to Earth. DarkLord killed Rapture before he himself was killed, caught within his own portal as he attempted to flee to Earth.
Dragon was left behind on Darkworld with only Jennifer Murphy, aka. Smasher. The pair desperately searched for a way to survive the doomed planet's destruction. Dragon had hoped to find that world's version of Rapture but instead came across Debbie Murphy, whom he took with him as they located a Martian flying saucer. The triple fled Darkworld mere moments before it exploded.
While aboard their vessel and on route towards home, Dragon felt an attraction to Smasher but felt it inappropriate to pursue anything whilst Debbie was onboard. Their journey came to an abrupt end over the bizarre planet of Godworld where they were struck by a boulder and crash-landed. Debbie was gravely injured and then healed by the Gods, causing her to become one of them. Dragon and Smasher were joined by Herakles as they fought Thor and his army of Gods, hoping to prevent an invasion of Earth. The AllGod became involved and teleported Dragon and Smasher back home.
Dragon remained with the S.O.S. for months until his old friends in Chicago required his help as the Vicious Circle, now under Horde's rule, was gaining control. He went against orders to help his colleagues in the Chicago Police Department. Dragon ended up killing Horde but was then seemingly disintegrated by Abner Cadaver. He was believed to be dead but was actually bonded with the body of his friend William Jonson.
William discovered that Dragon's mind was living inside of him but had no way to reverse this situation. Dragon discovered that he could assert control of his new body, transforming William into a form more resembling his own. William's brother Ralph abducted Rita Medermade and was holding her hostage. Ralph shot his sibling in the head leaving only Dragon to occupy the body. Ralph was killed by OverLord II but there was no trace of William left.
Jennifer Murphy came to the realization that she loved Dragon and sought him out just as Dragon was going to face Cadaver. Cadaver was defeated with the aid of Fon~Ti who then restored both Dragon and William Jonson to their original forms. Dragon and Jennifer were then free to pursue a relationship, soon falling in love.
Dragon spent months away from crime-fighting and instead enjoyed life with Jennifer and her daughter, Angel. The two were soon to be married but Jennifer was kidnapped by the Covenant of the Sword and replaced by an imposter. When this doppelgänger was killed at their wedding by OverLord II, Dragon believed himself to be a widower. He tracked down and eliminated his wife's killer but was now all but retired from heroics.
Now raising Angel by himself, Dragon took to trying to write a book and filming commercials. It was doing this media work that Dragon met a producer named Marcy Howard and the two started dating. Marcy was uncomfortable from the start about Dragon returning to heroics as her father had died in the line of duty. Dragon assured Marcy that he was finished with his previous career but when his inaction led to thousands of deaths at the hands of the Possessor, he changed his mind and rejoined the S.O.S. on a part-time basis. Marcy could not bear the thought of losing Dragon and so she broke off their relationship.
Dragon began a casual relationship with his former partner, Alex Wilde, but when she failed to get a commitment from him, she too broke things off with Dragon. He then started seeing Ann Stevens after she confessed her long-held unrequited love for him. This too was short-lived and Dragon seemed destined to be alone forever.
When the Covenant of the Sword began gathering up super-powered children, Dragon went after the organization. He infiltrated one of their headquarters and learned that not only was Jennifer being held there but so was his long-thought dead son, Malcolm. Dragon clashed with another DarkLord, who killed Jennifer, before attempting to prevent the villain from ever causing death and destruction by eliminating his younger self. Damien DarkLord allowed the attack to happen so that he could shunt Dragon's mind into the body of a Dragon from another reality.
Dragon awoke on this new Earth to discover that it had been left in an almost apocalyptic state with worldwide devastation. He learned that he was a fugitive from the ruling CyberFace and set about a tough task of bringing down the villain but also simply staying alive. Dragon travelled all over the planet in his quest for allies but in the end it was former enemies within the Vicious Circle and other Chicago natives that provided the bulk of his muscle, along with the scientific brilliance of Rex Dexter, Battle Tank.
CyberFace was eventually removed from power and Dragon was once again a hero, now having saved the entire planet. He joined with Rex, Mighty Man II and SuperPatriot to form a new incarnation of the Liberty League. The team's goal was the restoration of their broken planet while also battling against various threats.
Despite finding purpose and a measure of happiness in this reality, Dragon was still not where he considered home. He managed to travel dimensions in search of his original world and eventually managed to get back home. Dragon encountered the Darkworld version of him and after a brutal fight, left his double stranded in Dimension-X.
Dragon soon returned to the other reality when trouble broke out as several servants of DarkLord were looking to bring him over to that Earth. Alex Wilde instead came over from the original world before the portal was destroyed. Dragon had been searching for Jennifer Murphy for years now and was relieved when she finally returned to Chicago. Although they hailed from different realities, they were similar to one another's respective spouses that they found comfort in one another's arms.
The Devourer of Worlds known as Universo attacked Earth, the Liberty League were able to defeat him. Unfortunately for the other Earth, Dark Dragon's removal meant that any preparation for Universo could not be carried out and the world that Dragon originated from was consumed, presumably killing everyone, including Dragon's son and that reality's Angel.
Dragon was left in mourning but gained comfort in Jennifer and the couple were soon married and teammates within the Liberty League. Angel disapproved of these events at first but soon came around, her displeasure easing upon the arrival of Mister Glum who became her best friend and almost constant companion, despite his stated desire to kill Dragon and conquer the planet.
The Dragon Family remained a happy unit for some time before the villainous Negate touched both Dragon and Jennifer. Although Dragon's marksmanship and healing factor seemed to be gone, he was largely unaffected. However, Jennifer was left powerless. She felt endangered all of the time which caused a strain on her marriage with Dragon. He became too blasé for her liking, dismissing most threats outright.
With Dragon's public opinion through the roof after saving the world from both CyberFace and then Universo, he was selected by billionaire Ronald Winston Urass to be his running mate during the presidential election. Dragon was to be President with Urass serving as his Vice-President. Dragon ignored these events until Urass cheated to win the election, forcing the hero's eventual response.
Tension between Dragon and Jennifer only got worse when Mister Glum fed a concoction to Angel that acted as a growth serum. She grew to gigantic proportions and badly injured Jennifer, causing her hospitalization with a broken back, becoming paralyzed. She eventually left Hillman Hospital with the aid of friend Gertie Funt and the pair soon vanished.
The Dragon/Urass victory was thrown out by Congress and an enraged Urass sought revenge, revealing that he was also the ruler of Lieberheim, Dread Knight. The villain decided to seize political power by force and led his army of Dreadheads into Washington, DC to attack the White House. Dread Knight caused unimaginable damage to Dragon before his eventual defeat.
With no legs and only one hand, Dragon attempted to still fight crime with the assistance of cybernetic prosthetics. He fought the laughable Mister Bug but when Dragon struck the villain's weapon, he was consumed by an explosion that left him as little more than a skinless, finless torso in a comatose state.
It was at this point that Mister Glum fired Sgt. Marvel's God Gun, gaining control over all of humanity. Dragon was injected with a unit of his own pre-Negated blood that restored him back to full health. Over the course of more than a year, Dragon attempted to defeat Glum. His efforts met with continued failure despite the efforts of Vanguard, offering up his spaceship as a sanctuary to Dragon.
Dragon's location was discovered by Glum and Vanguard's vessel was dismantled, releasing the imprisoned Universo. Dragon made it to Earth where he destroyed the God Gun, ending Glum's reign and forcing him to flee to Dimension-X with Angel. Universo once again set about consuming Earth but this time Dragon and his allies were unable to halt his progress. The planet's salvation only came when Solar Man, resurrected by the God Gun's destruction, returned to slay the cosmic entity.
Solar Man now became the world's favorite superhero while Dragon's public approval ratings began to plummet. He left Solar Man to take his place and instead went looking for his estranged wife, traveling all over the planet in search of her. Dragon was forced to abandon this quest in order to deal with Solar Man whose murderous actions now painted him as a threat. When Dragon killed the mass-murdering hero, the public and media's disdain for him reached fever pitch. These disappointing events were made that much worse when Dragon learned that Angel had killed Jennifer when brain-washed by Mister Glum and that his wife was deceased.
Dragon's recovery began when his original Angel returned before his long-lost son Malcolm also arrived, having survived years trapped in Dimension-X. This newly united family spent some much-deserved time with one another before Frank Darling offered an opportunity to Dragon to repair his shattered reputation, rejoin the Chicago Police Department to fend off a resurgent Vicious Circle.
The return to the force was not a pleasant one though as the entire precinct was blown up and all of Dragon's friends were killed, including best friend Frank Darling. Alex Wilde narrowly avoided sharing this fate but the loss of their friends caused her to leave town with her fiancé forever.
The Vicious Circle then abducted Dragon's children and on a mission to save them, Dragon knocked one of the villains' goons into a vat of chemicals, unwittingly creating the monster known as Virus. Virus ended up killing his way to Dragon's location at Hillman Hospital where he proceeded to eat Dragon's brain. As he fed on the body, the blood of Dragon transformed Virus into an exact duplicate, down to memories, fingerprints and psychological profile.
This seemed to be the end of that ordeal and Dragon went on to rescue his kids from the Vicious Circle and even made a new ally in the Golden Age hero, Daredevil. But when OverLord III took control of the Vicious Circle, he attempted to cement his position by eliminating their nemesis, Dragon. He killed the hero and had the remains taken to their headquarters for study, unaware that this corpse was actually Virus.
Virus broke loose and massacred a number of Vicious Circle members before going after Dragon's children. He was captured in Rex Dexter's laboratory and it was feared by most that Dragon was now dead forever. Malcolm refused to accept this and gave a blood transfusion to the remains of Dragon, kept in suspended animation since Virus's attack.
The transfusion had the desired affect and Dragon was seemingly restored to life, albeit without any memory of his life once more. Malcolm and Angel did their best to help their father retake his past life but it was obvious that something was wrong. Dragon began acting in a far more merciless fashion and when he clashed with Dark Dragon once more, Dragon killed his duplicate and feasted on his brains to prevent regeneration. Dragon revealed himself to once more be his original incarnation of Emperor Kurr.
Many months later, Kurr had succeeded in exterminating almost all life on Earth using a red mist plague. He was opposed by Malcolm and Angel whom he killed in brutal fashion, their deaths witnessed by Virus. Dragon asserted control of the creature that had consumed his brain and he avenged his children, killing Kurr and burning his brains to prevent any resurrection. Damien DarkLord and Emperor Krull then combined their respective powers and technology to restore Dragon to life using Kurr's corpse and Virus's brain.
Dragon felt horrible over the actions carried out by his original persona and sought to make amends. He convinced DarkLord to take him back in time to just before Kurr unleashed his plague which enabled Dragon to shoot Kurr dead and destroy his weapons. With Earth given a second chance at life, DarkLord then acted to prevent yet another world dying due to the actions of Dragon and used his death-gaze to incinerate Dragon.
Several months later, Dragon once more found himself alive. It seems that the Damien DarkLord of this reality had had the same idea as far as resurrecting Dragon. He had joined forces with Kurr's heir, Emperor Krull, and acquired the pieces required to bring Dragon back to life. Using Kurr's corpse and parts of Virus's brain combined with Krylan technology, Dragon was revived. Dragon finally learned his true origins while trying to come to terms with being the rightful ruler of an entire alien race. Dragon soon reclaimed leadership of the Krylans from Krull and vowed to help his people find a new planet to live upon.
Dragon later phones Malcolm and even sends down a projection of himself to let Malcolm and Angel know that he is alive and well. After getting updated on their lives he wishes them well and continues on.
Vanguard then contacts Dragon telling him that Earth is currently being invaded by the Tyrrus Combine. Dragon tells him that he and the Krylans are too far away to be of any use and that he is actually in close vicinity of Vanguard's home planet Kalyptus. Dragon had hoped to talk to the people of Vanguard's planet in hope of locating a vacant planet, but Vanguard informs him that Kalyptus has already been taken over by the Tyrrus Combine. Dragon feeling that the threat of the Tyrraneans cannot be ignored gases the planet of Kalyptus killing all of the Tyrraneans on the planet.
The Krylans being a peaceful race are not pleased with this course of action and Krull challenges Dragon to a battle to the death. Dragon easily beats Krull and decides to spare him. He then decides to head back to Earth, but not before demolishing the dictorship style of living the Krylans have abided by and instead enacting a democratic system. Dragon leaves with DarkLord aboard a Tyrranean ship, only to have DarkLord abandon him at the start of the journey.
Dragon eventually returns to Earth after his ship is shot down, but he is still able to make it back to Chicago just in time to beat OverLord III while he is fighting Malcolm and Angel. Afterwards, before a true reunion can take place he is arrested by Captain Stewart for his actions as Kurr. He and his lawyer begin to go over his case and it is discovered that if he is found guilty it is possible that he may get the death penalty.
After a lengthy trial where many of Dragon's friends and family come to his defense, he is found guilty of all charges against him. While in jail he is visited by Angel who tells him that she is leaving Chicago to join the S.O.S in Washington D.C. That night, while in his cell, he is visited by a hologram of Lorella. She informs him that Krull, Treeka, and almost all of the Krylans have been killed off by the Tyrraneans. She also tells him that she is coming to Earth and that they are going to need to mate together in order to prevent their race from extinction. Eventually Dragon is sentenced to die for his crimes as Kurr.
While in jail he is visited by Cecil Parasol whom he tells to knock off using his name in his church. Then he is visited by Ronald Winston Urass who gloats about being able to see Dragon die. However, Dragon tells him that the judicial system is a slow moving one and that it is likely that the older Urass will die first. Dragon is soon attacked by a large group of super freaks in prison and is badly beaten. While barely being able to move he is visited by Urass who tells him that it was he who organized the attack on Dragon and for Dragon to expect the same treatment for the rest of his life. Dragon then shoots a tooth straight through Urass's head, killing him instantly.
Dragon is later visited by Malcolm and he gives him some advice to be careful with his powers as he has accidentally killed two people with them and could end up in jail eventually. While in jail Dragon is confronted by Mako and the two battle. It is brutal fight and both of Dragon's arms are ripped off. However, before Mako can deliver a killing blow upon Dragon, Mako is stopped by the security at the jail. A riot soon breaks out in the prison due to Dart II trying to free members of the Vicious Circle. Dragon is attacked by Osgood who has now donned the DreadKnight armor. When all appears lost, Lorella shoots Osgood in the chest destroying part of the armor, which allows Dragon to punch a hole in his heart. Dragon is then able to stop the riot by using the same gun on Gateway.
Dragon decides that he no longer needs the powers given to him through the Chosen One bloodline and is put into a device provided by Lorella. The device takes away everything that made him the Chosen One and is now a standard Krylan. Due to this he is moved a prison for humans in an undisclosed location and he quickly asserts himself as someone who is not going to take things lying down from other prisoners after beating a few of them.
He is later broken out of jail by the VC who want to hold him ransom so they can exchange him for Dart. Dragon is able to escape even with lacking his powers. He is later sent back to jail where he is attack by Mr.Glum, but is able to quickly defeat him, but not before Mr.Glum teleports away. Malcolm continues to visit him in jail throughout the months. Malcolm and Maxine later visit him and introduce him to his grandkids.
Dragon is called as a witness to Glum's trial hearing where Glum tries to escape. Dragon tries to snap Glum's throat with his handcuffs, but Glum is able to escape. Dragon is soon released from prison after President Obama issues him a pardon. He goes and visits his grandkids and plans on baby sitting them in the future. Dragon is later attacked by Torment II while babysitting, but the kids prove to be able to help as well. He later meets up with Alex, who comes back to Chicago, while also discovering that Jennifer Murphy is still alive. Dragon sleeps with Alex and later meets with Jennifer who tells him that she wants to get married. Dragon is unable to decide what to do, but the Earth is soon attacked by aliens which he helps in fighting.
DarkLord soon attacks Earth and defeats nearly all the heroes of the planet. Desperate Dragon, injects Malcolm's blood causing him to become super powered once more. Dragon is finally able to kill DarkLord once and for all, but before he can be negated of the blood injection, he explodes in front of all his family and friends. Dragon is then seen in the afterlife where he finds a castle full of leggy super models, which he plans on making love with for all eternity.
Appearances
10th MUSE
5
1963
6 (on TV)
AFTER THE CAPE
1 (F/B)
ANT VOL.2
2, 5 (F/B)
THE ATOMICS
13, 14, 15
AW YEAH COMICS!
12
BADROCK AND COMPANY
1 (image only), 2
BADROCK SPECIAL
One-Shot (if it came out)
BATTLE POPE: SHORTS
1
BIG BANG COMICS VOL.2
12, 14, 18, 22, 33
BLOODSTRIKE VOL.1
11
BOMBAST
1
BOMB QUEEN III
1 (F/B)
BOMB QUEEN IV
1 (F/B), 2
BRIT
9 (Head Only)
BRIT: RED, WHITE, BLACK AND BLUE
One-Shot
CHEW: SECRET AGENT POYO
One-shot
CROSSOVER
6
CYBER FORCE VOL.2
17 (B/U)
CYBER FORCE v4
5 (Toy)
DEADLY DUO VOL.2
2
DOMINION
1 (TV)
THE DRAGON MINI-SERIES
1, 2, 3, 4, 5
DV8
2
DYNAMO 5
1
DYNAMO 5 ANNUAL
1
DYNAMO 5: SINS OF THE FATHER
2 (F/B)
FREAK FORCE VOL.1
2, 3, 5, 6, 8, 10, 16
FREAK FORCE VOL.2
1
FUTURE SHOCK (FCBD SPECIAL)
One-Shot
GEN 13 VOL.2
3 (B/U, magazine, not in continuity), 13B (dream)
GLADSTONE'S SCHOOL FOR WORLD CONQUERORS VOL.2
4
G-MAN
One-Shot
G-MAN: CAPE CRISIS
3
G-MAN: LEARNING TO FLY
1
HELLHOUNDS
1
I HATE IMAGE (FCBD SPECIAL)
One-Shot (not in continuity)
IMAGE ZERO
00
IMAGE COMICS HARDCOVER
One-Shot
IMAGE COMICS SUMMER SPECIAL
One-Shot
IMAGE UNITED PREVIEW
One-Shot
IMMORTAL TWO
1
INVINCIBLE
8, 40 (B/U), 48, 49, 60, 61, 64, 65, 67 (B/U), 69 (Novelty Toy)
JOHNNY RAYGUN & SAVAGE DRAGON PREVIEW ASHCAN BALTIMORE CON
One-Shot
JUDGMENT DAY
Alpha, Omega, The Final Judgment
LOADED BIBLE
3 (Toy Only)
LOCAL MAN: GOLD
One-Shot
L0VEBUNNY & MR. HELL
1
LoVEBUNNY & MR. HELL: SAVAGE LOVE
One-Shot
MADMAN ATOMIC COMICS
1 (Dream)
MADMAN PICTURE EXHIBITION
3 (P/U)
MARS ATTACKS THE SAVAGE DRAGON
1, 2, 3, 4
THE MAXX
6
MCSWEENEY'S QUARTERLY CONCERN
33 (Kurr)
MIGHTY MAN
One-Shot
MORE FUND COMICS
One-Shot
THE NEARLY COMPLETE ESSENTIAL HEMBECK ARCHIVES OMNIBUS
OGN (not in continuity)
THE NEW MUTANTS VOL.2
7 or 8 (unofficial)
NEW SHADOWHAWK
1
NOBLE CAUSES
7
NOBLE CAUSES: EXTENDED FAMILY
1 (mentioned), 2
NOBLE CAUSES: FAMILY SECRETS
3
NORMALMAN/MEGATON MAN SPECIAL
One-shot (also a spoof)
NOTHING LASTS FOREVER
OGN
NOVA VOL.3 (Marvel)
3 (unofficial, skrull imposter)
THE OFFICIAL HANDBOOK OF THE INVINCIBLE UNIVERSE
1
PACT VOL.2
3
PARADIGM
10 (dream)
PVP
0 (B/U), 3, 11
POWERS VOL.1
4 (head only)
PROOF
12, 13, 14, 15
SAVAGE DRAGON
00 (Kurr), 1, 2, 3, 4, 5, 6, 7, 8, 9, 10, 11, 12, 13, 14, 15, 16, 17, 18, 19, 20, 21, 22, 23, 24, 25, 26, 27, 28, 29, 30, 31, 32, 33, 34, 35, 36, 37, 38, 39, 40, 41, 42, 43, 44, 45, 46, 47, 48, 49, 50, 51 (F/B) , 52 (Mind Only) , 53 (Mind Only), 54 (Mind Only ) , 55 (Mind Only) , 56 (Mind Only) , 57 (Mind Only), 58, 59, 60, 61, 62, 63, 64, 65, 66, 67, 68, 69, 70, 71, 72, 73, 74, 75, 76, 77, 78, 79, 80, 81, 82, 83, 84, 85, 86, 87, 88, 89, 90, 91, 92, 93, 94, 95, 96, 97, 98, 99, 100, 101, 102, 103, 104, 105, 106, 107, 108, 109, 110, 111, 112, 113, 114, 115, 116, 117, 118, 119, 120, 121, 122, 123, 124, 125, 126, 127, 128, 129, 130, 131, 132, 133, 134, 135, 136, 137, 138, 139, 140, 141, 142, 143, 144, 145, 146, 147, 148 (Virus), 149 (Virus), 150 (Corpse and Virus), 151 (Virus), 152 (Corpse and Video), 153 (Kurr), 154 (Kurr), 155 (Kurr), 156 (Kurr), 157 (Kurr), 158 (Kurr), 159 (Kurr), 160 (Kurr), 161 (Kurr), 162 (Kurr), 163 (Kurr), 164 (Kurr), 165 (Kurr), 166 (Kurr), 167 (Kurr), 168, 171 (Video) , 175, 176, 177, 179, 180, 181, 183, 184, 185, 186, 187, 188, 189, 190, 191, 192, 193, 194 (funnies), 197 (funnies), 198 (funnies), 199 (funnies), 200, 211, 216, 218, 219, 220, 221, 222, 223, 224, 225, 226 (news footage), 228 (P/U), 233 (Kurr) (Alternate) (B/U), 235 (B/U) , 239 (Image), 245 (B/U)
SAVAGE DRAGON ½
One-Shot
SAVAGE DRAGON MINI-SERIES
1, 2, 3
SAVAGE DRAGON (PLAYMATES TOYS PACK-IN MINI COMIC)
One-Shot (not in continuity)
SAVAGE DRAGON VS THE SAVAGE MEGATON MAN
One-Shot
SAVAGE DRAGON/DESTROYER DUCK
One-Shot
SAVAGE DRAGON/MARSHALL LAW
1, 2
SAVAGE DRAGON/TEENAGE MUTANT NINJA TURTLES
One-Shot
SAVAGE DRAGON: BLOOD AND GUTS
1, 2, 3
SAVAGE DRAGON: GOD WAR
1, 2, 3, 4
SAVAGE DRAGON: IMAGE X-MONTH
13
SAVAGE DRAGON: RED HORIZON
1, 2, 3
SAVAGE DRAGON: SEX AND VIOLENCE
1, 2
SEWAGE DRAGOON
1 (well, it's a spoof, but….I'll list it anyway)
SHADOWHAWK VOL.3
2, 5
SHARKY
2, 3 (as a statue), 4
SHARKY WEBCOMIC (Same as Sharky 2, 3, and 4)
SHE-DRAGON
Oneshot (F/B)
SHUTTER
25
SONIC SUPER SPECIAL
7
SPAWN
4 (on TV), 22 (P/U), 42 (Photo), 52, 195 (B/U)
SPIDER-MAN TEAM-UP VOL.1
5
SPLITTING IMAGE
1, 2 (also a spoof)
STORMWATCH VOL.1
38
STRIKEBACK
1
SUPER FREAKS
One-shot (B/U)
SUPERMAN & SAVAGE DRAGON: CHICAGO
One-Shot
SUPERMAN & SAVAGE DRAGON: METROPOLIS
One-Shot
SUPERPATRIOT
1 (Dream), 2 (Dream)
SUPERPATRIOT: AMERICA'S FIGHTING FORCE
1, 3, 4
SUPERPATRIOT: WAR ON TERROR
3 (F/B)
SUPREME
2 (image), 33 (as a statue), 63 (Image), 66 (Image)
TALES FROM THE CON
2
TEAM YOUNGBLOOD
3
TEENAGE MUTANT NINJA TURTLES/SAVAGE DRAGON
One-Shot
TEENAGE MUTANT NINJA TURTLES VOL.3
10
TRIBE
0, 3
TRUE STORY SWEAR TO GOD
9 (Cover)
TRUTH, JUSTIN AND THE AMERICAN WAY
Trade (P/U)
UNION VOL.2
3
VAMPIRELLA: CROSSOVER GALLERY
1 (P/U)
VANGUARD: STRANGE VISITORS
4
THE VAULT OF MICHAEL ALLRED
2, 3
VELOCITY VOL.1
2
WILDSTAR: SKY ZERO
3, 4
WITCHBLADE
131 (B/U)
YOUNGBLOOD VOL.1
9 (not in continuity)
EXTERNAL LINKS: