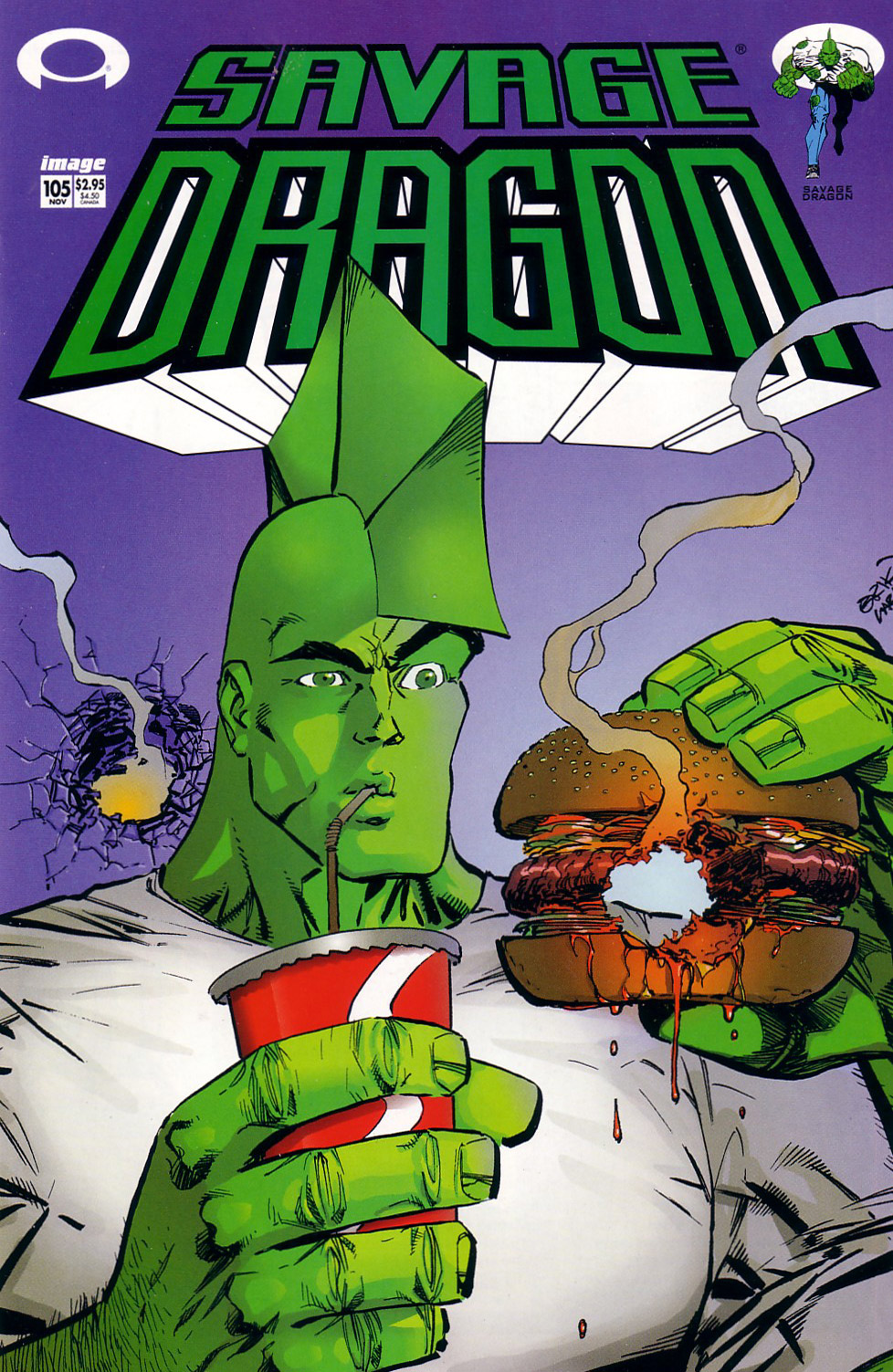 Savage Dragon #105
Candyman!
November 2002
8 Pages
Credits
Erik Larsen: Story & Art
Chris Eliopoulos: Letters
Reuben Rude: Colors
Josh Eichorn: claims he was just doing an impression of Pete Townshend
Chris Brunner & David Self: Pin-Up (Dragon & Jennifer)
Erik Larsen & Brett Evans: Advert
Heroes
Supporting Characters
Angel Dragon
Mister Glum
Captain Frank Darling
Villains
The Candyman (First Appearance)
Summary
Dragon receives a telephone call and he is asked to assist with a super-freak who has transformed all of downtown into chocolate. He races to the scene in his hover chair and is annoyed to discover that Angel has stowed away aboard the vessel. They land in the affected area of the city but Angel is instructed not to eat anything unusual in case it reverted back to normal inside her stomach. Dragon is then suddenly transformed into chocolate himself, leaving Angel on her own.
The Candyman gives chase to the frightened child and reveals how he had run a family confectionary business but was removed from the company by corporate executives. He sought out the Powerbroker who imbued him with superhuman abilities. The Candyman then targeted his competitors and transformed them into chocolate before forcing their obese wives to feast on their brains.
Angel flees as fast as she can and smashes her way through chocolate-fences but eventually reaches a dead end. The Candyman closes in on his next victim but Dragon has recovered by this point and he knocks out the villain with a single punch. He delivers the unconscious criminal to Frank Darling who advises Dragon and Angel to seek help if they ate anything dangerous. Angel states that she found the whole affair quite easy and reasoned that she could fight crime on her own.
The diminutive alien Mister Glum attempts to attain an Empyrean Domination Caduceus from his young friend but she has no idea what he is talking about. Eager to complete a death ray, Glum goes to Dragon next for help and the hero is surprised to discover that he is sentient. He had assumed that the alien dictator was merely a clever children's toy and has to assess whether or not he should allow Glum to remain in the family home.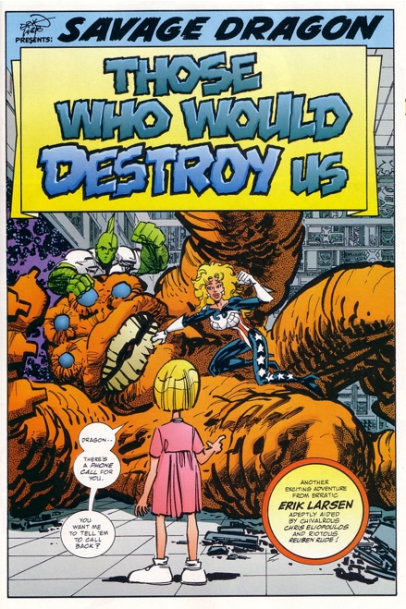 Those That Would Destroy Us
14 Pages
Credits
Erik Larsen: Story & Art
Chris Eliopoulos: Letters
Reuben Rude: Colors
Heroes
The Liberty League
– Dragon
– Jennifer Dragon
The Rock House Diner (The Underground Freaks)
– Rock
– Beast Boy
– Widow
Supporting Characters
Angel Dragon
Mister Glum
James Michael Worthington (First Appearance)
Stan Levi (First Appearance)
Jon Day
Villains
FirePower
Brakkus (First Appearance)
Summary
A monster has somehow gotten loose from the Void which causes Dragon and Jennifer to battle the creature. Angel arrives to inform her parents that there is a telephone call for Dragon which motivates the couple to step up their game against their foe, eventually depositing it back through the portal. Glum had released the monster but he keeps his guilt secret.
Dragon explains that the call had been from representatives from Marvey Comics who are looking to turn the book he is working on into a series of comics. He takes his wife and daughter to meet two executives from the comic company at the Rock House Diner which Rock and his family are now running. They settle down to have dinner whilst discussing how to adapt the book into comics, leading to a debate about the comics industry.
It becomes clear that Dragon has little idea how the comics industry works nowadays but as the meeting progresses, a villain launches an attack. FirePower declares that he is still loyal to CyberFace despite his leader's defeat. He loved how the Earth had been united under one ruler and blames Dragon for reverting things back to how they were. Before Dragon is reached by FirePower, The diner's owners defend their business and their customers before Dragon and Jennifer land the final blows.
Ultimately, Dragon comes to no clear decision regarding the comics and he flies his family home. They arrive home earlier than expected; ruining Glum's latest scheme as he had not quite completed a weapon that he had hoped would kill Dragon. Later that night, Angel and Glum are in their bunk-bed where Angel mocks her companion over his latest failure.
Backup Story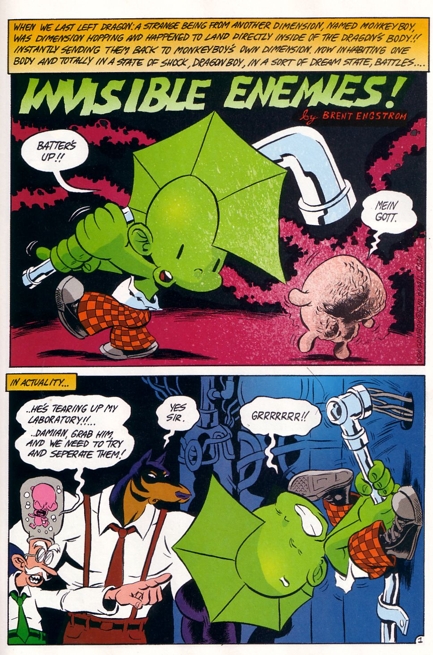 Invisible Enemies!
6 Pages
NOTE: This story takes place outside of regular continuity
Credits
Brent Engstrom: Story & Art
Erik Larsen: Colors
Heroes
The Liberty League
– Dragon
– Jennifer Dragon
Guest Heroes
Monkey-Boy
Damian Pinscher
Fetus Genius
Supporting Characters
Villains
The Vicious Circle
– BrainiApe (Dream Only)
– Octopus (Dream Only)
– PowerHouse (Dream Only)
NOTE: This issue features COMIC BITS by Chris Giarrusso