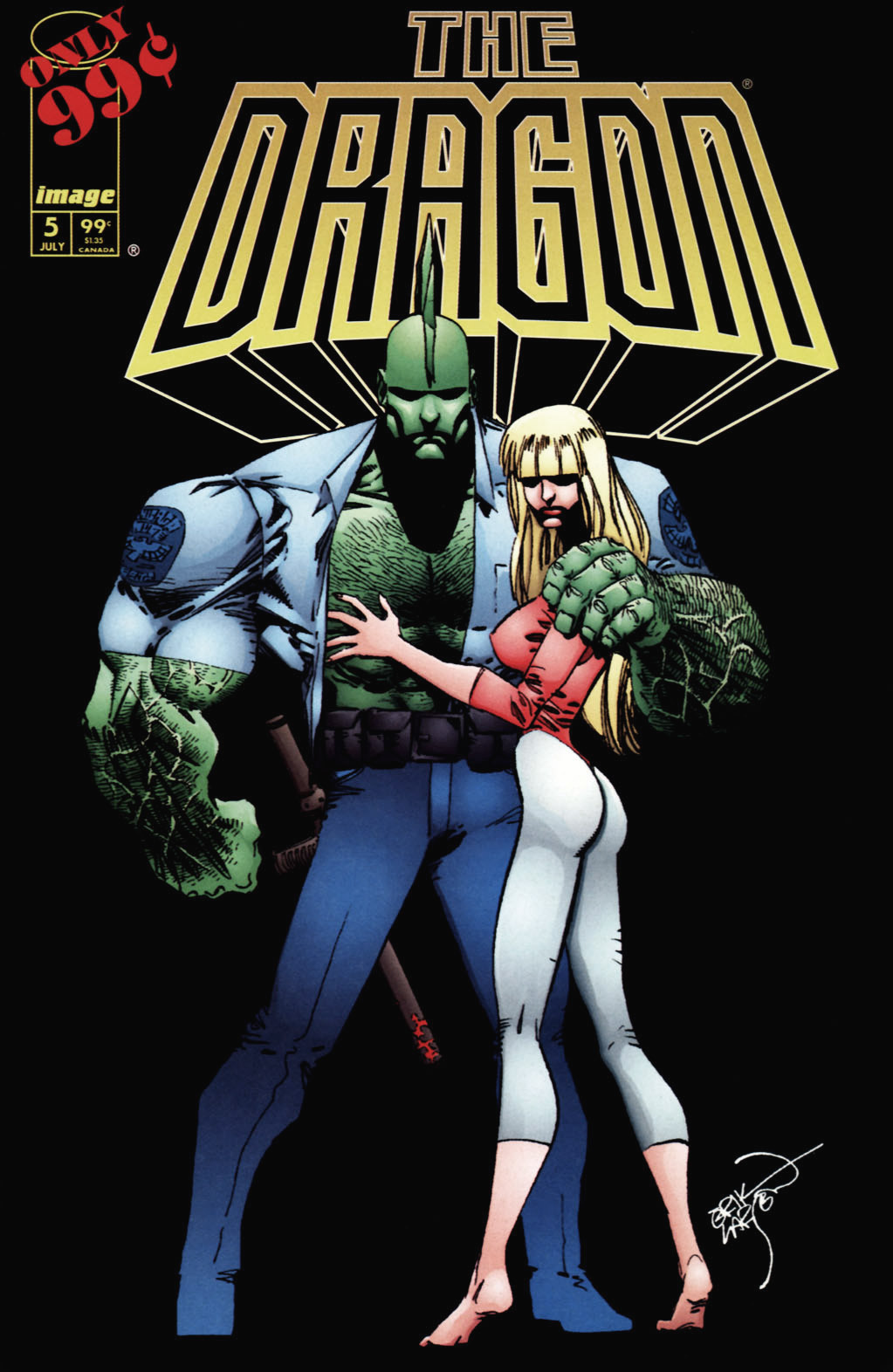 PREVIOUS ISSUE
The Dragon #5 (OF 5)
July 1996
NOTE: This issue reprints parts of SAVAGE DRAGON #3 (OF 3), IMAGE #0, THE SAVAGE DRAGON VS THE SAVAGE MEGATON MAN, plus all-new material
22 Pages
Credits
Erik Larsen: Creator / Writer / Penciller / Inker
Chris Eliopoulos: Letterer
Gregory Wright, Olyoptics, I.H.O.C.: Colors
Jannie Wong: Editor
Josh Eichorn: Spends off hours drunk
Garrett Chin: Assistant to the Chief Executive
Heroes
Guest Heroes
Extreme:
Youngblood
– Shaft
– Badrock
– Die Hard
Supporting Characters
Arnold Dimple (Death Issue)
Bonnie Harris
Debbie Harris (Death Issue)
Lt. Frank Darling
Mildred Darling
Peter Klaptin (Image Only)
Villains
The Nixed Men
– Fade
– Lightning Bug
– Sensation
– Sub-Human
– Super-X
The Vicious Circle
– OverLord
– SkullFace
Summary
After he returns home, Dragon finds his neighbour Debbie Harris locked out of her apartment following an argument with her mother. Dragon offers to speak with her mother to settle the problem but Debbie instead pleads with him simply to allow her to sleep on his couch. Dragon ultimately agrees and the pair head inside for the night.
As Badrock is bailed out of police custody by his Youngblood teammates, Frank Darling receives a late night telephone call. SkullFace states that he has discovered that Frank was the person to tip off the Vicious Circle to his cousin's shipyard being a potential place to steal. His hope was for Dragon to experience the super-freak threat firsthand and join the police. Things got out of control when Fred was killed in an explosion. The phone is then hung up, leaving Frank to worry about just what will happen next with him and if his secret will be exposed…
As they enter into his apartment, Dragon and Debbie start to kiss and then undress one another, leading to a night of passion between the young couple. Dragon attempts to shave first thing in the morning but is interrupted by Debbie Harris who gives him a big hug. She suggests that perhaps he should grow a moustache to look like a hunk but that notion is shot down immediately. Debbie then tries to tempt him into forgetting about getting read for work by heading to bed with her again but she is instead sent out of the bathroom.
Debbie begins teasing her new boyfriend about reading GQ magazine, the latest edition of which features popular singer Peter Klaptin. Dragon asks her watch the television or something and when a knock at the door is heard, Debbie is asked to answer it. She fears that her mother has come for her but Dragon points out that they would have to deal with that situation sooner or later. As Debbie opens the door she is shot dead by a gunman. As Dragon races to the door he is unable to prevent Debbie's killer from taking his own life with his weapon.
A funeral service is held for Debbie Harris and when Dragon arrives to attend the ceremony, Debbie's mother Bonnie reacts violently. Dragon leaves to prevent from causing a further scene and throws himself into his work, eventually facing the Nixed Men. He then starts to get depressed over lawsuits being brought against him, his inability to bring down the Vicious Circle and other issues. Frank Darling does his best to comfort him but Dragon cannot help but feel that he is losing it.
NOTE: This issue overlaps with SAVAGE DRAGON VS. THE SAVAGE MEGATON MAN #1
NOTE: The story continues in SAVAGE DRAGON #1
BACK-UP STORY:
Angel Fueled Quake
Pages: 5
Credits
Story and Art: Erik Larsen
Main Characters
Summary
Story Notes
Collected Edition
External Links
Entry at the Image Comics Database