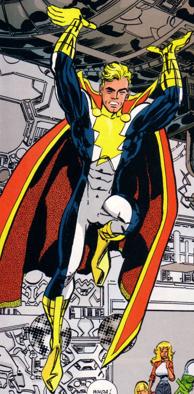 Mighty Man II

Personal Information
Name: Mighty Man II
Real Name: Ann Samantha Stevens
Former Aliases: "The World's Mightiest Man", called "Sam" by Ann Stevens's friend, Phyllis Deeder
First Appearance: Mighty Man: Savage Dragon #3 (regular series), Ann Stevens: Savage Dragon #2 (Of 3)
Death Issue: Savage Dragon #262
Cause of Death: Explodes after taking a dose of Malcolm Dragon's blood
Group Affiliations: Freak Force,The Allies, The Liberty League ,
Height: Mighty Man: 6′ 4″, Ann Stevens: 5′ 6″
Weight: Mighty Man: 240 lbs., Ann Stevens: 118 lbs.
Eyes: Mighty Man: Blue, Ann Stevens: Brown
Hair: Mighty Man: Blonde, Ann Stevens: brown
Date of Birth: 06/01/72
Place of Birth: Kansas City, Missouri
Base of Operations: Chicago, Illinois
Other Distinguishing Features: N/A
Marital Status: Married
Known Relatives: Dr. Larry Bradford (husband), Elizabeth "Betty" Bradford (daughter)
Powers: When Ann Stevens slams her wrists together, a bright light is emitted, within which her body is transformed into the body of Mighty Man. However, while her body changes from one form to another, her consciousness remains and is in control of the Mighty Man form. The Mighty Man entity has no mind or will of its own. The act of transforming into Mighty Man or Ann Stevens sends the inactive body to another dimension – Ann Stevens' form is replaced by Mighty Man's, and vice-versa. Even though inactive, Ann Stevens' body needs nutrition regularly in order for her and the Mighty Man identity to survive. Mighty Man has vast super-human strength. He can fly at incredible speeds, has seemingly impenetrable skin, inhuman stamina and endurance, and an accelerated healing ability. He is capable of lifting (pressing) 150 tons.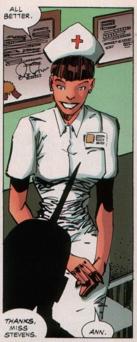 History
It was in 1992 that Robert Berman's grandson Billy revealed his secret identity to a newspaper photographer. This revelation was published by the Chicago Voice and it was not long after this article that a group of thugs broke into the home of Robert Berman and stabbed him repeatedly before he could become Mighty Man. Robert was taken to Hillman Hospital where he was cared for by staff nurse Ann Stevens. Billy visited regularly in the hope of receiving the Mighty Man abilities but when his grandfather refused to die, he opted instead to have the hospital staff call him at the first sign of trouble. Robert soon grew too weak and, believing that Billy was present, let himself go.
Ann Stevens had actually been present at the time and she ended up receiving the Mighty Man powers. This fact went undiscovered for a time but when Ann received a telephone call from Dr. Plucker at Hillman Hospital, she raced to answer the call. She slipped on a glass of milk and accidentally struck her wrists together. Ann was instantly transformed into the body of Mighty Man and could not figure out how to return to normal.
After growing increasingly weaker despite this new form, Ann retraced her steps and eventually figured out how to transform back. With her new alter ego now under control, Ann decided to try her hand at superhero activities and defeated Brawn in battle. Ann remained inexperienced but after getting more confident as Mighty Man, she ended up saving the fledgling Freak Force from the Annihilators. When the heroes broke away from the Chicago Police Department, Mighty Man joined the group.
Ann also had the distinct pleasure of naming Dragon when he was found amnesiac in a burning field and taken to Hillman Hospital. She was instantly taken in by Dragon's charm and developed a crush on him. Ann was also the person to discover that Dragon was no longer sterile after his encounter with the Fiend, proving that he was indeed the father to Rapture's son, Malcolm.
Mighty Man remained a member of Freak Force for many years and assisted them in many of their missions. He also aided in numerous superhero team-ups with people such as Dragon, WildStar, the Wildcats and Badrock. When Freak Force agreed to become founding members of the government's Special Operations Strikeforce, Ann was unwilling to give up her secret identity and civilian job and instead opted to remain behind in Chicago as a freelance superhero.
Following the apparent murder of Jennifer Murphy on her wedding day to Dragon, Ann finally got her chance for romance with Dragon. The couple started dating but on the night that they were to consummate their relationship, Chelsea Nirvana committed a murder that she knew Dragon would investigate. She then used one of her father's devices to take on Dragon's appearance, posing as him in order to get close to Ann where she handcuffed her to a bed before shooting her dead and stealing the Mighty Man powers. Her funeral was later attended by many close friends such as Dragon, Phyllis Deeder, the survivors of Freak Force and former college boyfriend, Larry Bradford.
It was not long after this murder that Dragon found himself in another reality after a confrontation with Damien DarkLord. In this world, Ann had never discovered that she had the Mighty Man powers and was living back in Kansas City. She had fled there following the Martian invasion and had rekindled her relationship with Larry Bradford.
A couple of years later Dragon arrived in Kansas City looking for help in taking down CyberFace. He revealed to Ann her secret inheritance and gained an ally in Mighty Man, having him assist in the final defeat of CyberFace. Mighty Man would remain an active hero and join up the new incarnation of the Liberty League alongside Dragon and original members, SuperPatriot and Battle Tank.
The Liberty League remained together for a while but eventually fell apart as the various members went off to do their own things. Ann had her abilities stolen by Billy Berman and enjoyed civilian life, spending more time with Larry. Billy's violent use of the Mighty Man persona ultimately led to his defeat and Ann regained the powers.
Since this time, Ann finally agreed to marry Larry after he had repeatedly proposed to her. She had now embraced the Mighty Man role but also wished to enjoy her private life too. A forced sabbatical then occurred when Ann learned that she was pregnant as she was unwilling to risk the life of her unborn child by transforming into Mighty Man.
After Ann gave birth to her daughter, Betty, she remained inactive in her dual role and instead concentrated on being a mother to her child. Betty shocked her mother when her wrists knocked together and she was transformed into MightyMan. The infant girl was left disoriented by this turn of events and flailed around in the city, destroying parts of Chicago and knocking out Daredevil before Malcolm and Angel Dragon arrived on the scene. Ann caught up with the siblings and revealed that Mighty Man is actually her daughter and that the powers must have somehow transferred to her during the pregnancy. With Ann's career as a superhero at an end, she set about creating some kind of wristbands to prevent Betty from undergoing another transformation before she is capable of wielding the incredible abilities.
During the Tyruss Combine's invasion of Earth, Ann has Betty transform into Mighty Man to help protect herself and Larry. She later explodes after taking a dose of Malcolm Dragon's blood.
Appearances
BADROCK ANNUAL
Oneshot
BADROCK AND COMPANY
3
BIG BANG COMICS
12
DART
3 (Image)
DEADLY DUO VOL.2
2
DYNAMO 5 ANNUAL
1
FREAK FORCE VOL.1
1, 2, 3, 4, 5, 6, 7, 8, 9, 10, 11, 12, 13, 14, 15, 16, 17, 18
INVINCIBLE
8, 40 (B/U), 48, 49, 60, 64
JUDGMENT DAY
Omega, The Final Judgment
MIGHTY MAN
Oneshot
MIGHTY MAN ONE SHOT VOL.2
1
NOBLE CAUSES
7
NOBLE CAUSES: EXTENDED FAMILY
2
SAVAGE DRAGON
3, 5, 6, 9, 13,15, 24, 25, 26, 27, 28, 32, 33, 37, 38, 40, 41, 50, 51, 58, 62, 63 (Dream),65, 66, 68, 69, 70, 86, 89 (Wacky Snacks), 93 (Savage Tales), 94, 95, 97, 98, 100, 101, 103, 104, 106, 107, 108, 109 (B/U), 110 (B/U), 111 (B/U), 112, 112 (B/U) 113 (B/U), 114 (B/U), 115 (B/U), 116 (B/U), 117 (B/U), 118 (B/U), 119,122, 123, 124, 126, 129, 130, 132, 135, 144, 147, 152 , 154, 163 (T/F) , 169, 170, 176, 178, 179, 205 (B/U) , 206 (B/U), 224 (F/B), 226, 262
SAVAGE DRAGON MINI-SERIES
2, 3
SAVAGE DRAGON/MARSHAL LAW
1, 2
SAVAGE DRAGON: IMAGE X-MONTH
13
SAVAGE DRAGON: RED HORIZON
2, 3
SUPERPATRIOT
4
SUPERPATRIOT: AMERICA'S FIGHTING FORCE
3 (F/B), 4
VANGUARD: STRANGE VISITORS
4
WILDC.A.T.s
14
WILDSTAR VOL.2
1, 2, 3
External Links
Profile at Image Comics Wiki
Profile at Big Bang Comics Wiki