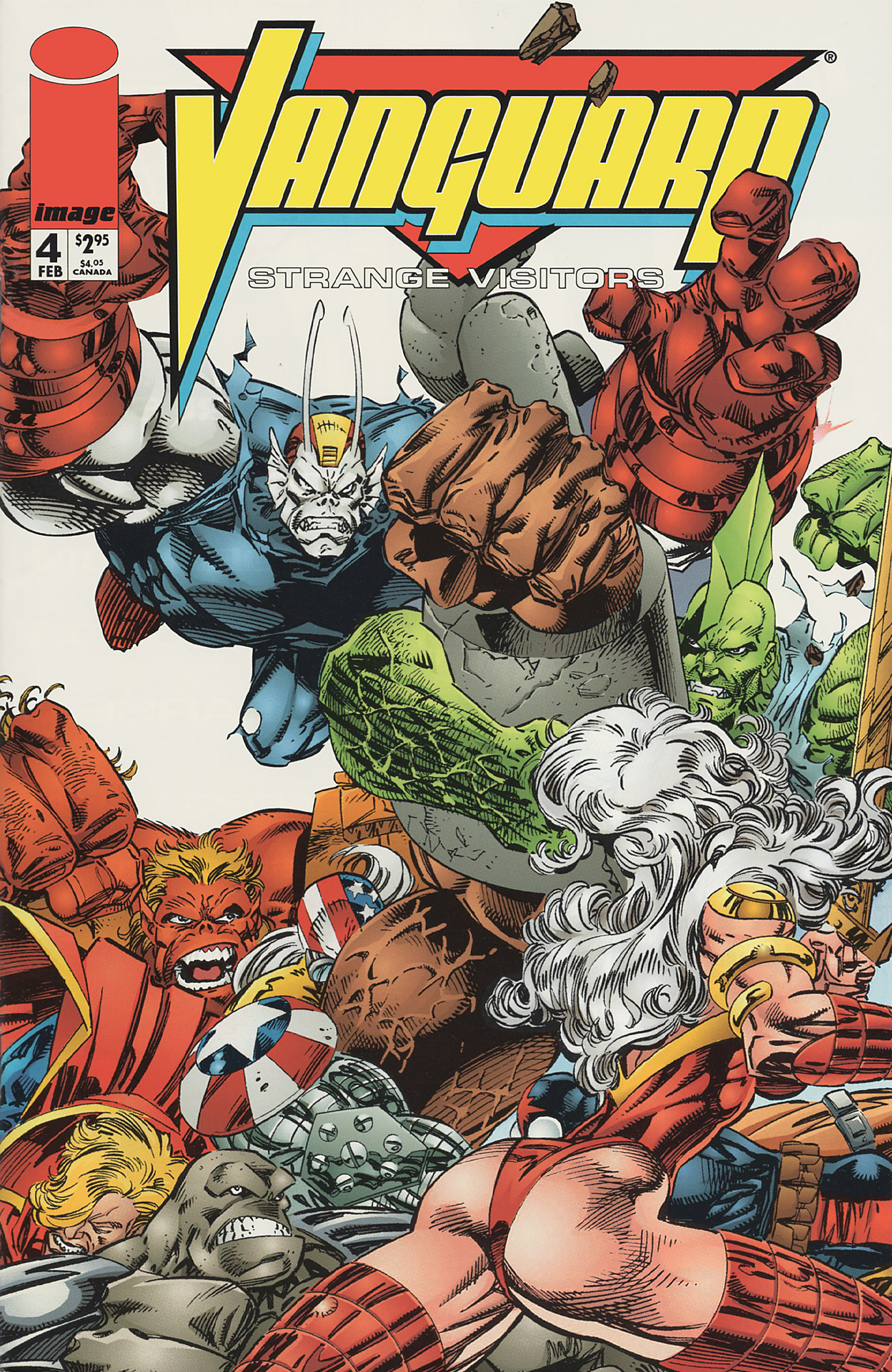 Vanguard: Strange Visitors #4
January 1997
22 Pages
Credits
Gary Carlson: Writer / Co-Creator
Scot Eaton: Penciller
Bill Anderson: Inker
Chris Eliopoulos: Letterer
Erik Larsen: Editor / Co-Creator
Garrett Chin: Chief Executive
Josh Eichorn: Town Drunk
Scot Eaton & Erik Larsen: Cover
Reuben Rude & I.H.O.C.: Cover Colors
Heroes
Vanguard
Wally
Dragon
Freak Force
– Barbaric
– Ricochet
– Mighty Man II
– Rapture
– Dart
Star II
Guest Heroes
Hot Led Ink:
WildStar
Extreme:
Supreme II
Glory
Badrock
TMP:
Tremor
WildStorm:
The Wildcats
– Spartan
– Maul
– Warblade
– Mr. Majestic
Fuji
Supporting Characters
Roxanne Wells
Vivienne Wells
Robert Wells
The Morphlings
Villains
Summary
Before the hero can be executed, Supreme arrives on the scene and punches his foe back. Surprisingly though, Amok merely takes the blow and pummels the world's most powerful superhero out of orbit and into deep space. This action called for desperate measures and Wally quickly teleports the injured Roxanne Wells to her parents' home to recover before gathering numerous super-strengthed heroes.
Vanguard leads the assembled powerhouses into battle but soon realizes that nothing any of them can do will bring down their opponent. Wally comes up with the idea of using the Morphlings as possible Radan survivors to plea with their brethren, but Amok sees through the ruse immediately and tears apart the android shape-shifters.
Drastic measures are required and Vanguard forces his robotic companion to attempt a lobotomy on the murderous Amok. He reluctantly subjects his enemy with pulses to destroy his brainwaves and finds himself communicating with the rampaging being properly for the first time. Wally realizes that nothing could be said to persuade his foe into giving up his quest for blood, and continues the brain surgery. The return of Supreme worsens events by punching the robot from the mammoth alien, the severing of the circuitry killing his enemy.
The gathered heroes breath a sigh of relief and Wally begins to send them all home. Roxanne Wells mourns Amok's death as he only became a murderer after his entire race was slaughtered. Her parents finally warm completely to her new boyfriend, in no small part because Vanguard saved not only their daughter's life, but that of every human on Earth.
External Links