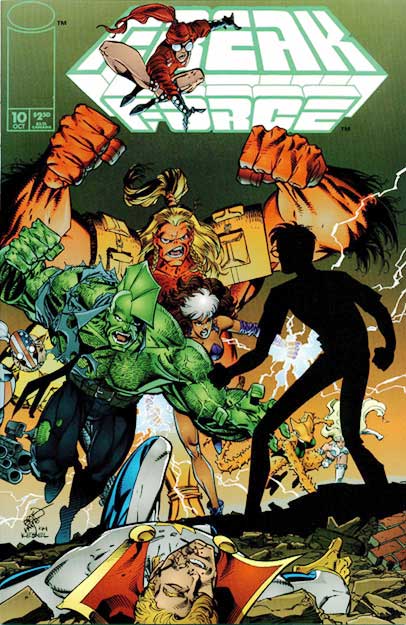 Freak Force #10
October 1994
24 Pages
NOTE: This story takes place following SAVAGE DRAGON #13 and WILDC.A.T.S #14
Credits
Erik Larsen: Creator & Script & Storyteller
Victor Bridges: Pencils
Karl Kesel: Inks
Chris Eliopoulos: Letters
Gloria Vasquez: Colors
I.H.O.C.: Color Separations
– Abel Mouton
– Bill Zindel
– Lea Rude
Kell-O-Graphics: Film Output
Erik Larsen & Karl Kesel: Cover Art
Josh Eichorn: The Number one fan of the Man from Tennessee
Erik Larsen & Victor Bridges: Pin-Up (Freak Force & Dragon)
Heroes
Freak Force
– Dart
– Barbaric
– Horridus
– Mighty Man II
– Rapture
– Ricochet
– SuperPatriot
Dragon
Supporting Characters
Mr. Finkleberry (First Appearance)
Villains
Joey Finkleberry (First Appearance)
Summary
Dragon goes for a run throughout Chicago alongside Rapture, and they notice trouble up ahead as armed men carry out a bank robbery. Dragon takes down the majority of these criminals, but one manages to run away only to be cornered by Rapture whose electrical abilities scare him into surrendering. The two heroes are pleased to have only been disturbed once and decide to make themselves scarce to take advantage of this period of quietness.
A young boy named Joey Finkleberry suffers physical and verbal abuse from his teacher before getting punched as he leaves school by a bully. As he reaches his neighborhood a local dog bites Joey and tears his pants. He finally reaches home where his father reacts badly to the damage to his clothes and punishes him with more abuse before giving him chores. The disheartened Joey goes to bed and vows to one day claim revenge upon those that have tormented him.
In the morning, Joey gets up and is shocked when his merest touch shatters his alarm clock, and he realizes that he has manifested mutant abilities overnight. He tests out his newfound strength before confronting his father who strikes him, only to shatter his hand on Joey's now invulnerable form. Joey takes pleasure in beating his father before punting the dog that bit him for miles. He heads into school where the students attempt to torment him once more, unaware of his new powers.
A massacre soon takes place with Joey brutally beating all of his fellow students and causes Freak Force to get involved. Mighty Man arrives on the scene first but when he tries to get the murderous child to stand down, he ends up receiving a ruthless beat down. Joey revels in the fact that he has defeated the World's Mightiest Man, just in time for the rest of Freak Force to arrive. He knocks out SuperPatriot with a single blow before knocking Horridus away from him for being too ugly.
Ricochet leaps over towards Joey but she is punched away and ends up bouncing off into the distance. This enrages Barbaric who moves to avenge his girlfriend, but he too is defeated in short order which leaves it down to a newly arriving Dragon and Rapture. The electricity is shrugged off by Joey and when Rapture is grabbed round the neck, Dragon moves to her defense. He is the next to be struck by the child super-freak which prompts him to try a different tact.
A lecture is given by Dragon to try and get Joey to realize the scope of what he has just done and to identify that he cannot possibly continue a life like he has just begun. Although there may not be anyone capable of beating him in a fight, Dragon points out that someone will find a way to stop him and that could mean his death. Joey starts to feel bad about the death and destruction that he has caused, and he breaks down into tears before surrendering to the authorities.
External Links