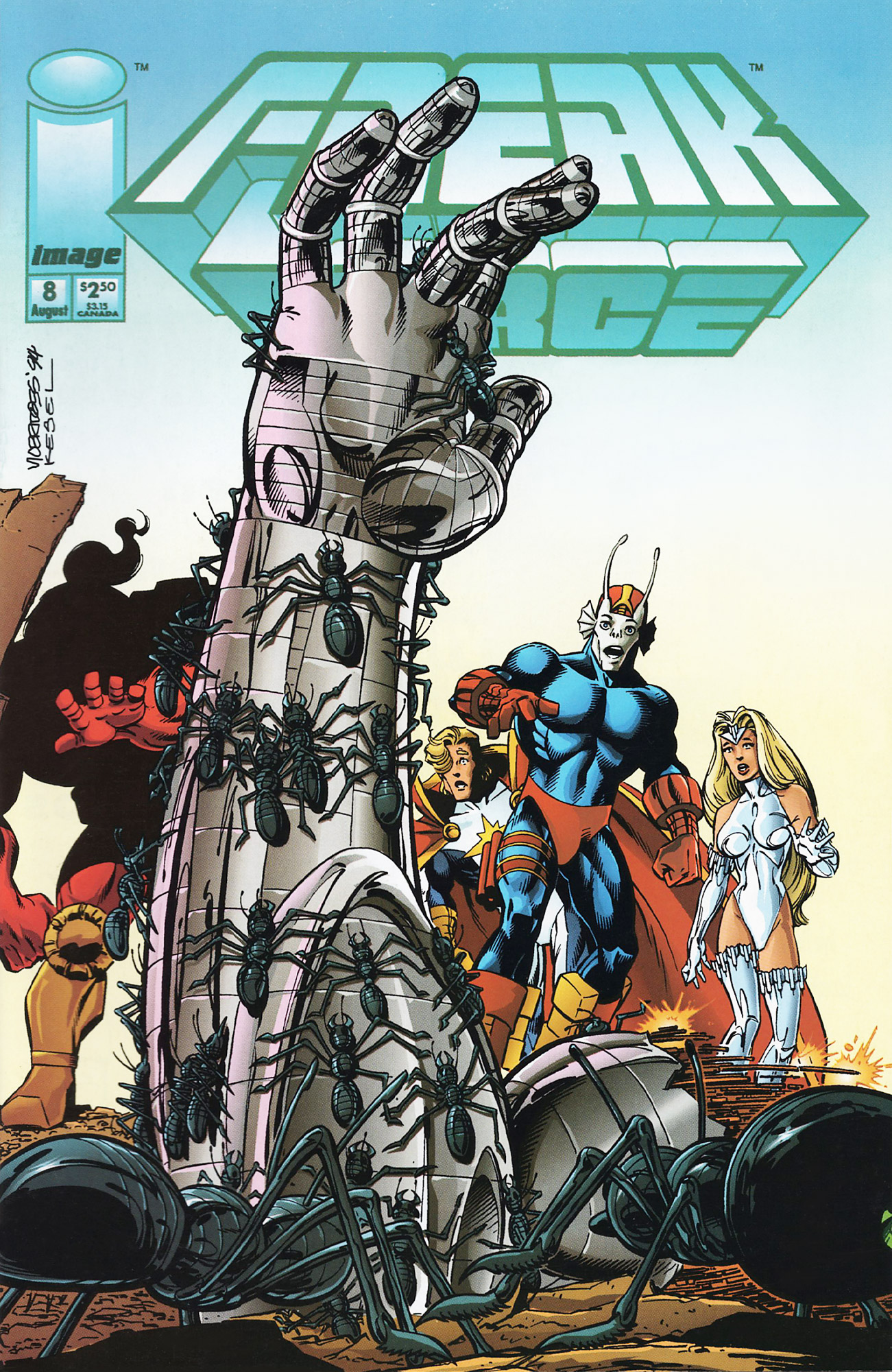 Freak Force #8
August 1994
24 Pages
NOTE: This story takes place before or during SAVAGE DRAGON#12
Credits
Erik Larsen: Creator & Script
Keith Giffen: Plot & Storyteller
Victor Bridges: Pencils
Mike Miller: Inks
Chris Eliopoulos: Letters
Gloria Vasquez: Colors
Olyoptics: Color Separations
Karl Kesel: Cover Inks
Josh Eichorn: Leggy Super-Model
Ben Herrera & Mike Miller: Pin-Up (Freak Force)
Heroes
Freak Force
– Dart
– Barbaric
– Horridus
– Mighty Man II
– Rapture
– Ricochet
– SuperPatriot
Dragon
Vanguard
Guest Heroes
Top Cow:
Cyber Force
– Stryker
– Cyblade
– Impact
– Ripclaw
Supporting Characters
Villains
The Detonator (First Appearance)
The Matrix Swarm
Summary
Jake Farrell is briefed on the situation in Brazil concerning the Matrix Swarm that is increasing in size with every passing moment. His colleagues wish for him to get involved and ideally use his past relationship with SuperPatriot to recruit Freak Force. Jake does not see the need for the government to intervene but the prospect of the alien technology getting into the wrong hands is enough to gain his attention and he agrees to help.
A super-freak called the Detonator is threatening to leap off of a building as a way of drawing attention to the actions of Johnny Redbeard. He is yet another cast-off of Redbeard and claims that should any physical trauma be experienced by him then he will explode like a nuclear blast. Rapture poses as a reporter for WHAM TV so that she can get close enough to the Detonator. She electrocutes him but cannot hold onto him and he falls down towards the ground but SuperPatriot intercepts.
In the aftermath of this event, Dragon is interviewed but grows tired of the questions and departs. Jake then approaches Freak Force and asks to speak with them about the Matrix Swarm. SuperPatriot and Dart listen to the briefing from Jake and how the aliens will soon reach a major city. It is pointed out by SuperPatriot that the only reason Freak Force are being recruited is because the mission is unsanctioned and that the government's own teams cannot be used in case something goes wrong.
Vanguard has been brought in to assist with this threat and he apologizes for the Matrix Swarm getting to Earth in the first place. Although it is not his responsibility to protect the Earth from this particular race but still feels guilty about it. The heroes arrive in Brazil and Mighty Man is given the task of locating the Matrix Swarm's rocket capsule. It must be destroyed to prevent the robot ants from adapting to their assaults.
The scouts of the Matrix Swarm are targeted by Vanguard who takes Barbaric and SuperPatriot with him. It is reasoned that should they stop the advanced members of the Matrix Swarm then this should slow down their spread. Wally brings a small spacecraft down to Earth to collect up the rest of Freak Force. They serve mostly as passengers as Wally pilots his vessel to open fire on the Matrix Swarm but even these powerful energy blasts are adapted to by their targets and they attack the spaceship.
After he has returned to the Pentagon, Jake Farrell is informed that a back-up initiative has been activated which will involve another super-team from being deployed. Vanguard's unit do their best to halt the progress of the Matrix Swarm but once their opponents have adapted to their abilities their efforts prove to be almost pointless. Mighty Man reaches his target but as he closes in on the pod he is commanded to stop by the government's contingency plan, Cyber Force…
External Links