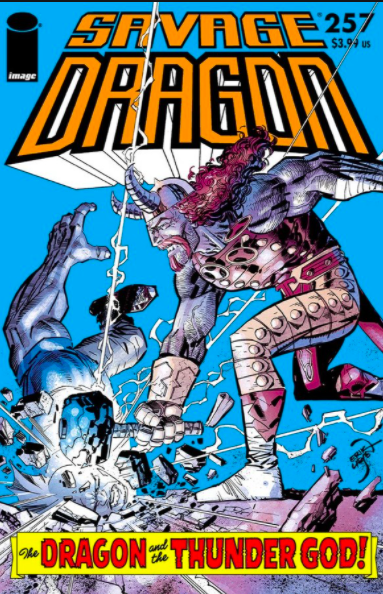 Savage Dragon #257
The Dragon and the Thunder God!
February 2021
20 Pages
CREDITS
Erik Larsen: Story & Art
Ferran Delgado: Letters
Nikos Koutsis: Colors
Mike Toris: Flats
Gavin Higginbotham: Editor
Josh Eichhörn: inarticulate ball of rage
HEROES
Malcolm Dragon 
Battle Girl
Paul Dragon
NORTH FORCE
The Canadian
The Flame
Blue Jay
Jet
The Knight
Raptor
Grizzly
SUPPORTING CHARACTERS
Maxine Jung Dragon
Tyrone Dragon
Jack Dragon
Amy Dragon
Maddy Dragon
Simon Gully
Alex Wilde
Jon Day
Officer Frank Darling Jr.
Grüenhildä (Death Issue)
Ragnok (Death Issue)
VILLAINS
SUMMARY
While Grüenhildä is fetching wood for the fire, Thor's son Mikki warns her not to return to her home. Inside, Grüenhildä's lover Ragnok is brutally murdered by the blind thunder god Thor, and Ragnok's eyes are extracted to replace his own and restore his sight. Fearing for Ragnok's life, Grüenhildä returns home to find him dead on the floor. At that point Grüenhildä understands Mikki's warning from earlier.
Malcolm Dragon talks to Maxine about Paul Dragon. He doesn't like that Paul appeared out of nowhere and has inserted himself into his family.
Paul Dragon and Alex Wilde discuss tacos and marriage.
Thor murders Grüenhildä. Her body as well as Ragnok's are in their house as Thor and Mikki burn it to the ground. Thor swears revenge against Dragon's heirs for blinding him.
Angel Murphy is pleased that Paul and Alex are getting married and she's invited Paul to give her away at her impending wedding, which bothers Malcolm.
Thor breaks into a private home and commands those inside to bring him and Mikki food.
As Malcolm plays in the snow with his family, the Canadian approaches and asks to take his family to a secure location. The Canadian informs Malcolm that Thor and his son are in the area and that Thor has sworn to kill him and his family. The Canadian requests that they go into protective custody but Malcolm argues that he's be more useful battling the Thunder God.
Meanwhile, Thor and Mikki battle the remaining members of North Force up in Durham, Ontario. Thor slams into them with his enchanted mallet, Miolnir. When pilot Simon Gully arrives with the Canadian to the scene, the situation looks grim and Thor hurls his hammer at the helicopter. Unbeknownst to them, Malcolm Dragon had hitched a ride on the bottom of their helicopter and, releasing it, the copter jerked upward and the mallet missed its intended target. Malcolm joins the battle. Mikki, grabs Malcolm from behind in an attempt to hold him still so that his father could hurl Miolnir at him but Malcolm evades the hammer and it strikes Mikki, killing him instantly.
In blind rage, Thor attacks Malcolm and hurls a thousand bolts of lightning at the man he blames for his son's demise…
BACKUP STORY
ETHRIAN/VANGUARD: ETHEREAL WARRIORS
(NOTE: This back-up reprints pages 42-46 from VANGUARD: ETHEREAL WARRIORS, in color with redone lettering)
(NOTE: This back-up takes place prior to ETHRIAN in SAVAGE DRAGON 145-159)
Part 7
5 Pages
CREDITS
Gary Carlson: Story
Frank Fosco: Pencils
Stuart Karoubas, Frank Fosco: Inks
Adam Pruett: Letters
Nikos Koutsis: Colors
Mike Toris: Flats
HEROES
GUEST HEROES
Ethrian
SUPPORTING CHARACTERS
GUEST SUPPORTING CHARACTERS
Chuk
Krell
GUEST VILLAINS
Zakorra
SUMMARY
Uh…