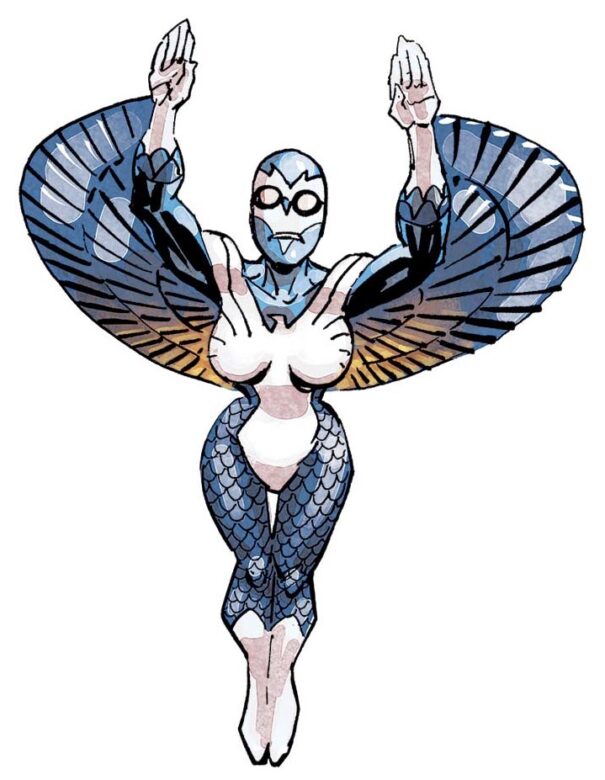 Blue Jay
PERSONAL INFORMATION
Name: Blue Jay
Real Name: Connie Chen
Former Aliases: N/A
First Appearance: Savage Dragon #255
Group Affiliations: North Force
Height: 5'4″
Weight: 110 lbs
Eyes: brown
Hair: black
Date of Birth: January 13, 1999
Place of Birth: Toronto, Ontario, Canada
Base of Operations: Toronto, Ontario, Canada
Other Distinguishing Features: Blue Jay has wings under her arms and wears a costume which covers her completely from head to toe
Marital Status: single
Known Relatives: N/A
Powers: Blue Jay wears powered armour that gives her superhuman strength, durability, and flight.
HISTORY
Connie Chen was a teen prodigy and activist, often bullied by more athletic students, which only strengthened her resolve. She built her Blue Jay armour to fight for justice and help right the many wrongs in the world.
APPEARANCES
SAVAGE DRAGON


255, 257, 258, 259 , 265
NORTH FORCE
0
SUPER FREAKS
One-shot (B/U)