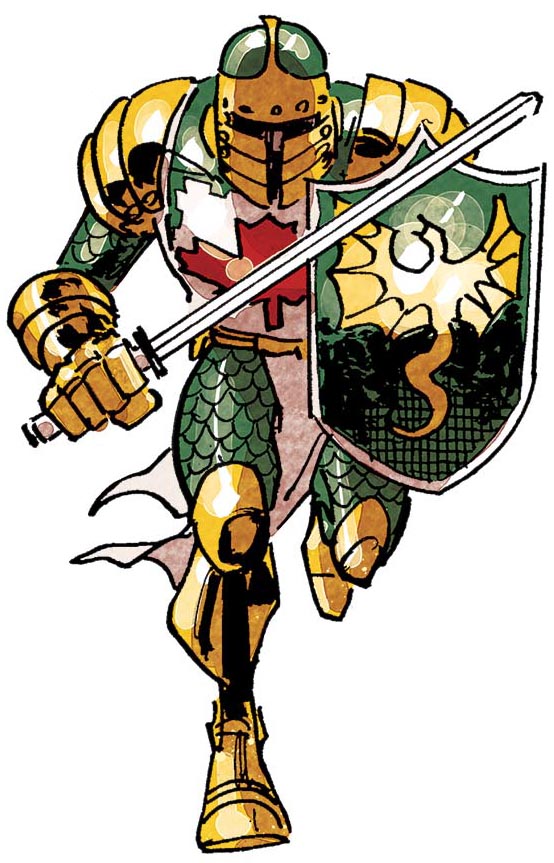 The Knight
PERSONAL INFORMATION
Name: The Knight
Real Name: Mackenzie "Mac" Gómez
Former Aliases: N/A
First Appearance: Savage Dragon #255
Group Affiliations: North Force
Height: 5'9″
Weight: 160 lbs
Eyes: blue
Hair: brown
Date of Birth: June 6, 1990
Place of Birth: Prince Albert, Saskatchewan, Canada
Base of Operations: Toronto, Ontario, Canada
Other Distinguishing Features: the Knight wears armour with a voice altering feature which effectively conceals her gender
Marital Status: married
Known Relatives: Sharon Sykes (wife)
Powers: The Knight has augmented armour which gives her super-strength. She is proficient at swordplay and carries a broadsword and shield.
HISTORY
Mackenzie "Mac" Gómez was a police detective when she discovered the Knight armour among the effects of her older brother, a slain crime lord. In an effort to make amends for his wrongdoing, Gómez assumed the mantle of the Knight to confront and ultimately take down the gang. Finding she was better able to pursue justice in her Knight persona, Gómez turned in her badge and fought crime on her own, eventually joining the Canadian super-team North Force.
APPEARANCES
SAVAGE DRAGON
255, 257, 258, 259, 265
NORTH FORCE
0,


SUPER FREAKS
One-shot (B/U)