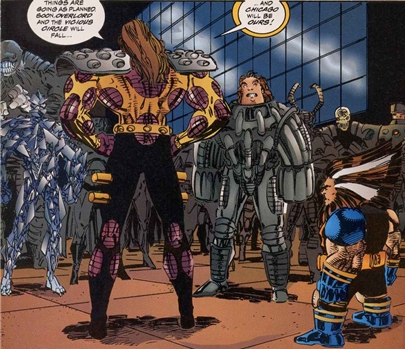 The Annihilators
Information
Group Name: The Annihilators
Status: Defunct
First Appearance: Savage Dragon #5
History
As Anthony Seghetti transformed himself into Overlord and replaced his mafia of regular humans to the "freak"-run Vicious Circle, he saw little need in keeping his non-freak right hand man, Sebastian Khan. Overlord dismissed the powerless Sebastian Khan from the Vicious Circle as if he were nothing.
Enraged by his rejection, Khan used the resources at CyberData to imbue himself with superhuman abilities, taking on the name of Cyberface. With his new found power he sought to take revenge upon Overlord. Cyberface recruited a number of disgruntled Vicious Circle freaks into a splinter group dubbed the Annihilators. They began a campaign to seize control of their parent group. The Annihilators proved to Overlord's Vicious Circle minions that rebellion against him was possible and others began to show signs of mutiny.
Around this time, Dragon burst onto the scene as the Chicago Police Department's new recruit and swiftly stemmed the tide, apprehending numerous "freaks" and interfering with the Vicious Circle's and Annihilator's criminal activities.
The Annihilators clashed with Dragon and the Freak Force team when they were still affiliated with the Chicago Police Department. Freak Force was able to apprehend CyberFace and bring him into custody Cyberface was given immunity in return for testifying againd his former boss, Overlord. Before he was able to testify Cberface was poisoned and killed at the hands of a Vicious Circle operative. Cyberface was later resurrected by the government's Project: Born Again division and eventually returned to the Vicious Circle fold with the rest of the Annihilators after the death of Overlord.
Former Leaders
CyberFace DECEASED
Former Members
Animal I DECEASED
Bloop
Bulldozer DECEASED
Dead Guy DECEASED
DeathMask DECEASED
Demolisher I DECEASED
DoubleHeader
Dung
Flatline
Inadequate Lightning DECEASED
LowBlow DECEASED
MindWarp
Shard
Ultimatum DECEASED
War Hawk DECEASED
Wimp DECEASED