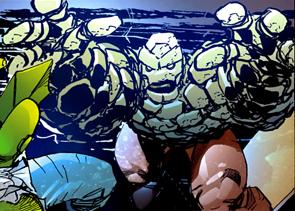 RoadBlock
Personal Information
Name: RoadBlock
Real Name: Unknown
Former Aliases: N/A
First Appearance: Savage Dragon #24
Group Affiliations: The Vicious Circle
Height: Around 6′
Weight: Unknown
Eyes: White
Hair: N/A
Date of Birth: Unknown
Place of Birth: Unknown
Base of Operations: Chicago, Illinois
Other Distinguishing Features: RoadBlock's entire body is composed of living rock and he has no pupils
Marital Status: Unknown
Known Relatives: N/A
Powers: Superhuman strength, invulnerability
History
RoadBlock first emerged as one of the many new Vicious Circle members that debuted during the Gang War. He spent the majority of this conflict within the Freak Outpost bar where he seemed to work as a bouncer, dealing with officers Howard Niseman and Chris Robinson when they raided the bar.
A while later, RoadBlock joined dozens of his colleagues in an assassination attempt upon Dragon. All of the Vicious Circle members present were shrunk down to a miniaturised state by a Martian weapon and remained that size for a couple of years. The villains were eventually restored by the Vicious Circle's resident scientists.
As the years went by, RoadBlock remained a member of the Vicious Circle and when CyberFace took control of the planet, he was loyal to the new King of the World. He became one of those villains commanded by the Possessor to turn upon their leader and after that telepath's death, RoadBlock continued to fight amongst his colleagues until they were all arrested by the Liberty League. He continued to work in the Freak Outpost, ejecting those freaks that get a little too out of control.
Appearances
IMAGE UNITED
3
MIGHTY MAN
Oneshot
SAVAGE DRAGON
24, 25, 26, 38, 40, 50, 64, 66, 67, 70, 75, 93, 94, 95, 100 (B/U) , 117 (B/U) , 145, 154, 187
SUPERMAN & SAVAGE DRAGON: CHICAGO
Oneshot
TEENAGE MUTANT NINJA TURTLES VOL.3
10