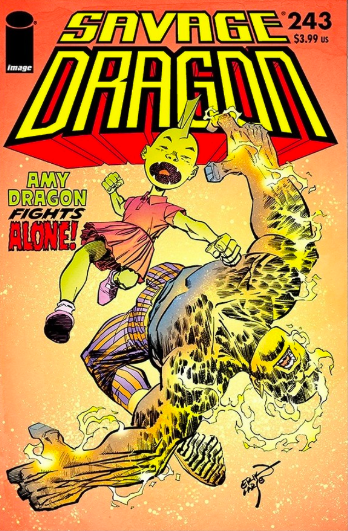 Savage Dragon #243
Amy Dragon Fights Alone!
April 2019
20 Pages
CREDITS
Erik Larsen: Story & Art
Ferran Delgado: Letters
Nikos Koutsis: Colors
Mike Toris: Flats
Gavin Higginbotham: Editor
Josh Eicchorn: promises not to depreciate non-taxable items brought forth from the previous tax year.
HEROES
Malcolm Dragon 
Ant
Battle Girl
Captain Tootsie
SUPPORTING CHARACTERS
Maxine Jung Dragon
Amy Dragon
Jack Dragon
Tyrone Dragon
Maddy Dragon
Frank Darling Jr.
Laila Darling
Greta Gearbox
Jon Day
Thunder-Head
Walden Wang
Andrew (First Appearance)
Anita Wang (First Appearance)
VILLAINS
Celsius (First Appearance)
Monster Cock (Death Issue)
Anthony Toliver (Corpse Only)
SUMMARY
The police attempt to question Ant over the actions and death of Anthony Toliver but she has no intention of sticking around and flees the scene. Back home, Monster Cock strikes down Maxine before its attention is caught by Madeline. It consumes the youngster but it is not long before a huge electrical explosion occurs. Angel and Frank had been discussing their future when they notice the blast and race over to the scene.
Thankfully, Madeline was unharmed and had merely killed Monster Cock and emerged from its shatte red remains. This ordeal is too much for Laila and she pleads with her father to return home to Chicago. Frank reluctantly says goodbye to Angel but hopes that this will not be the end of their relationship. Malcolm returns to his apartment where Angel fills him in on the events, including Thunder-Head having been taken to hospital, before heading home.
Before peace can be re-established, Captain Tootsie stops by with his gift to the Dragon family of their new freshly-repaired android maid. Greta Gearbox immediately gets to work cleaning up the aftermath of the Monster Cock attack and her presence is considered an improvement by Malcolm. He then heads to bed to find the shaken Maxine and he gives her the full lowdown on Greta, something Maxine is less than thrilled about due to the possibility of someone reprogramming her.
Some months later, Maxine drives to the birthday party of Walden Wang's daughter Anita as Amy has been invited along. She spends the entire time getting spoken to by men who have watched her sex tapes and have various inappropriate comments to make about them and her. Amy and Anita become quick friends and go inside for the visiting girl to get a swimsuit to enjoy the pool. They discover that one of the children's entertainers is actually a thief trying to steal from Walden's safe.
When this criminal grabs a hold of Anita to silence her, Amy moves into action and strikes him down. The man survives the strike and is revealed to be a super-freak called Celsius who uses both his ice and flame based powers to attack Amy. The young hero shrugs off these assaults but when her pretty pink dress is ruined by the flames, Amy brutally beats down Celsius and their fight totally demolishes Walden's huge castle home.
With the party ending prematurely, the Dragons head home where Greta offers to take Amy for a bath to clean up the mess created by the fight. The drunken Maxine then drags Malcolm away to the bedroom where she instructs him to take advantage of her inebriated state. He is reluctant at first but that does not last long and their soon having sex once more.
BACKUP STORY
SAVAGE DRAGON
When Fall the Mighty!
6 Pages & Back Cover
CREDITS
Erik Larsen: Story
Kami "Kurt" Kochanski: Art
Ferran Delgado: Letters
Nikos Koutsis: Colors
Mike Toris: Flats
HEROES
Freak Force
– SuperPatriot
– Lightning Girl
– Mighty Man VI
VILLAINS
The Demonoids (Some Die)
SUMMARY
A madman with an army of cyborg minions carries out a terrorist attack but as members of Freak Force deal with this threat, Mighty Man accidentally kills the villain. She is distraught by this mishap but SuperPatriot comforts her as it was simply something that happens during these kinds of battles on occasion.
Another clash later on sees the two heroes battling against a huge army of the undead which is soon eradicated. The corpses littering the ground distress Mighty Man further but again SuperPatriot points out that had they not intervened then things could have been much worse. These walking dead could have spread out across the nation and perhaps even the entire world had they not wiped them out…
During the latest invasion of the Demonoids, numerous innocent people are slaughtered before the subterranean race is stopped. The blood covering her hands is enough to get Mighty Man to revert back to her Betty Bradford form. She refuses to take part in any further bloodshed as Lightning Girl and SuperPatriot do their best to assure her she is a hero. Betty is not convinced that she can be strong enough to continue as a hero but SuperPatriot has every confidence in her.
FUNNIES
Moonbeard by James Squires
Heck If I Know Comics by Charlie Higson