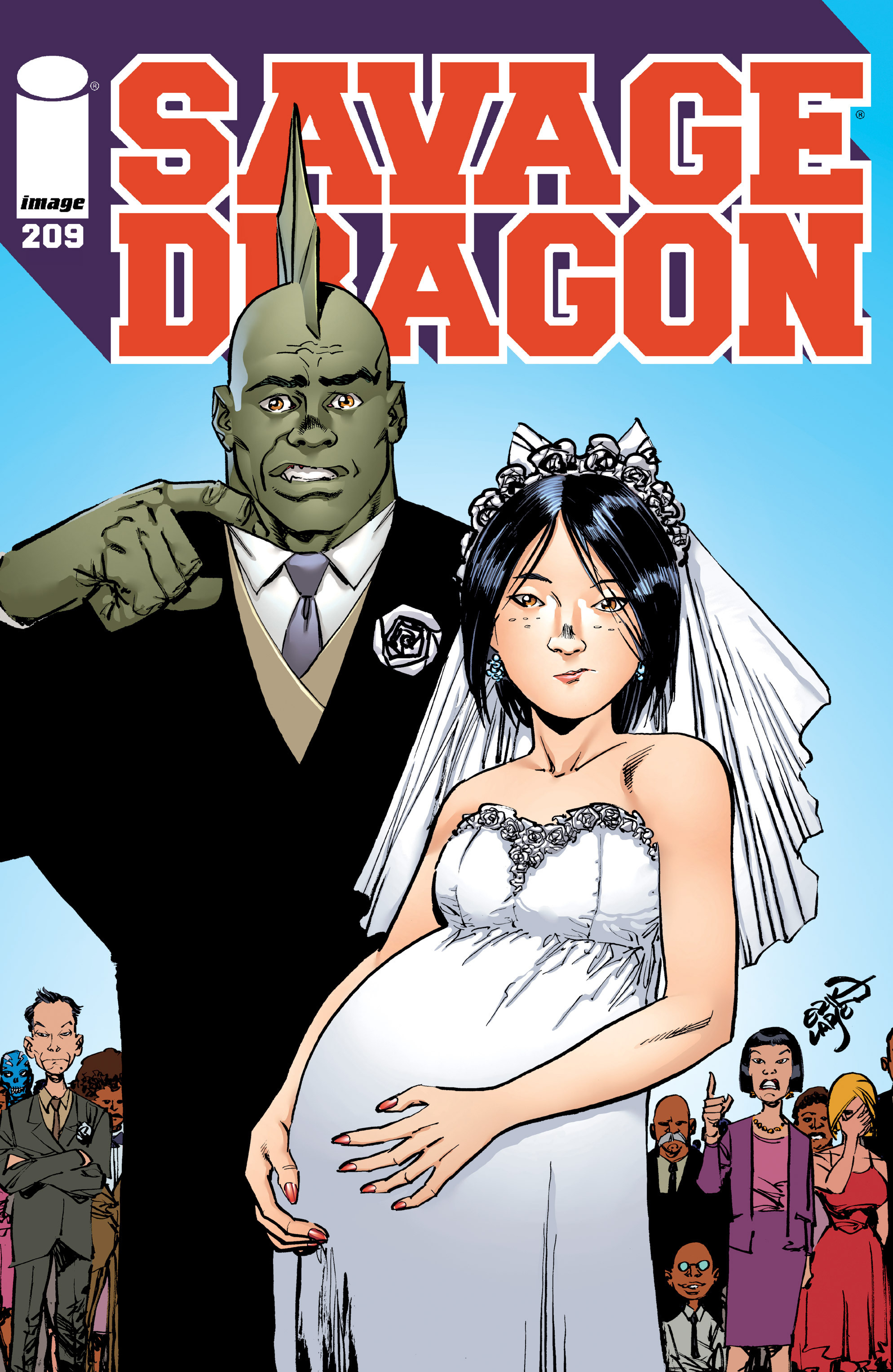 Savage Dragon #209
December 2015
20 Pages
Credits
Erik Larsen: Story & Art
Chris Eliopoulos: Letters
Nikos Koutsis: Colors
Mike Toris: Flats
Gavin Higginbotham: Editor
Josh Eicchorn: has been approved for appropriate audiences
Heroes
Malcolm Dragon
Battle Girl
The Special Operations Strikeforce
– SuperPatriot
– Daredevil
– Horridus
– Rock
– Widow
Supporting Characters
Maxine Jung Dragon (Maxine Jung Lai)
Chicago Police Department
– Captain Jack Stewart
– Officer Frank Darling JR
Alex Wilde
Darnell Washington
PJ
Tina
Feezle
The Janey Twins
Jon Day
Laila Darling
Mildred Darling
Mark Jonson
Peter Jonson
Rita Jonson
William Jonson
Mei Ling Lai
Richard Lai
Nancy Chu (First Appearance)
Thunder-Head
Tierra Jones (Death Issue)
Tyrone Dragon (First Appearance)
Summary
It is the day of Malcolm Dragon and Maxine Jung Lai's wedding and Maxine shows off to Battle Girl a new device around her torso. This mechanism has been given to her by Lorella to keep her unborn child from tearing through her body when it is born. Frank Darling takes one last opportunity to check that Malcolm is sure of his decision to marry Maxine, worried that her tendency to cause trouble will come back to harm his best friend. This concern is shrugged off and PJ comes to take them to the ceremony.
Malcolm awaits at the end of the aisle alongside his best man Frank as Angel Murphy first walks down, followed by little Laila. Maxine then walks down the aisle on her own, her father having refused to walk her down there. The two are soon married and embrace for a kiss in front of all of their friends and family.
William Jonson jokes about his own sons soon getting married, a thought that terrifies Rita as their kids have not even completed high school yet, Thunder-Head meets a beautiful young woman named Nancy Chu who works with Maxine and the two instantly hit it off, even dancing together at one point. Rock and Widow provide the food, Rock temporarily coming out of retirement to cook his famous burgers for the guests.
It is then time for Frank to deliver his best man's speech, noting how both Malcolm and Maxine are two of the best friends he has ever had. He is so happy that they have found each other and wishes them all of the best. Angel soon follows with her speech and the newlyweds kiss to celebrate their love once more. Alex Wilde surprised many by attending the wedding and is thanked for making the trip out to come.
Daredevil goes over to Maxine's saddened parents and declares how proud they must be for their daughter to marry such a great hero as Malcolm. They are later approached by Malcolm and Maxine to try and make peace. The situation is begrudgingly accepted before the recently married couple get ready to leave for their honeymoon. They board a flight to Hawaii and leave everything else behind in order to start their new lives together.
Sometime later, a group of girls ride a late night train and discuss the Gossip Rag managing to get some paparazzi photographs of the wedding. As they depart the train, they recognize Tierra Jones sitting all alone and wonder how upset she must be to have missed out on marrying Malcolm herself. Tierra is suddenly gripped with pain as her unborn child suddenly bursts out through her stomach. The infant immediately crawls out of the train and drags his now deceased mother along as he moves into the Chicago street…
Meanwhile on their honeymoon, Malcolm congratulates himself for booking a last minute deal to this particular island of Hawaii. There is a rumor that a terrible curse affects this particular region but Malcolm dismisses that as local superstition. Malcolm and Maxine then settle down to sleep together as a married couple, unaware that shadowed figures stalk their small cabin,,,
Backup Story
MOUTHFUL OF DEATH
8 Pages
NOTE: This story is composed with every panel being an homage to a panel from an issue of SAVAGE DRAGON
Credits
Lukasz Mazur: Story & Art
Piotr Nowacki: Font
Erik Larsen & Fletcher Hanks: Inspiration
Guest Heroes
Mouthful of Death / Object 0-8-4
Guest Villains
Major Nestle
Diamond Menorah
Summary
An armored man known as Major Nestle is informed by his guards that the dangerous Object 0-8-4 has escaped from her cell. She is tearing through the building's security so Major Nestle goes to confront this assailant, leaving his associate Diamond Menorah behind. Object 0-8-4 continues to defeat the best of the Major Nestle's warriors until it is only he that remains. He is soon beaten too which leaves Object 0-8-4 victorious. Diamond Menorah then heads down to assist Major Nestle against their mutual enemy…