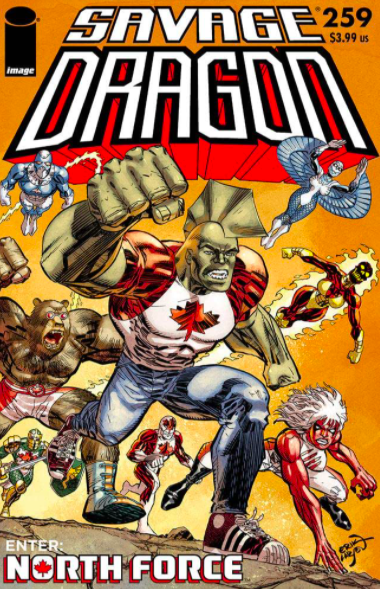 Savage Dragon #259
Welcome to North Force!
June, 2021
20 Pages
CREDITS
Erik Larsen: Story & Art
Ferran Delgado: Letters
Nikos Koutsis: Colors
Mike Toris: Flats
Gavin Higginbotham: Editor
Josh Eichhörn: void where prohibited
HEROES
North Force
The Canadian
Blue Jay
The Flame
Grizzly
Jet
The Knight
Raptor
Malcolm Dragon 
SUPPORTING CHARACTERS
Maxine Jung Dragon
Tyrone Dragon
Amy Dragon
Jackson Dragon
Madeline Dragon
Shamus Pugg
Captain Tootsie
Jon Day
VILLAINS
SUMMARY
The members of North Force interview Malcolm Dragon as a possible member for their team. The interview is interrupted when Shamus Pugg informs the collected heroes that aliens have invaded Winnipeg. Malcolm joins North Force as they travel to face the Stone Men from Cyrus-5 in Winnipeg. Malcolm talks to his wife on the phone and promises not to run off to space with the team. The battle is long and hard fought and the heroes appear to be losing to their superior numbers, when Captain Tootsie arrives and shatters the Stone Men with his Fargo-Ray, reducing them to rubble. Tootsie tells the Canadian that they need to take the battle back to Cyrus-5. The Canadian tells Captain Tootsie that they have no means of space travel, but Tootsie has captured one of their saucers over Thunder Bay and offers to take the team to the Stone Men's home planet to defeat them once and for all. Malcolm Dragon tells the group that he can't go, which prompts the Canadian to tell him that North Force needs to be able to count on team members to leap into action without hesitation. North Force and Captain Tootsie leave in the saucer to go face the Stone Men, leaving Malcolm Dragon behind.
BACKUP STORY
RED HOOK
"Bride of Wax" part 1
4 pages
CREDITS
Dave Kelly: Script
Dave Kelly & Deal Haspiel: Story
Brett Hobson: Art
Tom Napolitano: Colors
DC Hopkins: Letters
Clare Dezutti: Additional Continuity
April Snellings: Editor
HERO
The Red Hook
GUEST HEROES
The Possum
SUPPORTING CHARACTERS
Catherine
GUEST SUPPORTING CHARACTERS
Madam Ordo
VILLAIN
The Mannequin
SUMMARY
Valentine's Day. When the Mannequin fails to bring life to the wax form of Catherine he's consoled by Madam Ordo who tells the tormented artist that one ingredient he needs to give life to his beloved-to-be is blood. The Mannequin creates a dimensional gateway which transports the Red Hook to his lair somewhere out of time, and pleads with him to help him retrieve the blood from the most virile being on the planet: the Savage Dragon!