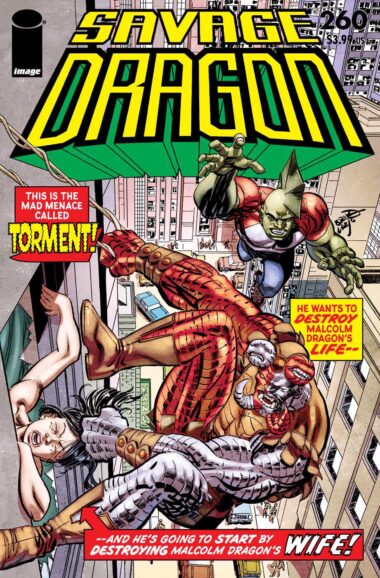 Savage Dragon #260
Torment!
September, 2021
20 Pages
CREDITS
Erik Larsen: Story & Art
A) Rus Wooton: Letters
B) Jack Morelli: Letters
Nikos Koutsis: Colors
Mike Toris: Flats
Gavin Higginbotham: Editor
A) Josh Eichhörn: grinds his own meat
B) Josh Eichhörn: pulls his own pork
HEROES
SUPPORTING CHARACTERS
Maxine Jung Dragon
Tyrone Dragon
Amy Dragon
Jackson Dragon
Madeline Dragon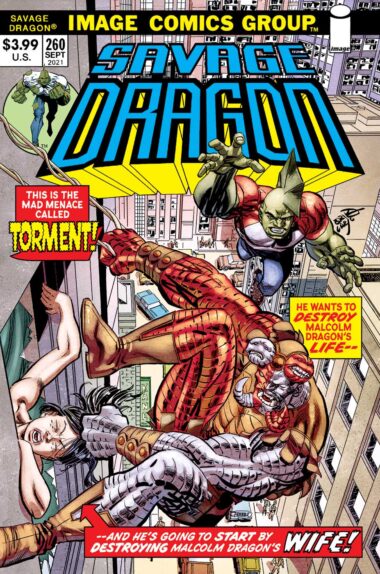 William Jonson
Joseph Strange
Mrs. Torrence
Angel Murphy
Alex Wilde
Mark Jonson
Peter Jonson
Janey (Image Universe)
Janey (Savage World)
Rita Medermade
Jon Day (death issue)
VILLAINS
SUMMARY
Paul Dragon gets a cyborg arm from Joseph Strange. Paul asks Malcolm to be his best man but Malcolm declines the invitation which upsets Maxine. Meanwhile, Torment eats a guy. Paul asks William Jonson to be his best man and he agrees, correctly guessing that he wasn't Paul's first choice. Angel helps Alex pick out a wedding gown. Malcolm tracks down Torments mother, Mrs. Torrence, thinking she might know where Torment is hiding. Malcolm overhears him in the bathroom taking a bubble bath but when he enters the room he finds that Torment has fled through an open window. Paul Dragon's wedding day arrives. All the guests are in attendance except Malcolm, who's running late. Torment had tracked Malcolm to his home. He pulls Maxine out through a window. He's upset that Malcolm had tracked him to his home. As Paul says his vows Torment and Malcolm Dragon are in a bloody brawl. Malcolm saves Maxine but Torment tears into him, at one point choking him with his own intestines. When Torment's mom interrupts the battle, asking her son what he's doing, Malcolm splatters the demon and angel heads imbedded in Torment's skull and Torment tumbles to the ground. Then Malcolm feints due to blood loss. Latser, he appears in a hospital, healing nicely. Maxine gives a quick look under the covers to make sure the boys are okay.
BACKUP STORY
RED HOOK
"Bride of Wax" part 2
4 pages
CREDITS
Dave Kelly: Script
Dave Kelly & Deal Haspiel: Story
Brett Hobson: Art
Tom Napolitano: Colors
DC Hopkins: Letters
Clare Dezutti: Additional Continuity
April Snellings: Editor
HERO
The Red Hook
GUEST HEROES
The Dragon
GUEST SUPPORTING CHARACTERS
Madam Ordo
VILLAIN
The Blargg
The Blergg
The Mannequin
SUMMARY
Valentine's Day. The Red Hook drops in on the Dragon who's in the midst of a brawl. Dragon pulls out the Blargg's heart to keep him from exploding. Red Hook explains to Dragon that he needs his blood and Dragon tells him it's not a good idea. As the Blergg approaches, Dragon asks for the Red Hook's assistance but then both plummet through a portal to another dimension, and another problem!