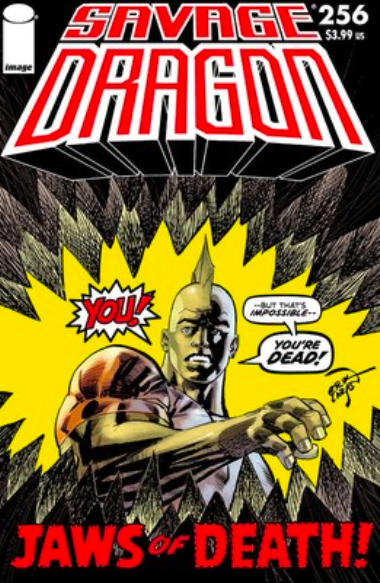 Savage Dragon #256
The Jaws of Death!
January 2021
20 Pages
CREDITS
Erik Larsen: Story & Art
Ferran Delgado: Letters
Nikos Koutsis: Colors
Mike Toris: Flats
Gavin Higginbotham: Editor
Josh Eichhörn: studying a broad
HEROES
Malcolm Dragon 
Battle Girl
Paul Dragon
SUPPORTING CHARACTERS
Maxine Jung Dragon
Tyrone Dragon
Jack Dragon
Amy Dragon
Maddy Dragon
Bellco Chemicals
– Kazuki
Alex Wilde
Jon Day
Officer Frank Darling Jr.
The Vicious Circle
Mako II
Benedict Milhous
SUMMARY
While Malcolm Dragon recovers from his wounds in a hospital in Toronto, Ontario, Canada, a Bellco employee named Andy Bannon injects himself with Mako's blood in the Bellco Chemicals facility in Chicago, Illinois.
Mako's blood transforms Bannon into a younger, stronger, bigger version of Mako. Angel Murphy is called in to deal with this new and improved Mako but is quickly dispatched by the villain, who pummels her and flees the scene, jumping into Lake Michigan.
Sometime later, Angel Murphy and Frank Darling Jr. discover that "Andy Bannon" was an alias of Benedict Milhous, a serial killer and villain who had gone by the name the Executioner. Benedict Milhous had been negated when Chicago was crop-dusted with Freak Out.
Back in Toronto Christmas has arrives and Malcolm's wounds have healed completely. Malcolm Dragon's family is visited by Paul Dragon and Alex Wilde.
Then Mako arrives in Toronto, having taken one of the underwater tunnels burrowed  by the Grokks from Lake Michigan to Lake Ontario. Mako seeks the Vicious Circle who he blames for having deserted him and left him to have his powers negated by Freak Out. When he emerges from Lake Ontario he leaves a path of bloodied remains behind him.
When authorities call to have Malcolm deal with Mako, Paul volunteers to deal with him, assuming that this Mako is his old friend from the dimension he came from. Paul assumes that Mako came to this Earth as he had, through Dimension-X, and was confused and disoriented. Releaved to not have to battle this foe on Christmas, Malcolm lets Paul deal with the problem.
But when Angel Murphy and Frank Darling Jr. call to wish the Dragon family a merry Christmas, Malcolm is shocked to discover that this Mako is Benedict Milhous, a vicious killer, and that Paul is in grave danger. Hastily, Malcolm rushes out to aid Paul who is being badly mauled by this deadly foe. Paul's arm is torn free and badly mangled before Malcolm arrives to do battle. Ultimately, it's a draw, as Malcolm blasts Mako with everything he has and unleashes a tremendous electrical charge which sends him flying but leaves Malcolm spent. Malcolm loses consciousness.
Maxine comes to the hospital, worried about Malcolm. But Malcolm is fine. The one who was really hurt was Paul Dragon, whose mangled arm could not be saved.
BACKUP STORY
ETHRIAN/VANGUARD: ETHEREAL WARRIORS
(NOTE: This back-up reprints pages 36-41 from VANGUARD: ETHEREAL WARRIORS, in color with redone lettering)
(NOTE: This back-up takes place prior to ETHRIAN in SAVAGE DRAGON 145-159)
Part 6
6 Pages
CREDITS
Gary Carlson: Story
Frank Fosco: Pencils
Bill Anderson, Stuart Karoubas: Inks
Adam Pruett: Letters
Nikos Koutsis: Colors
Mike Toris: Flats
HEROES
GUEST HEROES
Ethrian
SUPPORTING CHARACTERS
GUEST SUPPORTING CHARACTERS
Chuk
Krell
GUEST VILLAINS
Zakorra
SUMMARY
Uh…