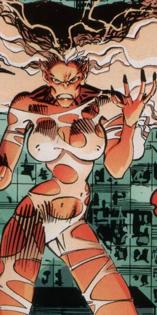 The Fiend III

Personal Information
Name: The Fiend III
Real Name: Bonnie Harris
Former Aliases: N/A
First Appearance: Bonnie Harris: Image Comics#0; The Fiend III: Savage Dragon #13
Death Issue: Savage Dragon #31
Cause of Death: Soul condemned to Hell by God
Group Affiliations: N/A
Height: Around 6′
Weight: Unrevealed
Eyes: Bonnie Harris: Brown; The Fiend: Red
Hair: Bonnie Harris: Grey; The Fiend: White
Date of Birth: Unknown
Place of Birth: Unknown
Base of Operations: Chicago, Illinois
Other Distinguishing Features: The Fiend has dark red skin and is demonic looking
Marital Status: Unknown
Known Relatives: Debbie Harris (daughter, deceased)
Powers: Superhuman strength, invulnerability, can generate immense amounts of flames and heat, he can also fly. The Fiend can also raise the dead by animating their form for a limited time. He can also feed upon hatred to increase his powers
History
Bonnie Harris discovered that her daughter had spent the night with Dragon following an argument where she locked Debbie out of their apartment. She made a telephone call to Debbie's ex-boyfriend Arnold Dimple to rile him up, causing the young man to try and kill the hero, accidentally shooting Debbie himself before committing suicide.
Left distraught by her daughter's death and her own guilt about her role in the murder, Bonnie began to allow herself to be consumed by hatred. She blamed Dragon entirely for the death and wanted him dead. This made her the perfect host for the Fiend who struck up a partnership that allowed Bonnie to finally vent her rage.
The Fiend carried out brutal beatings upon Dragon but believed that killing him would be too good as his soul would go to Heaven and be with Debbie. The Fiend struck a deal with the Unknown Sorcerer who sent Dragon's soul to Hell without killing him. It was here that Bonnie learned that Arnold Dimple was actually the Fiend. Unwilling to work with her daughter's murderer, she reneged on a deal with The Devil regarding Dragon's soul. When God intervened on Dragon's behalf, Bonnie pleaded with God to allow her into Heaven to see her daughter but was instead cast down into Hell.
Appearances
DRAGON
5
IMAGE
00
SAVAGE DRAGON
1, 3, 5, 11, 13, 14, 16, 17, 18, 19, 22, 25, 28, 29, 30, 31
SHATTERED IMAGE
4
SPAWN
52
SAVAGE DRAGON VOL 6 GANG WAR
Extra pages