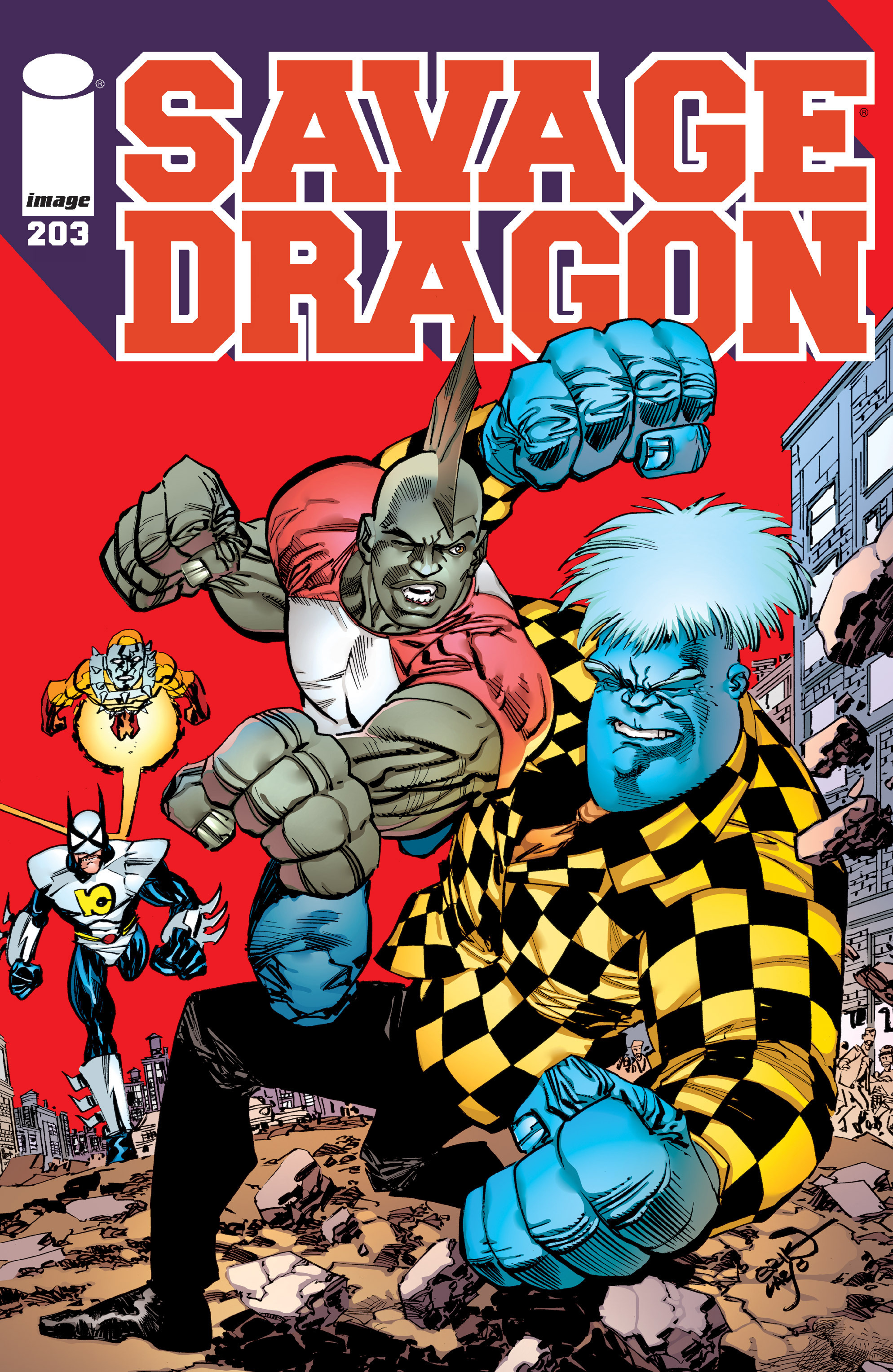 Savage Dragon #203
May 2015
18 Pages
Credits
Erik Larsen: Story & Art
Chris Eliopoulos: Letters
Nikos Koutsis: Colors
Mike Toris: Flats
Gavin Higginbotham: Editor
Josh Eicchorn:
Heroes
Malcolm Dragon
The Deadly Duo
– Kill-Cat
– The Kid Avenger
Battle Girl
Neutron Bob (Negation Issue)
Supporting Characters
Bellco Chemicals
– Melvin Bellco
– Kazuki
– Murray
Dr Larry Bradford
Jon Day
Maxine Jung Lai
Tierra Jones
Willard (First Appearance)
Villains
The Vicious Circle
– Dart II
– Rogue Warrior
Arachnid
Summary
Dart stands staring at a vial of her blood from before she was negated and wondering whether or not she should inject herself with it. Rogue Warrior att
empts to offer advice but merely suggests that she take it to restore her superhuman abilities. Dart is wary about having the Mako infected blood in her body again. She dismisses the notion of wearing armor but is unsure just what to do next as far as the blood goes.
Malcolm celebrates Christmas Day and is given a vial of his old blood by Battle Girl, given to her by Battle Tank from the time he gave Dragon a transfusion. Maxine is then given a present too which contain a personal force-field hidden in her watch. Angel then suggests that they all go to bed together but is informed by the couple that they are exclusive from now on.
The recently decapitated Melvin Bellco is revived when his lead scientists complete an operation to reattach his head. He not only finds himself aliv
e but now with the ability to control both his head and his body independently, with his head now being able to fly. Meanwhile, Malcolm takes down the child-devouring Arachnid during a fight in the sewers. He then heads home for a shower before school. Maxine is asked to answer a call to his cell phone which turns out to be Tierra Jones, whose call is ignored.
News footage of a recent fight between Malcolm and Dart is reviewed by the Deadly Duo and Kill-Cat is convinced that Malcolm is an imposter posing as Dragon. He suspects that Dart has been framed by this evildoer into appearing villainous and wishes to clear her name. The Deadly Duo enlist the aid of Neutron Bob by offering a cure to his ailing mother, struck down by an illness conveniently before Kill-Cat needed his help.
The Deadly Duo and Neutron Bob stage a mock fight outside a Vicious Circle lair that Bob provided them the location of. This battle draws the attention of Malcolm who dismisses the notion of being a false Dragon, pointing out that he is a different person to his father who has been locked up in prison for years now.
As an argument about what happens next commences, they are interrupted when Dart jumps into the fray. She uses Freak Out darts to depower both Malcolm and Neutron Bob before trying to kill Malcolm now that he is somewhat vulnerable. Malcolm tries to leave but the Deadly Duo intercepts him, allowing Dart to move in for the kill. Bob desperately leaps in to help and distracts Dart long enough for Malcolm to knock her out, moments before passing out from blood loss.
The Deadly Duo take the unconscious Dart away to try and help rid her of her obvious "brainwashing" that made her into a villain. Malcolm awakens in Hillman Hospital where Larry Bradford reveals to him that he has been injected with his original blood to restore all of his old powers. He then leaves as Malcolm is visited by Tierra Jones who wishes to talk with her ex-boyfriend. Malcolm dismisses that notion but Tierra interrupts him to drop a bombshell piece of news in that she is pregnant…
Backup Story
SAVAGE DRAGON
2 Pages
NOTE: These two pages serve as bookends for SAVAGE DRAGON #199
Credits
Erik Larsen: Story & Art
Chris Eliopoulos: Letters
Nikos Koutsis: Colors
Mike Toris: Flats
Heroes
Malcolm Dragon
The Special Operations Strikeforce
– SuperPatriot
– Battle Girl
– Battle Tank
– Daredevil
– Horridus
Supporting Characters
Craig Gotsill (First Appearance)
Maxine Jung Lai
Summary
Maxine is abruptly cut off from her phone conversation with Malcolm and wonders what her next move is now that she has left home. The apartment manager Craig arrives home to discover her sat there surrounded by all of her belongings. He offers to let Maxine in and assist with moving in all of her stuff and even give her a key of her own.
With the threat of the Demonoids now over, Battle Girl questions why Malcolm and Maxine were trying to sneak away without saying goodbye. The couple thank the Special Operations Strikeforce for helping to fend off the invasion from the underground. Malcolm mentions how Maxine is moving in with him and is warned by Battle Tank of potential danger of his girlfriend living in the same apartment. Horridus asks Maxine if she is having sex with Malcolm yet and advises her to do so straight away. Malcolm and Maxine thank their friends once more before going home together.