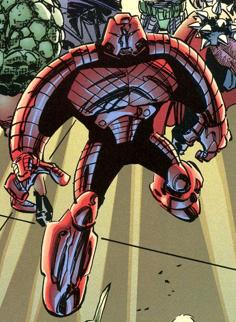 DownLoad
Personal Information
Name: DownLoad
Real Name: Unknown
Former Aliases: N/A
First Appearance: Savage Dragon #23
Group Affiliations: The Vicious Circle
Height: Around 7′
Weight: Unknown
Eyes: White (Human-brown)
Hair: N/A (Human-black)
Date of Birth: Unknown
Place of Birth: Unknown
Base of Operations: Chicago, Illinois
Other Distinguishing Features: DownLoad is actually a diminutive man that pilots a powerful battle-suit
Marital Status: Unknown
Known Relatives: N/A
Powers: Superhuman strength, energy projection
History
As the Gang War for the right to rule over the Vicious Circle raged, DownLoad was one of those villains that emerged. He pointed out to BrainiApe would not be accepted as a leader which resulted in a brutal beat down. DownLoad became an enforcer for CyberFace when he took control of the criminal group.
After Horde rose to power, DownLoad was one of dozens of villains dispatched to kill Dragon after he was kicked off of the police force. He was shrunk down to a miniaturised state along with all of his comrades. DownLoad took on the leadership role of this group and led them on repeated assaults upon Dragon.

DownLoad remained with the Vicious Circle for years. He took part in the raid upon Hillman Hospital to steal a vial of Dragon's blood for OverLord III to create his Dragon Army. That ill-fated cadre and other factors caused DownLoad and his peers to reject the leadership of the latest OverLord.
DownLoad later helps Dart II in her prison attack in order to free members of the Vicious Circle.
Appearances
IMAGE UNITED
2
MIGHTY MAN
Oneshot
SAVAGE DRAGON
23, 24, 25, 26, 37, 38, 40, 50, 64, 66, 117 (B/U), 152, 165, 191, 249, 261, 265
TEENAGE MUTANT NINJA TURTLES VOL.3
10