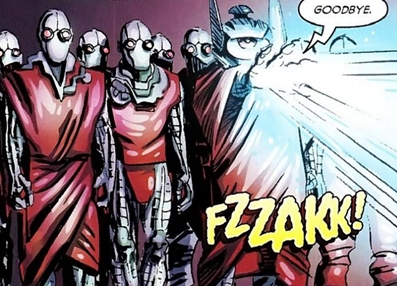 The Mekka-Drones

Personal Information
Name: The Mekka-Drones
Real Name: N/A
Former Aliases: N/A
First Appearance: Savage Dragon #150
Death Issue: Savage Dragon #180
Cause Of Death: Destoryed through various means.
Group Affiliations: The Tyrrus Combine
Height: Various
Weight: Various
Eyes: Red
Hair: N/A
Date of Birth: Various
Place of Birth: Various
Base of Operations: Various Tyrrus Combine Ships
Other Distinguishing Features: The drones have a grey exterior, big red eyes, and wear a red robe.
Marital Status: N/A
Known Relatives: N/A
Powers: Can control the Tyrrus Combine ships and various other technological sources
NOTE: The Mekka-Drones are owned by Gary S. Carlson.
History
The Mekka Drones are drones that are used The Tyrrus Combine to pilot their ships as well as take control of ships that belong to the enemy.
One is actually able to take control of Vanguard's ship and is able to bring aboard a large number of the Tyrraneans. This drone is eventually destroyed by Wally who takes over its body.
Nearly all of these servant drones are destroyed in the Tyrraneans invasion of Earth.
Appearances
SAVAGE DRAGON
150 (B/U), 177(B/U), 178 (B/U), 179 (B/U), 180 (B/U), 183 (B/U) (F/B), 200 (B/U), 201 (B/U)