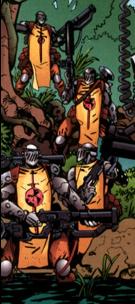 The Covenant Drones

Personal Information
Name: The Covenant Drones
Real Name: Unknown
Former Aliases: N/A
First Appearance: SuperPatriot#1 (Of 4)
Death Issue: Savage Dragon#103 (Off Panel)
Cause of Death: Consumed by Universo
Group Affiliations: The Covenant of the Sword
Height: Various
Weight: Various
Eyes: Various
Hair: Various
Date of Birth: Various
Place of Birth: Various
Base of Operations: Global
Other Distinguishing Features: The drones are covered in armor
Marital Status: N/A
Known Relatives: N/A
Powers: Superhuman strength, cybernetic enhancements and weaponry
NOTE: The Covenant Drones created by Erik Larsen, with help from Keith Giffen and Dave Johnson.
History
The Covenant of the Sword was set up decades ago by the time-travelling DarkLord in preparation for his own birth. This world-wide organization was run by the Council but their orders and missions were carried out by the Covenant Drones. These heavily-armed and highly-skilled soldiers were formidable and opposed SuperPatriot on numerous occasions, taking him to the limit multiple times.
When Universo came to every Earth in the multiverse, he consumed the planet that still had the Covenant of the Sword's presence.
Appearances
BADROCK AND COMPANY
5
BLOODSTRIKE VOL.1
5, 6, 7, 9, 10, 11, 13
IMAGE UNITED
2 (B/U)
SAVAGE DRAGON
33, 62, 67, 73, 74, 75
SAVAGE DRAGON ½
Oneshot
SUPERPATRIOT: LIBERTY & JUSTICE
1, 2, 3, 4
YOUNGBLOOD STRIKEFILE
8