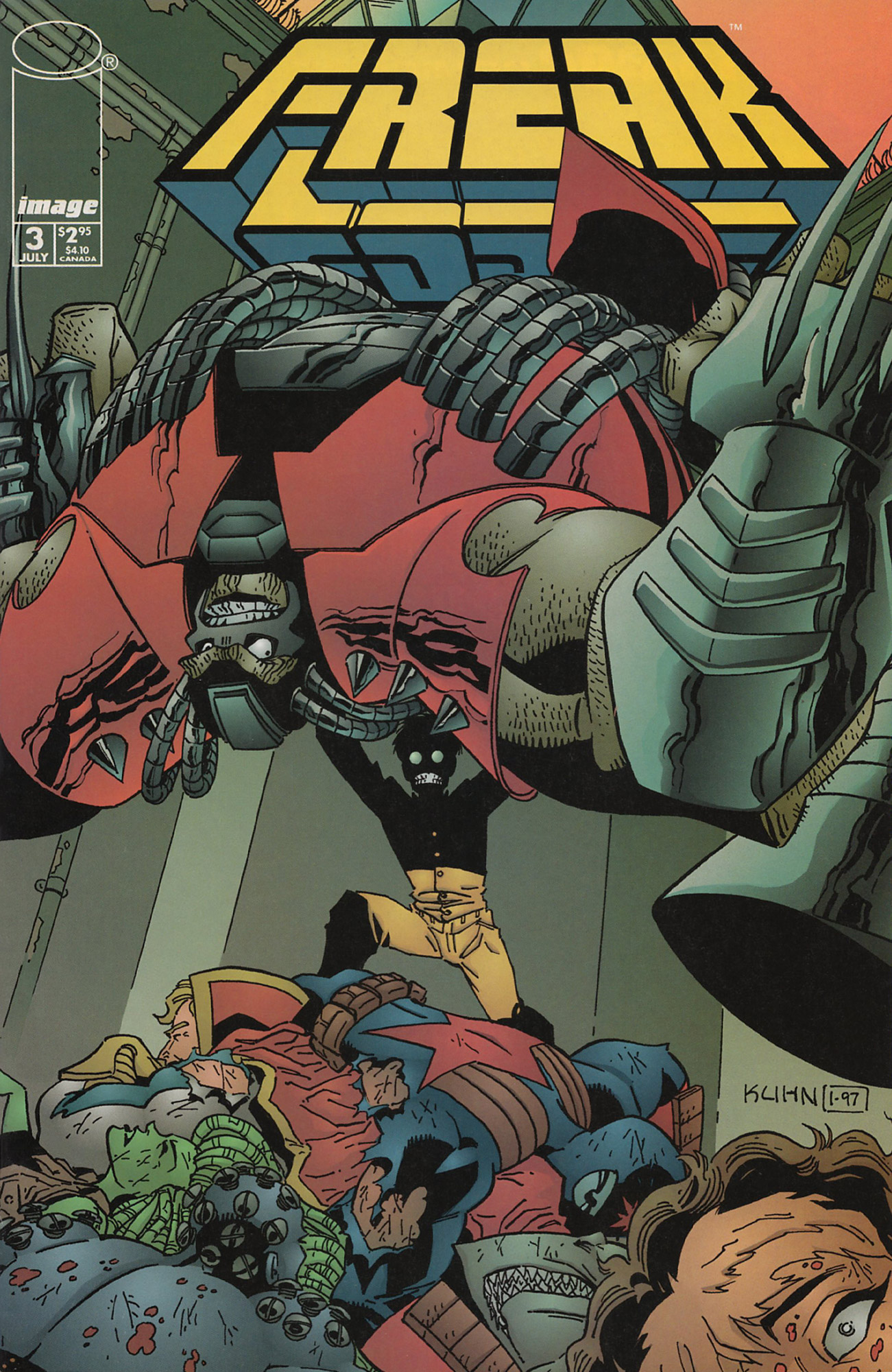 Freak Force #3 (Of 3)
July 1997
22 Pages
Credits
Erik Larsen: Creator & Writer & Editor
Eric Stephenson: Co-Scripter
Andy Kuhn: Pencils
Howard Shum & Ande Parks: Inks
Chris Eliopoulos: Letters
I.H.O.C.: Colors
– Reuben Rude
– Abel Mouton
– Bill Zindel
– Lea Rude
– John Zaia
– Jose Arenas
Andy Kuhn: Cover Inks
Quantum Color FX: Film Output
Garrett Chin: Assistant Editor
Josh Eichorn: Took His Mother to the Prom – Got Lucky.
Heroes
Freak Force
– Star III (Death Issue)
– Dart
– Barbaric
– Horridus
– Mighty Man II
– Rapture
– Ricochet
– SuperPatriot
Dragon
Liberty
Justice
Supporting Characters
Joey Finkleberry
Peter Klaptin
Villains
The Frightening Force (Disbands)
– Chelsea Nirvana (Quits)
– Bludgeon II (Quits)
– Fever (Quits)
– Inferno (Quits)
– The Inhabiter (Death Issue)
– Mako (Quits)
– Negate (Quits)
– Roughneck (Quits)
Dr. Nirvana
Ultimatum
Summary
SuperPatriot manages to blast himself and Star loose of the kitchen which then opens up to reveal the entire roster of the Frightening Force. Horridus breaks free of the sink and joins with the rest of Freak Force in trying to repel this assault. Rapture demands that Star starts pulling his weight and he unveils a previously hidden helicopter that had been stored underground. The heroes make their retreat and Rapture concocts a plan that consists purely of reaching Joey Finkleberry.
The heroes arrive at Stronghold Penitentiary and make their way through the worryingly quiet prison in search of their young ally. Ultimatum had released all of prisoners and they charge through the facility until they confront Freak Force. The villains demand that Freak Force clear the path to their freedom but Joey steps forward. He commands all of the super-freaks to get back to their cells before he loses his temper with them.
As the Frightening Force approach in their aircraft and Mighty Man intercepts, flying straight through the vessel. The villains emerge from the resulting wreckage and Negate grabs a hold of Horridus and attempts to remove her powers. Her alien heritage spares her any neutralization before knocking out her opponent. The Inhabiter creates a monster that attacks Ricochet but Barbaric destroys it before Joey gets his hands on the villain and tears his head off.
Chelsea Nirvana is enraged by the death of her boyfriend but her rampage is cut off when Dart returns to action to help her friends. She is armed with a new weapon that enables her to defeat Inferno and then Roughneck. As Chelsea attempts to rally her allies, the figure stalking her finally catches up and is revealed to be her father, Dr. Nirvana. He explains that the Solution-X injection was not designed to kill him but in fact awaken him from a comatose state. The villain then uses a device to trade minds with his daughter. Dr. Nirvana had originally sired an heir so that he could one day steal their body and the fact that Chelsea was transformed into man gives him the body he wanted.
Dr. Nirvana tears his own original body out of his battle-suit and takes it back for his own use but before he can kill Chelsea, Star leaps to her defence. The vigilante is shot dead by the villain who then flies away as he has other plans to pursue. Star has his mask removed and it is revealed that he is not Peter Klaptin but rather the singer's limousine driver. Joey Finkleberry moves to bring down the rest of the villains but he is pinned down by the Frightening Force and Negate removes his powers. The sheer amount of power in Joey's body means that its removal causes an explosion that knocks out all of the Frightening Force just as Dragon arrives with the Chicago Police Department.
In the aftermath, Negate is used to remove any abilities that would have manifested in Barbaric and Ricochet's child. Justice realizes that he can never compete with Dart's superhero career and her bond with Freak Force and decides to reunite with his sister to continue crime-fighting elsewhere. Dart is happy again that she can contribute to the team due to her new arsenal. Freak Force then return to their devastated Donut-A-Rama headquarters to try and get their careers back on track.
External Links