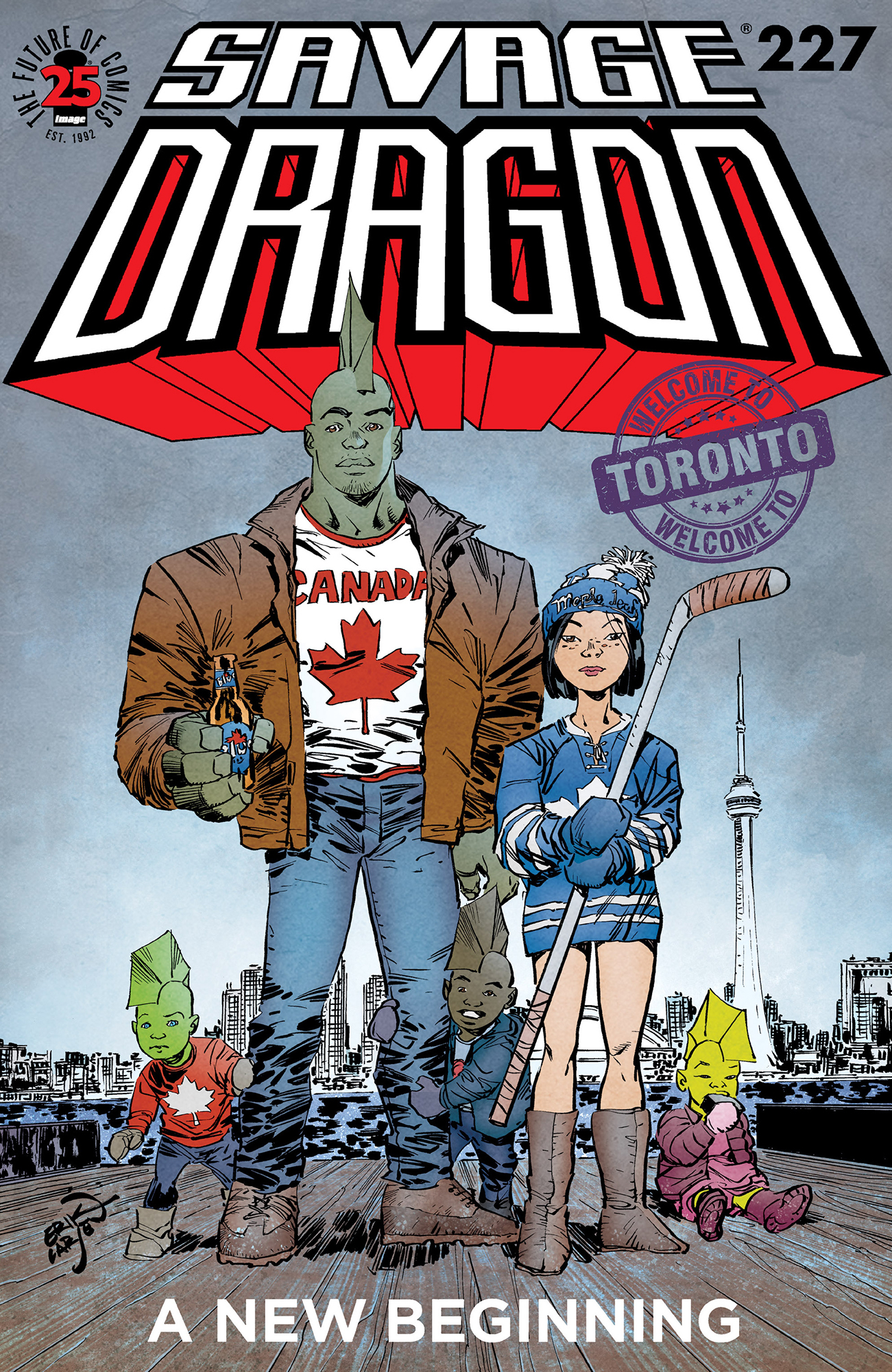 Savage Dragon #227
October 2017
20 Pages
Credits
Erik Larsen: Story & Art
Chris Eliopoulos: Letters
Nikos Koutsis: Colors
Mike Toris: Flats
Gavin Higginbotham: Editor
Josh Eicchorn: getting his sexy on.
Heroes
Malcolm Dragon
Battle Girl
Daredevil
Super-Tough
Supporting Characters
Maxine Jung Dragon
Amy Dragon
Jack Dragon
Tyrone Dragon
Chicago Police Department
– Captain Jack Stewart
– Officer Jordan Gordon
Alex Wilde
Jennifer Murphy
Jon Day
Thunder-Head
Villains
The Great Divide
Real World:
President Donald Trump
Summary
Super-Tough leads a large number of federal agents into the S.O.S. compound where they arrest Daredevil and the scientists that had enabled the portal to Dimension-X to be activated. It has been deemed that Alex Wilde and Jennifer & Angel Murphy are "aliens" as they hailed from a different Earth and that they can share the fate of the other extra-terrestrials by being exiled in Dimension-X. The women have no idea about this revelation and are instead left battling numerous alien threats.
Meanwhile, Malcolm Dragon considers his next move as he and his family are driven in a police wagon for a long journey. Maxine suggests that he breaks out and flees for the border with the kids and she will remain behind for now as she should be okay. He does not wish to become a fugitive and holds off any action just now. Malcolm suspects they are being taken to Washington, DC to be thrown through the portal into Dimension-X.
When the vehicle finally comes to a halt, Malcolm is ready for action but is pleasantly surprised to find members of the Chicago Police Department waiting to greet him. Captain Stewart explains that he had to make their arrest look good due to the amount of witnesses but he could not allow a friend and colleague to be treated so unfairly. He had instead transported the Dragon family across the border to Windsor, Ontario, Canada where they can live unmolested. Malcolm thanks his now former boss as his family prepare to start a new life in another country.
Malcolm and his family visit with government officials to make their moving to Canada legal and they settle on moving to Toronto. They begin searching for a new apartment to live in and eventually settle on a nice one close to the busiest part of the city. Malcolm and Maxine discuss their new lives and some friendly people who overhear their conversation invite them to a party so that they can make new friends.
The party seems to go well with the couple meeting lots of people whom they ask if they can help them move their stuff into their new home when it arrives. Maxine approaches the subject of having a threesome with Thunder-Head who is making the long drive with all of their stuff as something of a thank you gift. Malcolm shuts down the notion before they go to greet his brother. They are joined by numerous volunteers that they met at the party who help to move them all in.
Back in Dimension-X, the heroes there manage to defeat numerous threats. Alex is at the most risk as it's only the power glove giving her a strength boost but she remains vulnerable to physical threats. They eventually settle down on a barren world where they discuss their options. Alex is upset that their plan to revive Dragon failed. Angel suspects that Malcolm will come to their rescue but Jennifer believes that they should make their own plans to survive…
Funnies
G-Man Webcomics by Chris Giarrusso
Draw Brandon Draw by Brandon B.
Tales from Rum Row by Andrew Maxwell & Luca Claretti with Ed Ryzowski
Pin-Ups
Erik Larsen: Graphic Fantasy double page spread (with character key)