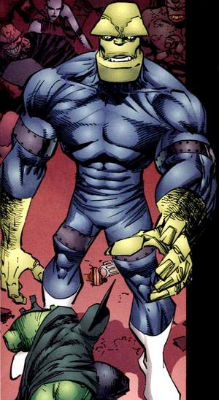 Animal II
Personal Information
Name: Animal II
Real Name: Ferris Wilson
Former Aliases: N/A
First Appearance: Savage Dragon #56
Group Affiliations: The Vicious Circle
Height: Over 6′
Weight: Unknown
Eyes: Blue
Hair: N/A
Date of Birth: Unknown
Place of Birth: Unknown
Base of Operations: Chicago, Illinois
Other Distinguishing Features: Animal II has green skin and a large jaw
Marital Status: N/A
Known Relatives: Bloop (brother), Jennifer Dragon (sister, deceased), Mrs. Wilson (mother)
Powers: Superhuman strength
History
Animal with his brother Bloop joined the Vicious Circle and first came into prominence when the siblings fended off Dragon's investigations of the Freak Outpost bar in Chicago. Dragon had been seeking the location of Ralph Jonson in connection to the abduction of Rita Medermade. The Vicious Circle took exception to Dragon badgering the patrons of their club and Bloop and Animal sent the hero packing.
The siblings were later recruited into OverLord II's faction of the Vicious Circle and were part of a group assigned to killing Dragon should he escape a death-trap set up by their employer. Dragon indeed escaped and proceeded to pummel the villains into unconsciousness.
Animal has remained in the Vicious Circle ever since and maintains a partnership with his brother. It remains a secret but Bloop and Animal are actually the brothers of Dragon's late wife, Jennifer. Their elderly mother resides in a nursing home in Baltimore, Maryland where sadly, senility has settled in. One night, Animal and Bloop arrive home and discover Jennifer alive and well in one of their beds along with Battle Dragon. While they are suspicious of what is going on they are unable to form a proper conclusion until Battleaxe attacks their home. It is revealed that Jennifer, is not Jennifer, but the shape changer, Mutation. It turns out that Animal and Blood had brought in Negate to see if "Jennifer" really was who she said she was. Negate touches Mutation who turns to be Gertie Funk and Helen Black. Battle Axe murders Gertie and leaves with Battle Dragon. Bloop then tells Negate to use his powers on both him and his brother as they are tried of all the death that surrounds their lives as criminals.
No longer a super-freak Ferris and his brother visit their mother who is doing better with her medical issues and the three try to start anew.
Appearances
SAVAGE DRAGON
56, 63, 100 (B/U), 132, 163(T/F), 186, 187, 189, 190264 (AU F/B)