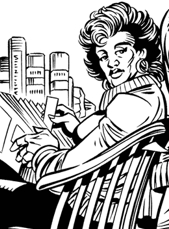 Wells, Vivienne
Personal Information
Name: Vivienne Wells
Real Name: See above
Former Aliases: N/A
First Appearance: Vanguard: Strange Visitors #1 (Of 4)
Group Affiliations: N/A
Height: Below 6′
Weight: Unknown
Eyes: Brown
Hair: Black
Date of Birth: Unknown
Place of Birth: Unknown
Base of Operations: Chicago, Illinois
Other Distinguishing Features: N/A
Marital Status: Widowed
Known Relatives: Robert Wells (husband, deceased), Roxanne Wells (daughter)
Powers: N/A
NOTE: Vivienne Wells is owned by Erik Larsen and Gary S. Carlson.
History
Vivienne Wells is the protective mother of Roxanne Wells, the reporter girlfriend of Vanguard.
After her husband dies she begins to suffer from memory lapses and has a hard time knowing what is happening around her. She is placed into a nursing home where her daugher Roxanne visits. When Roxanne decides to leave Earth with Vanguard she visits her mother a final time.
Appearances
SAVAGE DRAGON
184 (B/U)
VANGUARD
6 (answering machine)