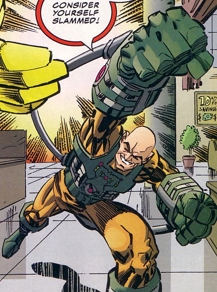 The Slammer

Personal Information
Name: The Slammer
Real Name: Unknown
Former Aliases: N/A
First Appearance: Savage Dragon #109 (Back-Up)
Death Issue: Savage Dragon #114 (Back-Up)
Cause of Death: Left in space by Mighty Man V
Group Affiliations: N/A
Height: Around 6′
Weight: Unknown
Eyes: Black
Hair: N/A
Date of Birth: Unknown
Place of Birth: Unknown
Base of Operations: Chicago, Illinois
Other Distinguishing Features: N/A
Marital Status: Unknown
Known Relatives: N/A
Powers: N/A
Weapons: The Slammer wields a pair of energy gloves along with a harness that constructs powerful force-fields or generates deadly force-beams.
NOTE: The Slammer created by Erik Larsen, with help from Gary S. Carlson and Mark Englert.
History
The Slammer was a super-powered bank robber that mercilessly killed people in order to escape capture by Mighty Man II. When Billy Berman stole the powers from Ann Stevens, he used the Mighty Man abilities to target numerous supervillains. The Slammer was one of the first to fall before his merciless war on crime.
Appearances
MIGHTY MAN
Oneshot
SAVAGE DRAGON
109 (B/U) , 110 (B/U) , 112, 113 (B/U) , 114 (B/U)