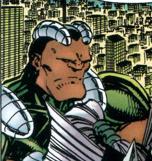 Basher

Personal Information
Name: Basher
Real Name: Unknown
Former Aliases: N/A
First Appearance: Savage Dragon #1 (Of 3)
Death Issue: Savage Dragon #2 (Of 3)
Cause of Death: Shot in the head by SuperPatriot
Group Affiliations: The Vicious Circle,Superfreak Coalition of Chicago
Height: Over 6′
Weight: Unknown
Eyes: Unclear
Hair: Unseen
Date of Birth: Unknown
Place of Birth: Unknown
Base of Operations: Chicago, Illinois
Other Distinguishing Features: None
Marital Status: N/A
Known Relatives: N/A
Powers: Superhuman strength, bulletproof.
History
Basher was one of the more ambitious members of the Vicious Circle, acting independent from orders issued from OverLord. He was also the villain responsible for the original Star only attempting crime-fighting once, suffering a brutal beat down at the hands of the criminal superhuman.
Alongside HellRazor and Mako, Basher was marked for death by OverLord who arranged for the newly cybernetic SuperPatriot. He was unleashed upon the trio to prevent them from getting any more ambitious but he succeeded only in killing Basher before being taken down by Dragon.
Appearances
SAVAGE DRAGON
32 (F/B)
SAVAGE DRAGON MINI-SERIES
1, 2
STAR
4 (F/B)
SUPERPATRIOT
2 (F/B)