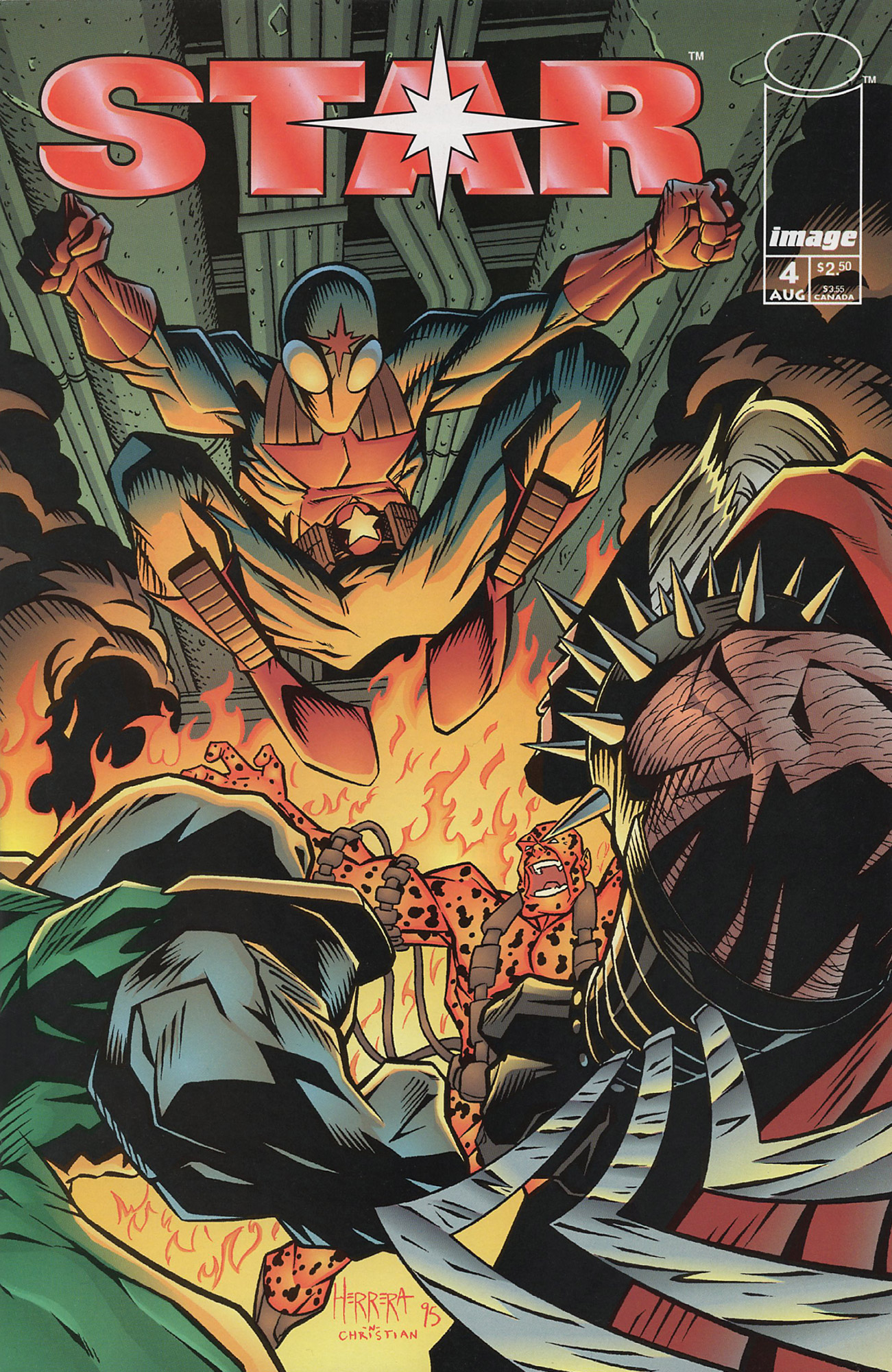 Star #4 (of 4)
Cover Date: October 1995
Cover Price: $2.50 (US) / $? (CAN)
Format: X-Pages / Color
Cover: Ben Herrera
LEAD STORY:
Pages:
Credits
Story: Tom and Mary Bierbaum
Pencils: Ben Herrera
Inks: Mike Christian & Gary Martin
Colors: Reuben Rude & Antonia Kohl
Letters: Chris Eliopoulos
Editor/Creator: Erik Larsen
Heroes
Supporting Characters
Villains
Hellrazor
Inferno
Mako
MoreGore
Skullface (flashback)
Basher (flashback)
Summary
The molecular-compression devices are discovered in the massacred decoy group and Dragon is informed that Securitech is the only known company to have developed the technology, although they have apparently stopped their research.
As Peter Klaptin reluctantly faces his death, his captors are shocked at the sight of the real Star. They are all left confused at how their investigations could have been wrong, allowing the vigilante to gain the advantage in protecting the millionaire musician.
The origin of the costumed hero plays out inside his mind as Peter Klaptin decided to act on his childhood dream to become a superhero and designed a costume. After a sound defeat at the hands of Basher, the rock star realized he had to retire before his career could even take off. Chris Robinson had been involved in a gang employed by the Vicious Circle but managed to get out before he became too entwined. Unfortunately the young man's brother was a crack addict and if he left the criminal group, he'd lose his supply of the drugs, so he remained behind. Depressed that his brother was wasting his life, the former Navy SEAL came across local thugs beating on the world famous singer and he protected him, earning the position as bodyguard and the mantle of Star.
A fierce battle rages within the Securitech building that concludes with the facility exploding and destroying the molecular-compression notes and prototypes. All of the Vicious Circle freaks present manage to get free and escape as their nemesis the Dragon arrives. Both he and his lover, Rapture, witness Star being fired by his employer but he refuses to give up the costume. This enrages the singer/actor but he cannot act without revealing his pathetic ploy to convince the world that he is a superhero.
Story Notes
Collected Edition
Issue Extras
External Links
Entry at the Image Comics Database
PREVIOUS ISSUE: ISSUE #3 NEXT ISSUE: N/A