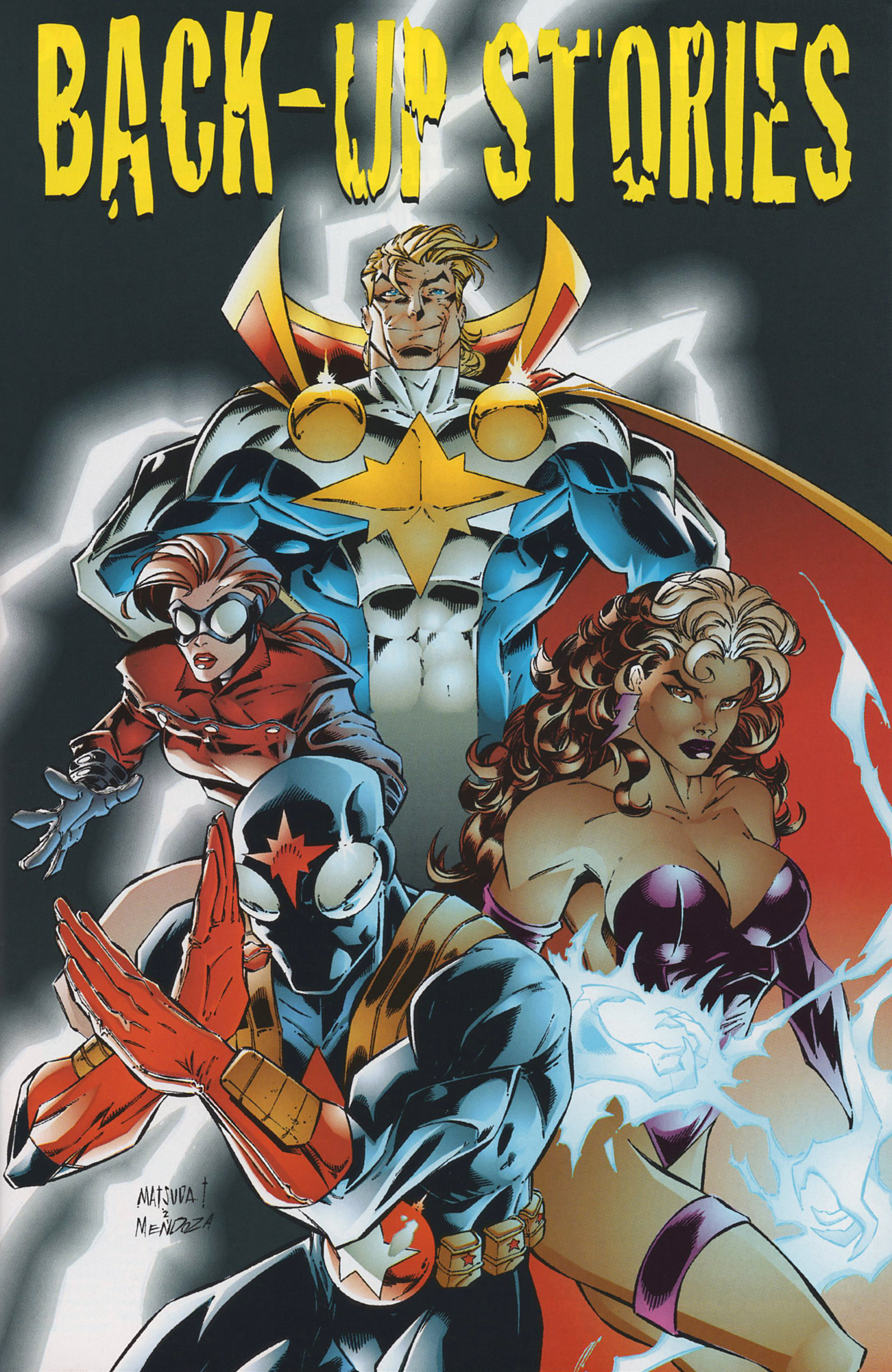 Back-Up Stories
NOTE: This book reprints additional stories and pin-up material from The Savage Dragon #s 2, 3, 4 and 5.
NOTE: This book is included shrink-wrapped as a bonus with the Savage Dragon: A Force To Be Reckoned With TPB.
February 1996
36 Pages
Credits
Jeff Matsuda and Jaime Mendoza: Cover
Abel Mouton: Cover Colors
STAR: FIRE FIGHT
8 Pages
Credits
Erik Larsen: Creator / Writer / Storyteller
Rob Haynes: Penciller
Tony Harris: Inker
Chris Eliopoulos: Letterer
Reuben Rude: Colorist
Heroes
Villains
Summary
While the Dragon is away on a mission in Sacramento, California extraditing a villain called DeathJob, the super-freak population seek to take advantage of this situation in Chicago. Inferno from the Vicious Circle is scaring away people at a factory which draws the attention of the vigilante Star. He takes the fight to the villain as flames begin to engulf the entire building.
Inferno gets a number of stars fired into his body which only goes to enrage him further, causing the fire to blaze out of control. He then sets Star's trademark hair alight and burns it all off but Inferno starts to get over-confident. The villain leaps at his opponent but misses, colliding with a gas container that promptly explodes and consumes him. The exhausted Star emerges from the flames before collapsing to the ground to recover.
NOTE: This story takes places right before the WILDSTAR: SKY ZERO miniseries.
MIGHTY MAN
4 Pages
Credits
Erik Larsen: Creator / Writer / Storyteller
Victor Bridges: Penciller
Terry Austin: Inker
Chris Eliopoulos: Letterer
Xan Micka: Colorist
Heroes
Supporting Characters
Summary
On top of a building in Chicago, Mighty Man shows off a new costume to his friend Phyllis Deeder who refers to him as "Sam". He is so powerful in this new form that he feels that he could take on the entire world. Their conversation confirms that this Mighty Man is not the same as the original and a new host body occupies the entity.
As they talk, Phyllis suggests that the two of them try out sex with the new Mighty Man body but this notion is quickly shut down. Phyllis apologizes for being inappropriate leading to Mighty Man in turn apologizing for overreacting. He believes that he should become a hero and make a difference in the world before the pair walk away together.
RAPTURE AND RICOCHET
10 Pages
Credits
Erik Larsen: Creator / Writer / Storyteller
Adam Hughes: Penciller
Karl Kesel: Inker
Chris Eliopoulos: Letterer
Steve Oliff, Antonia Kohl: Colorists
Jannie Wong: Editor
Tony Kelly and Kell-O-Graphics: Film Output
Josh Eichorn: Hired Goon
Heroes
Supporting Characters
Summary
After her perceived rejection by the Chicago Police Department, Ricochet bounces through the alleyways of the city. She comes across a scene where a super-powered prostitute is threatening to kill the man who used to be her pimp. Rapture wishes to avenge the death of a colleague at the hands of Bryan Louis Leroy Walker in brutal fashion.
Ricochet interrupts their argument and pleads with Rapture to stand down but has an electric shock administered to her. Ricochet bounces right back into action and takes down Rapture momentarily but a larger shock leaves her shaken. Rapture then blasts her intended victim but he pulls out a gun and fires it, the bullet grazing her arm.
Unwilling to allow Rapture to commit murder and ruin his life, Ricochet raises up to her feet and finally convinces her to give up her quest for vengeance. Bryan picks up his gun again and opens fire but as he presses the trigger, Rapture unleashes a fatal shot that kills him. Ricochet then takes Rapture with her back towards the police precinct so that she could join up their new super-team.
MIGHTY MAN
7 Pages
Credits
Erik Larsen: Creator / Writer / Storyteller
David Williams: Penciller
Karl Kesel: Inker
Chris Eliopoulos: Letterer
Reuben Rude: Colorist
Jannie Wong: Editor
Tony Kelly and Kell-O-Graphics: Film Output
Heroes
Supporting Characters
Villains
Summary
Mighty Man flies his terrified friend Phyllis Deeder to the top of a building before he catches the sound of trouble down on the street below. Mighty Man recognises a super-freak that had been on the news earlier is on a rampage. He opts to fly down and confront this threat, leaving Phyllis alone on the rooftop where she is trapped outside due to the doorway inside being locked shut.
As he reaches the street, Mighty Man is punched by the powerhouse called Brawn which sends him flying across the skyline. Phyllis starts to panic that she will be locked outside until she starves to death but is relieved to see Mighty Man flying back into action. He proceeds to pummel Brawn unconscious with relative ease before returning to the rooftop. Phyllis talks about how worried she was and gets an apology from Mighty Man. He is now ready to live up to his responsibility and wishes to continue on a career as a superhero.