Savage Dragon #230
December 2017
20 Pages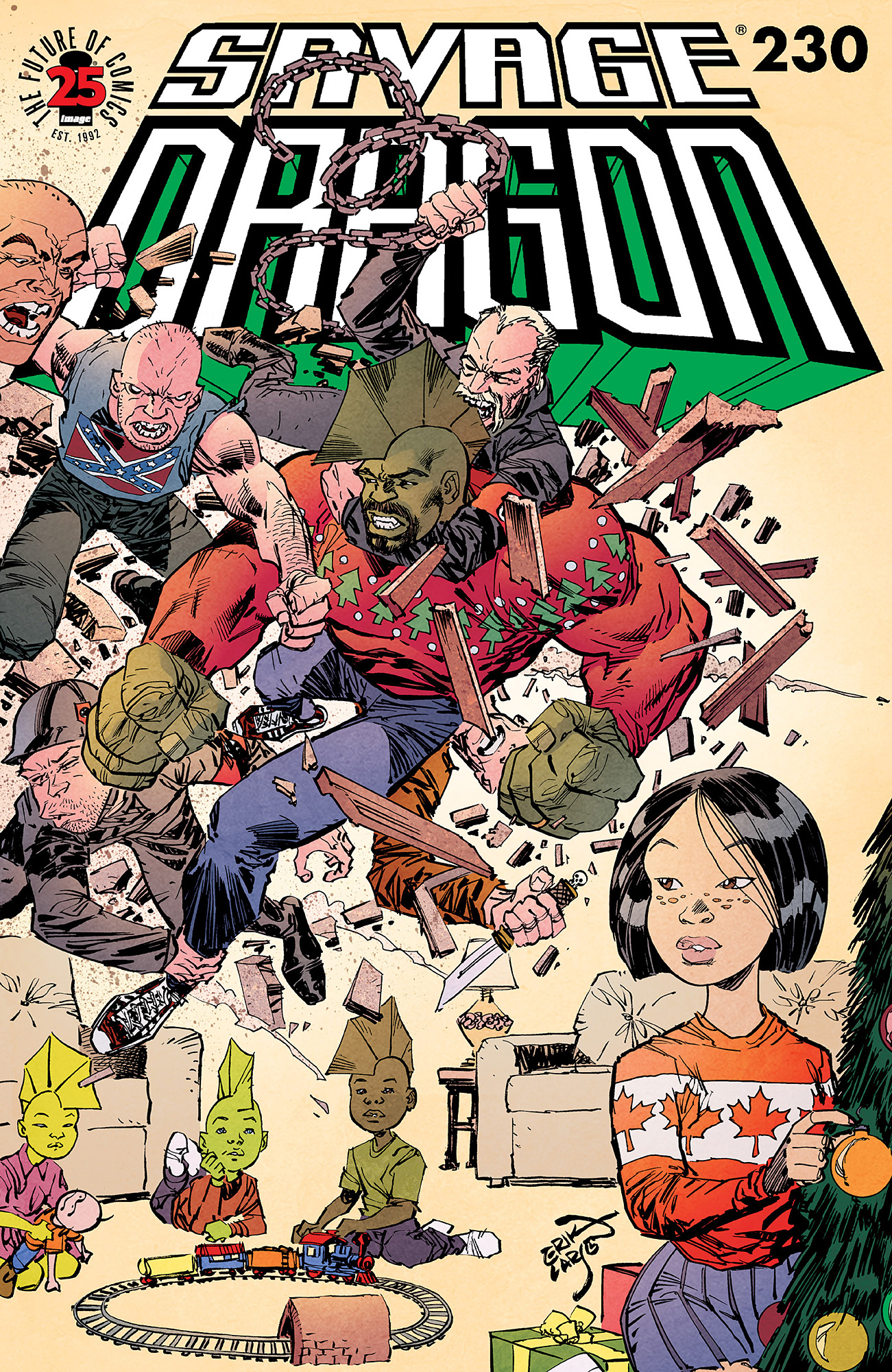 CREDITS
Erik Larsen: Story & Art
Chris Eliopoulos: Letters
Nikos Koutsis: Colors
Mike Toris: FlatsGavin Higginbotham: Editor
Josh Eichhörn: Santa's Little Helper
HEROES
SUPPORTING CHARACTERS
Maxine Jung Dragon
Amy Dragon
Jack Dragon
Tyrone Dragon
Alex Wilde
Jennifer Murphy
Mei Ling Lai
Thunder-Head
Walden Wang (First Appearance) 
VILLAINS
Rapture
The Bully-Boys (First Appearance)
SUMMARY
Maxine Dragon proposes to her husband that they take a million dollar deal to star in a new reality television show. She is eager to have him give up being a superhero so that he can remain safe and be at home with her and the kids more. Malcolm reluctantly meets with Walden Wang, the producer of the show and he is eventually broken down into making the deal. The show immediately proves to be a handful when Amy hugs Walden's legs and injures him.
Meanwhile in Dimension-X, the ladies stranded there finally get to enjoy a bath in a river and get clean for the first time in months. Jennifer is now desperate to get home but at least this current peace enables them all to relax. The relaxation is quickly ended though when a monster attacks them and when they flee they run into a vicious army known as the Bully-Boys. They take possession of the power glove and soon overwhelm Battle Girl, Jennifer and Alex, all of whom are taken prisoner.
Thunder-Head and Mei continue to bond and go shopping so that Kevin has some professional clothes to wear as he attempts to build a new life in Canada. Mei refuses to allow them to display any public affection but is just as excited as her lover at getting home and being alone. The new couple then discuss when to break news to Maxine that Mei is pregnant.
Malcolm is attacked by a group of Alt-Reich thugs that had come up from the United States to Canada solely to target him. He makes short work of the racist criminals as Walden's crew film the whole thing for the show. Malcolm accuses him of setting the whole thing up and endangering his family as a result but this is strongly denied. As the assailants are taken away by the police, Malcolm and his family are then joined by Kevin and Mei.
Christmas arrives and the whole family gets together to enjoy the holidays. Both Malcolm & Maxine and Kevin & Mei discuss with one another about letting the other know about their pregnancies. Eventually it is Mei who speaks out first and gives her daughter the news which causes quite the shock in her.
The Bully-Boys eventually reach their encampment where they fend off an escape attempt from their prisoners. The women are soon locked up in a prison cavern surrounded by the skeletal remains of those captives that came before them. Jennifer tries to break free but the bars are electrified and she passes out. Angel is worried for her mother but Alex assures that she will be fine. They question why they have been imprisoned but quickly learn their horrifying fate: The group will get served up to the Bully-Boys to appease their sexual needs so that they will continue to serve their mistress… Rapture!
Backup Story
AQUARIA
Mer-Made in America – Part 2
6 Pages & Back Cover
CREDITS
Adam McGovern: Story
Paolo Leandri: Art
Dominic Regan: Color
Steve Price: Design