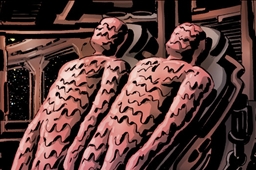 The Morphlings

Personal Information
Name: The Morphlings
Real Name: N/A
Former Aliases: N/A
First Appearance: Savage Dragon #2 / Vanguard #0
Death Issue: Savage Dragon #180 (presumed) (Off Panel)
Cause of Death: Blown up when Wally destroyed the spaceship
Group Affiliations: The Morphlings
Height: Around 6′
Weight: Unknown
Eyes: N/A
Hair: N/A
Date of Birth: N/A
Place of Birth: N/A
Base of Operations: Vanguard's spaceship
Other Distinguishing Features: The Morphlings resemble a mass of melted skin
Marital Status: N/A
Known Relatives: N/A
Powers: Shape-shifting, reassembling from severe damage
NOTE: The Morphlings are owned by Gary S. Carlson.
History
The Morphlings are robots that Vanguard took with him aboard his spaceship as he began a long tour of duty monitoring Earth, protecting it from falling victim to the deadly Tyrrus Combine. These shape-shifting drones assisted the hero in his training sessions and could also provide decoys when necessary. When Wally blew up Vanguard's vessel to destroy the Tyrrus Combine's mechanical drones, the Morphlings were all still onboard and were presumably destroyed in the blast.
Appearances
SAVAGE DRAGON
2 (B/U), 150 (B/U), 175 (B/U), 176 (B/U)
VANGUARD: STRANGE VISITORS
4