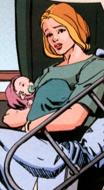 Farrell, Rebecca

Personal Information
Name: Rebecca Farrell
Real Name: See above
Former Aliases: N/A
First Appearance: SuperPatriot: Liberty & Justice #2 (Of 4) (Flashback)
Death Issue: Savage Dragon # 103 (Off Panel)
Cause of Death: Consumed by Universo
Group Affiliations: The Covenant of the Sword
Height: Around 6′
Weight: Unknown
Eyes: Blue
Hair: Blonde
Date of Birth: Unknown
Place of Birth: Unknown
Base of Operations: Unknown
Other Distinguishing Features: N/A
Marital Status: Unknown
Known Relatives: Jake Farrell (brother), Justice Farrell (nephew, deceased), Liberty Farrell (niece, deceased)
Powers: Rebecca Farrell is infused with nanotechnology which enables her to manipulate her form as well as control mechanical objects
NOTE: Rebecca Farrell created by Erik Larsen, with help from Tom & Mary Bierbaum, Keith Giffen, and Dave Johnson.
History
Rebecca Farrell was one of many women that the hero SuperPatriot slept with over the years, although he did maintain a brief relationship with Rebecca. This love affair resulted in Rebecca falling pregnant but when she prepared to tell the father of these events, her brother Jake interfered and convinced her to keep Liberty & Justice hidden.
Some years later, Rebecca died and left her twin offspring to be raised by her brother. However, she was actually spared death by the Covenant of the Sword who took this member and transformed her into a nanotech life-form. Over the years, Rebecca rose to the ranks of a high commander of the Covenant and ran many of their operations.
SuperPatriot became aware of Rebecca's survival shortly after he was united with his children for the first time. He opted to keep her existence secret so as to not distress Liberty & Justice over them being abandoned all of these years. When Universo consumed the Earth in one reality, the Covenant of the Sword were eradicated and Rebecca was now dead for real.
Appearances