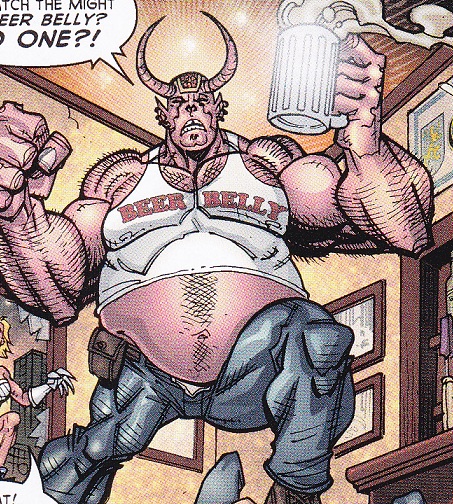 Beer Belly
Personal Information
Name: Beer Belly
Real Name: See Above
Former Aliases: N/A
First Appearance: Savage Dragon #195 (Back -up)
Group Affiliations: N/A
Height: Around 6′
Weight: Unknown
Eyes: N/A
Hair: N/A
Date of Birth: Unknown
Place of Birth: Unknown
Base of Operations: Chicago, Illinois
Other Distinguishing Features: Horns, exposed belly
Marital Status: N/A
Known Relatives: N/A
Powers: Superhuman strength that continues to increase the more he drinks
NOTE: Beer Belly is owned by Scott James.
History
Beer Belly is seen causing random destruction at a bar while Angel is walking by. She quickly defeats him using a tostess pie as a distraction.
Appearances