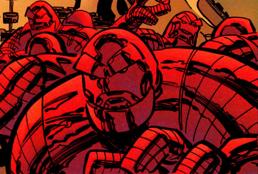 The Dreadheads

Personal Information
Name: The Dreadheads
Real Name: N/A
Former Aliases: N/A
First Appearance: Savage Dragon #47
Death Issue: Savage Dragon #248
Cause of Death: Destroyed by the VC
Group Affiliations: N/A
Height: Around 6′
Weight: Unknown
Eyes: N/A
Hair: N/A
Date of Birth: N/A
Place of Birth: N/A
Base of Operations: Lieberheim
Other Distinguishing Features: The Dreadheads are red colored robots
Marital Status: N/A
Known Relatives: N/A
Powers: Superhuman strength
History
The Dreadheads were the robotic army of Lieberheim's dictator, Dread Knight, and loyally served him until his death. They clashed with the Special Operations Strikeforce but were shut down following their master's defeat. The robots were later reactivated when CyberFace took control of the world. He added the Dreadheads to his vast army and had them battle against Dragon at one point.
Following CyberFace's fall from power, the Dreadheads returned to the control of Lieberheim's ruler, this time Dread Knight's son, Ronald Winston Urass. When Urass become the second Dread Knight and attempted a coup of the United States, he led an army of Dreadheads to the White House. Urass was ultimately defeated and when Mister Glum took control of humanity, he had Dread Knight hand over control of the Dreadheads to him, having them as part of his own army.
The Dreadheads are later used by Osgood during an attack on Stronghold Penitentiary in order to quell an attack by Dart II.  The remaining Dreadheads are destroyed during an attack on the prison by the VC.
Appearances