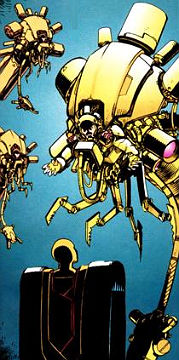 The Council

Personal Information
Name: The Council
Real Name: Unknown
Former Aliases: N/A
First Appearance: SuperPatriot # 1 (Of 4)
Death Issue: Savage Dragon # 103 (Off Panel)
Cause of Death: Consumed by Universo
Group Affiliations: The Covenant of the Sword
Height: Various
Weight: Various
Eyes: Various
Hair: Various
Date of Birth: Various
Place of Birth: Various
Base of Operations: Global
Other Distinguishing Features:
Marital Status: N/A
Known Relatives: N/A
Powers: Superhuman strength, cybernetic enhancements and weaponry
NOTE: The Council created by Erik Larsen, with help from Keith Giffen and Dave Johnson.
History
The Council were the ruling body of the Covenant of the Sword global organisation, running both its legal and covert illegal operations. They oversaw the development of cybernetic technology that enabled them to create a world-wide powerbase. The planet's governments both supported and detested the Covenant in equal measure.
When Universo came to every Earth in the multiverse, he consumed the planet that still had the Covenant's presence.
Appearances
FREAK FORCE VOL.1
2