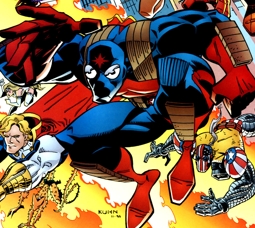 Star III

Personal Information
Name: Star III
Real Name: Unknown
Former Aliases: N/A
First Appearance: Freak Force #1 (Of 3)
Death Issue: Freak Force #3 (Of 3)
Cause of Death: Shot dead by Dr. Nirvana
Group Affiliations: Freak Force
Height: Around 6′
Weight: Unknown
Eyes: Brown
Hair: Bald
Date of Birth: Unknown
Place of Birth: Unknown
Base of Operations: Chicago, Illinois
Other Distinguishing Features: N/A
Marital Status: Unknown
Known Relatives: N/A
Powers: Star has the strength and endurance of a normal man in peak physical condition. He's fairly well trained in the martial arts.
Weapons: Star has four star shooters that fire razor sharp shurikens, one on each forearm and each leg. Star can attach thin wire for climbing.
Special Equipment: Star's costume has a bulletproof chest and headpiece. He drove a number of special motorcycles, cars and other vehicles.
NOTE: Star III created by Erik Larsen, with help from Eric Stephenson and Andy Kuhn.
History
Little is known about the third person to take the mantle of Star. He was hired by the singer Peter Klaptin to take over the role of the vigilante after Chris Robinson was fired from the post and refused to give up the costume. This new Star was installed as the new field leader of Freak Force when the bounty hunters became financed by Peter Klaptin.
A team of supervillains led by Chelsea Nirvana dubbed the Frightening Force launched a relentless assault upon the heroes. The skirmish was carried on all the way to Stronghold Penitentiary where Dr. Nirvana arrived to seek vengeance on his daughter. The evil scientist shot the new Star dead during the conflict.
Appearances