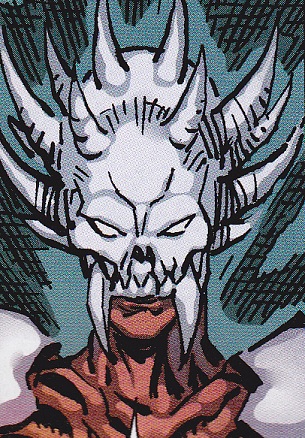 The Mighty One

Personal Information
Name: The Mighty One
Real Name: Alzayah Stone
Former Aliases: N/A
First Appearance: Savage Dragon #190
Death Issue: Savage Dragon 217
Cause of Death: Stabbed in the Back by Spawn
Group Affiliations: N/A
Height: Around 6′
Weight: Unknown
Eyes: Unknown
Hair: N/A
Date of Birth: Unknown
Place of Birth: Unknown
Base of Operations: An artic location
Other Distinguishing Features: The top portion of his head is a skull or he is wearing a mask composed of skull parts.
Marital Status: N/A
Known Relatives: N/A
Powers: Is able to pass powers to others.
History
The Mighty One is a being located in an unknown artic loction. Brenda Funk seeks him out in order to be given powers in order to avenge the death of her former lover Adrian. The Mighy One decides that she is worthy and gives her powers.
Malcolm, Ant, & Spawn later battle with the Mighty One, resulting in his death when stabbed through the back by Spawn.
Appearances