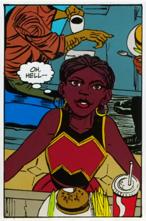 Manning, Gina
Personal Information
Name: Gina Manning
Real Name: See above
Former Aliases: N/A
First Appearance: Savage Dragon #132 (Back-Up)
Group Affiliations: Rock House Diner
Height: Below 6′
Weight: Unknown
Eyes: Brown
Hair: Black
Date of Birth: Unknown
Place of Birth: Unknown
Base of Operations: Chicago, Illinois
Other Distinguishing Features: N/A
Marital Status: Single
Known Relatives: Rock (father), Marika Washington (mother, deceased)
Powers: N/A
NOTE: Gina Manning created by Erik Larsen, with help from Frank Fosco.
History
Joe Manning worked as a part-time janitor for Rikko Chemicals where he became exposed to hazardous materials. He mutated into the form that became dubbed as Rock and incurred numerous medicals bills. His wife, Marika Washington, could not cope with the mounting costs and her own repulsion of her husband's form. She left her husband and filed for divorce, taking young Gina Manning with her.
Gina would not see her father again for years and it was only when her mother passed away that she was reunited with Rock. She moved in with his new family and even aided the workers of the Rock House Diner repel an assault by the Vicious Circle and an unstable former member, Niles. She ends up working at the diner until it was destroyed by the Claw.
Appearances