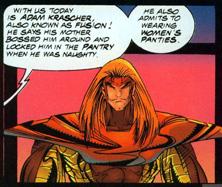 Fusion

Personal Information
Name: Fusion
Real Name: Adam Krascher
Former Aliases: N/A
First Appearance: Deadly Duo #1 (Of 4)
Death Issue: Savage Dragon #197
Cause of Death: Decapitated by Dart II
Group Affiliations: The Vicious Circle
Height: Around 6′
Weight: Unknown
Eyes: Unknown
Hair: Blonde
Date of Birth: Unknown
Place of Birth: Unknown
Base of Operations: Detroit, Michigan
Other Distinguishing Features: N/A
Marital Status: Unknown
Known Relatives: N/A
Powers: Fusion can divide himself into two independent bodies, each capable of generating intense force-beams. They are weaker when apart than when merged together
NOTE: Fusion is owned by Erik Larsen and John Cleary.
History
Fusion was a professional killer who was seen carrying out an assassination by a drunken Kid Avenger. He failed to apprehend the murderer but joined with Kill-Cat in tracking Fusion from their native Detroit to New York City. The villain had been hired to kill a now homeless man that lived in the alleyway protected by Spawn. The supernatural hero defeated Fusion, although the victory was claimed by the Deadly Duo.
Fusion later joins the Vicious Circle and is decapitated by Dart II after giving her bad news.
Appearances
DEADLY DUO VOL.2
1
SAVAGE DRAGON
197