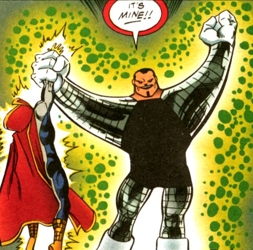 Absorbing Junior

Personal Information
Name: Absorbing Junior
Real Name: Unknown
Former Aliases: N/A
First Appearance: Freak Force #5
Death Issue: Savage Dragon #186 (Back-Up)
Cause of Death: Head crushed by Zeek
Group Affiliations: The Vicious Circle
Height: Around 6′
Weight: Unknown
Eyes: Brown
Hair: Brown
Date of Birth: Unknown
Place of Birth: Unknown
Other Distinguishing Features: Absorbing Junior's arms are covered with metal
Marital Status: N/A
Known Relatives: N/A
Powers: Absorbing Junior is incredibly strong, although his primary ability is to absorb the powers of people he touches
NOTE: Absorbing Junior created by Erik Larsen, with help from Keith Giffen and Victor Bridges.
History
Absorbing Junior sought to make his name by targeting the Dragon, hoping to steal his power so that he could establish himself as a legitimate threat in Chicago. He encountered Mighty Man II instead and despite initially wielding the hero's might, when he reverted to his mortal form of mild-mannered nurse Ann Stevens, he was left weakened and was easily defeated.
Absorbing Junior later seeks out Zeek in order to steal his power. However, the odds are not in his favor as Zeek quickly overpowers him and murders him by crushing his head into a bloody pile of gore.
Appearances
DEADLY DUO VOL.2
3
SAVAGE DRAGON
26, 186 (B/U), 187 (B/U) (Corpse)