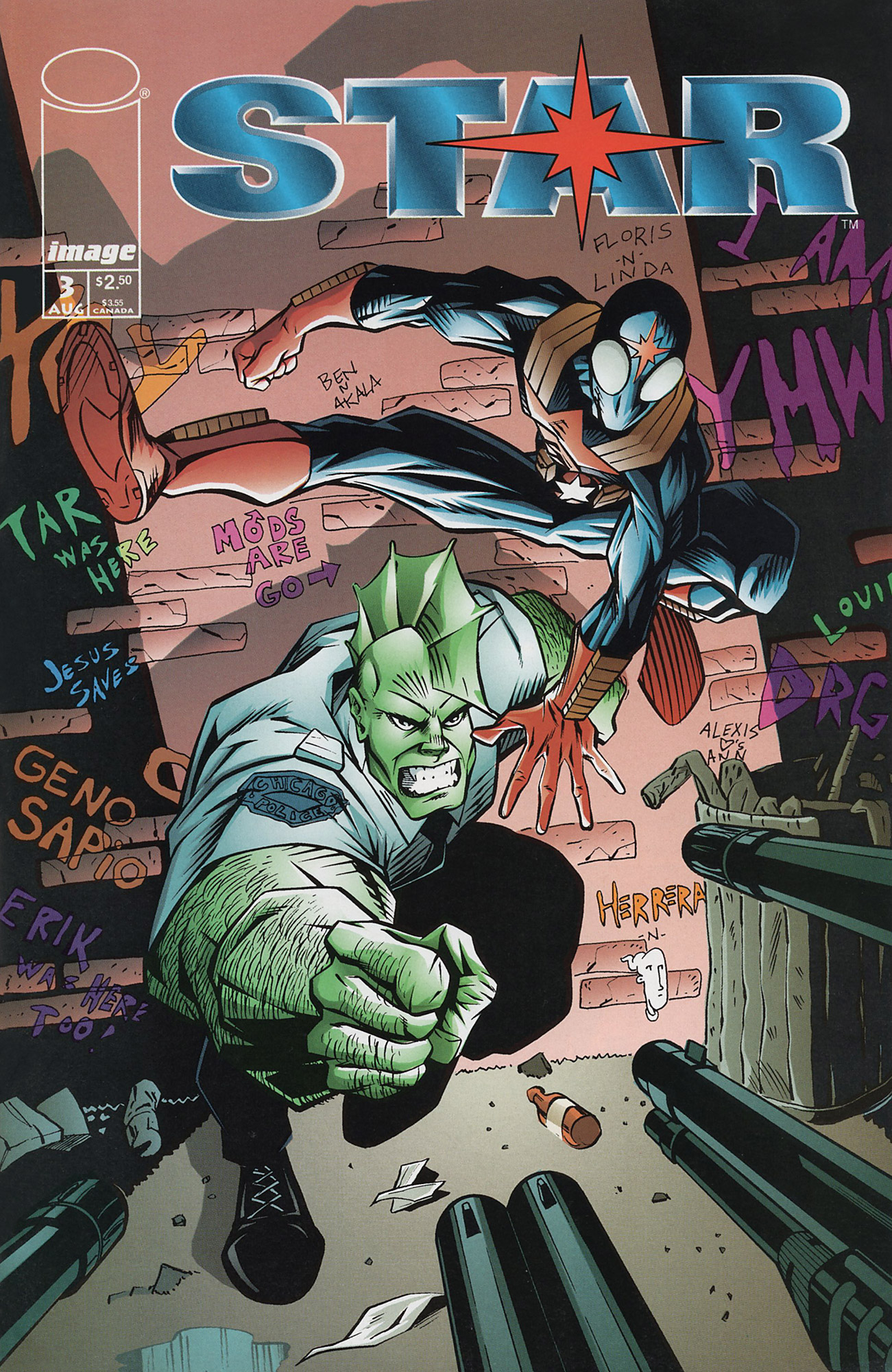 Star #3 (OF 4)
Cover Date: August 1995
Cover Price: $2.50 (US) / $? (CAN)
Format: X-Pages / Color
Cover: Ben Herrera
LEAD STORY:
Pages:
Credits
Story: Tom and Mary Bierbaum
Pencils: Ben Herrera
Inks: Mike Christian
Colors: Reuben Rude & Antonia Kohl
Letters: Chris Eliopoulos
Editor/Creator: Erik Larsen
Heroes
Supporting Characters
Villains
Summary
Out of the wreckage of the stadium, Star appears and commandeers a nearby media helicopter and has its pilot drop him off over the fleeing aircraft. Once aboard the vessel, the villain MoreGore throws his foe out, along with a number of armed men. Each of the troops suddenly explode through an unexplained means, allowing the hero to take one of their parachutes to land safely.
HellRazor and Mako carry out a raid on the costumed man's friend's laboratory where they slaughter everyone they find for learning the secret behind the miniature aircraft. Dragon investigates the deaths and has to inform Star of the bad news but vows to help him claim vengeance if he can.
Just before the concert that night, Chris Robinson is knocked out while outside the replacement stadium. His employer is then abducted by agents of Securitech as he was supposed to meet with the freak policeman and his lover. A decoy group of men explode in the same manner as the armed troops earlier, causing Dragon to end his pursuit to aid his fellow officers in learning the method used to kill these men.
Peter Klaptin awakens within the mysterious company's main building, surrounded by supervillains, and is informed that they have discovered his double life as Star and will inject him with a device that causes molecular-compression, shrinking inanimate objects but blows up organic lifeforms. The syringe is brought towards the terrified musician, who now faces certain death…
Story Notes
Collected Edition
Issue Extras
External Links
Entry at the Image Comics Database