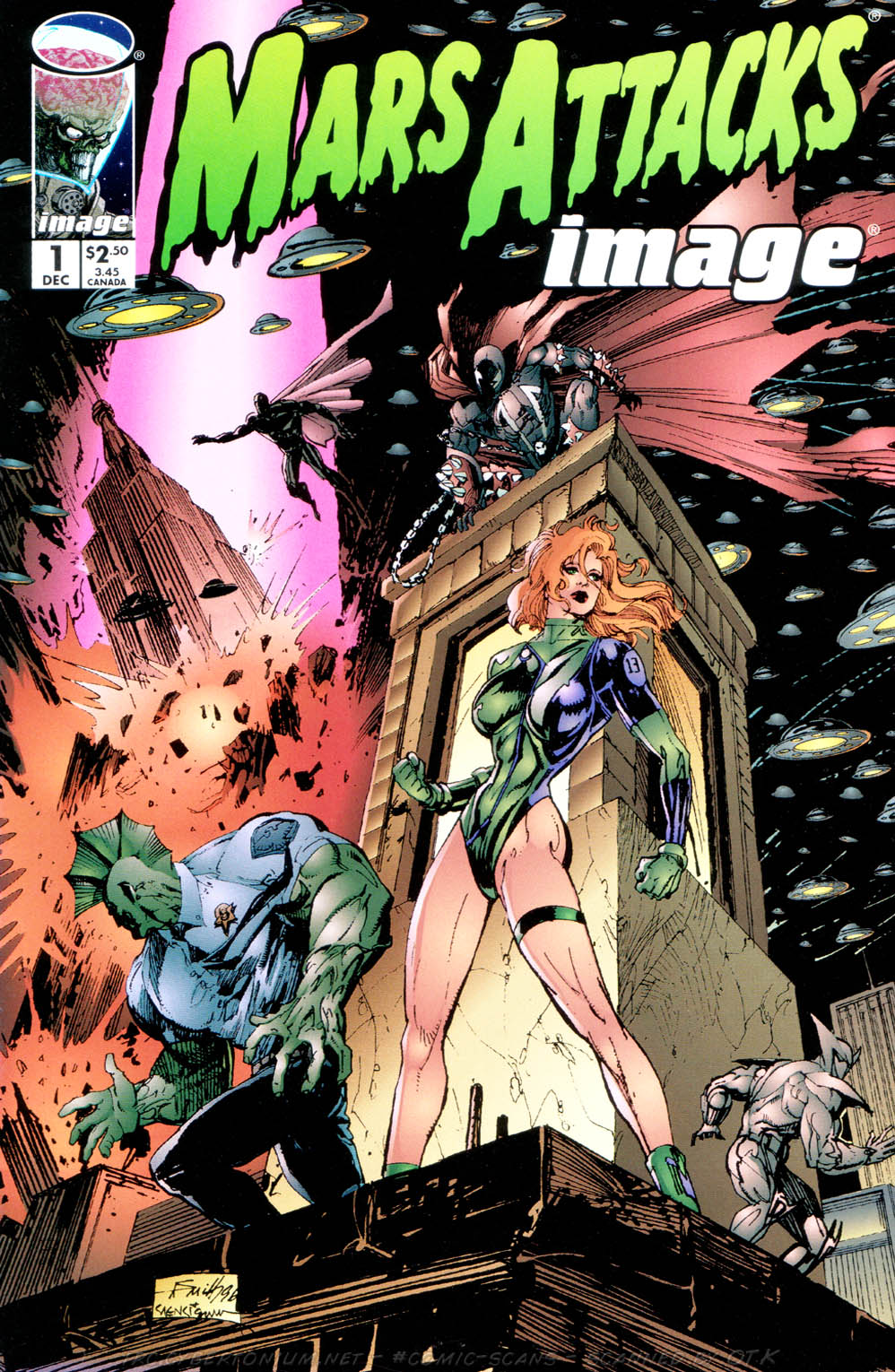 Mars Attacks Image #1
Cover Date: December 1996
Cover Price: $2.50(US)
Format: 36 Pages / Color
Cover: Andy Smith (Pencils), Bill Sienkiewicz (Inks), I.H.O.C. (Colors)
LEAD STORY
Pages: 22
Credits
Script: Keith Giffen
Pencils: Andy Smith
Inks: Bill Sienkiewicz
Colors: I.H.O.C. (Rueben Rude, Abel Mouton, Bill Zindel, Lea Rude, John Zaia, and José Arenas)
Letters: Chris Eliopoulos
Editor: Erik Larsen
Assistant Editor: Garrett Chin
Heroes
Guest Heroes
Shadowline:
ShadowHawk II
WildStorm:
The Wildcats
– Lord Emp
– Zealot
– Maul
StormWatch
Gen¹³
– Fairchild
– Grunge
TMP:
Spawn
Mirage:
Raphael
Supporting Characters
Guest Villains
Topps:
Martians
Unofficial Guest Stars
Real World:
President Bill Clinton
Summary
On the planet of Mars, the warlike race that populate the world decide that Earth poses too much of a threat to them as superhumans may one day become the dominant species and could perhaps threaten their civilization. A huge war party is assembled and dispatched with the sole orders of exterminating all sentient life on Earth.
The first victim of the attack is the SkyWatch orbital home of StormWatch that is crippled and forced to raise its storm door force-field until repairs can be made and agents deployed to deal with the alien threat.
Within a matter of hours, seventy percent of the planet's military forces has been apparently eliminated, and the superheroes are finding it difficult to organize themselves enough to repel the invasion. Millions of innocent human lives are lost in such a brief amount of time.
Dragon aids his fellow police officers in Chicago before he is recruited by SuperPatriot to help his teammates defend the populace from a methodical genocidal wave of attacks. The President of the USA tries to gather other heroes such as the WildC.A.T.s, who are busy repelling an attack in the Halo Building. Spawn launches into battle to help his homeless friends as enlarged ants slaughter passers-by. All of these acts mean less than nothing to the Martians as their plans proceed unopposed…
Story Notes
– Reference to the Mars Attack trading card series includes: the Martians enlarging bugs, Paris' Eiffel Tower attacked by a giant caterpillar (Horror in Paris), a pair of soldiers wielding rocket launchers (The Human Torch), a Martian indiscriminately killing a dog, and a group of people in a Martian metal claw (Crushed to Death).
– Grunge's disbelief of the Martian invasion while watching on television and stating as a "ripoff of the Burton movie" is a reference to Tim Burton's Mars Attacks movie adaption, Mars Attacks!.
– The destroyed headquarters of Youngblood appear in one panel.
Collected Edition
Issue Extras
– A Mars Attacks pin-up by Nathan Cabrera, Joe Weems, and I.H.O.C.
External Links
Entry on the Image Comics Database
PREVIOUS ISSUE: N/A NEXT ISSUE: ISSUE #2