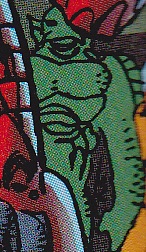 Lagoombah

Personal Information
Name: Lagoombah
Real Name: N/A
Former Aliases: N/A
First Appearance: Savage Dragon #23
Death Issue: Savage Dragon #191
Cause of Death: Has a giant hole blown through his chest by the Dreadheads
Group Affiliations: The Vicious Circle
Height: Around 6′
Weight: Unknown
Eyes: N/A
Hair: N/A
Date of Birth: Unknown
Place of Birth: Unknown
Base of Operations: Chicago, Illinois
Other Distinguishing Features: Green scaly skin and fish gills.
Marital Status: N/A
Known Relatives: N/A
Powers: Super-strength.
History
Lagoombah is briefly seen at a Vicious Circle location during a battle between DownLoad and Brainiape. He later helps Dart II on her attack on Stronghold Penitentiary in order to free other members of the VIcious Circle. However, he is killed by the Dreadheads during the attack.
Appearances