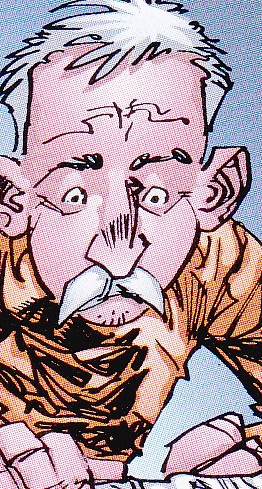 Dundorf, Virgil
Personal Information
Name: Virgil Dundorf
Real Name: See above
Former Aliases: N/A
First Appearance: Savage Dragon #200
Group Affiliations: None
Height: Around 6′
Weight: Unknown
Eyes: Brown
Hair: White
Date of Birth: Unknown
Place of Birth: Unknown
Base of Operations: Chicago, Illinois
Other Distinguishing Features: N/A
Marital Status: Unknown
Known Relatives: N/A
Powers: N/A
NOTE: Virgil Dundorf is owned by Simon Mallette St-Pierre.
History
Virgil is Dragon's roommate while Dragon is in prison. When Dragon is kidnapped by the Vicious Circle from prison, Virgil shows genuine concern as to the fate of Dragon.
Appearances
SAVAGE DRAGON
200
SUPER FREAKS
One-shot (B/U, not in continuity)