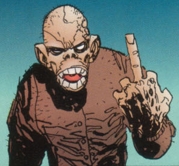 Undead Fred
Personal Information
Name: Undead Fred
Real Name: Unknown
Former Aliases: N/A
First Appearance: Savage Dragon #34
Group Affiliations: The Undead
Height: Below 6′
Weight: Unrevealed
Eyes: White
Hair: N/A
Date of Birth: Unknown
Place of Birth: Unknown
Base of Operations: Various
Other Distinguishing Features: Decaying flesh.
Marital Status: N/A
Known Relatives: N/A
Powers: He is undead, and thus immortal. He also possesses superhuman strength and can create other undead members with a simple bite.
History
Undead Fred was one of the legions of the Undead that was summoned to Chicago by Abner Cadaver when the Vicious Circle sought to prolong the life of a physically unstable CyberFace. Undead Fred and other zombies briefly fought against Dragon and Hellboy before they were all sent home by Cadaver.
Appearances