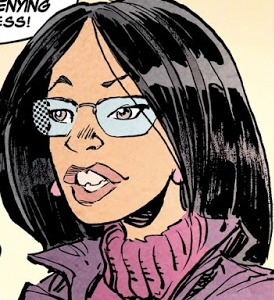 Janice
Personal Information
Name: Janice
Real Name: See above
Former Aliases: N/A
First Appearance: Savage Dragon #228
Group Affiliations: N/A
Height: Around 6′
Weight: Unknown
Eyes: Brown
Hair: Black
Date of Birth: Unknown
Place of Birth: Unknown
Base of Operations: Toronto, Canada
Other Distinguishing Features:
Marital Status: Unknown
Known Relatives: N/A
Powers: N/A
Weapons: .
History
Janice is a friend Maxine makes while in Toronto. She is first seen briefly talking to Maxine.
Appearances