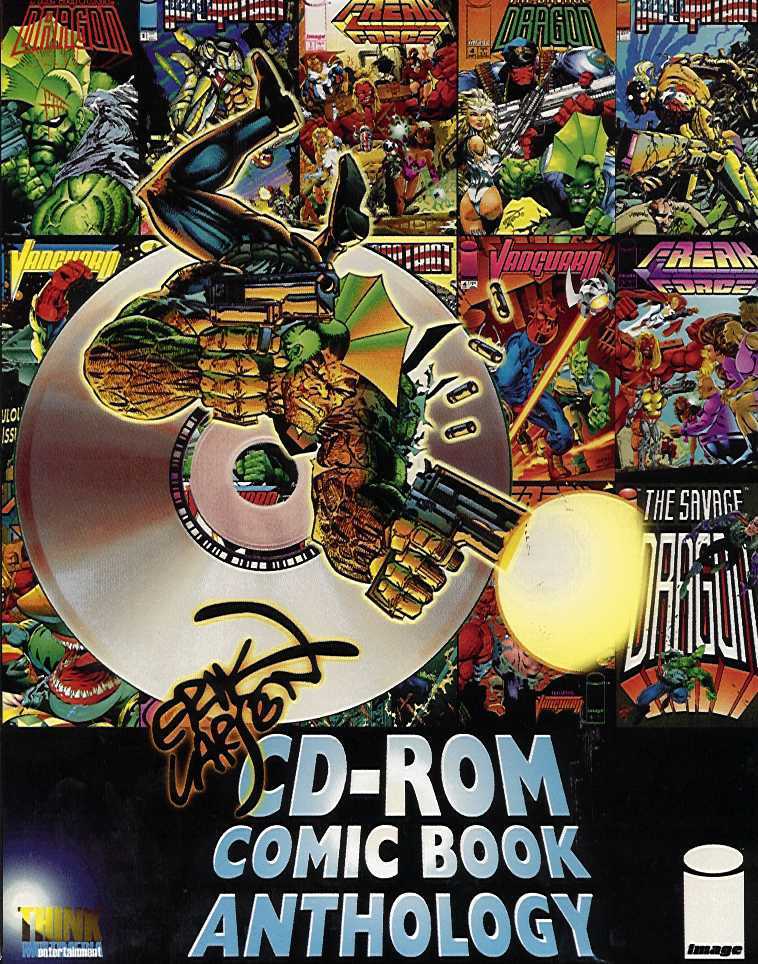 Erik Larsen's CD-ROM Comic Book Anthology
Product ID: TNKMM0001
Platform: PC and Mac
Packaging: Retail Box
Media: CD-ROM
Copyright date: 1995
Publisher: Think Multimedia
DESCRIPTION (From The Packaging)
Presenting over 650 digitized pages from Erik Larsen's outstanding comic book library.
Complete and uncut! This ultimate collector's item features The Savage Dragon (mini-series 1-3, on-going series 1-10), Super Patriot 1-4, Vanguard 1-6, Freak Force 1-4 and much more!
Exclusive never before reprinted, first ever appearance of the Savage Dragon in Graphic Fantasy #1! Self published by Erik back in 1982, this very rare book is a must for any collector! Plus, additional Savage Dragon and Vanguard stories from Erik's early days including Graphic Fantasy #2 and Megaton #3.
Also includes… Erik's private sketchbook with never before published original drawings, layouts and character designs.
Bonus: An exclusive video interview with Erik Larsen.
SYSTEM REQUIREMENTS
PC Windows 3.1
Required CPU
486-25
Required RAM
8MB
Required Audio
Yes
Supported Video
VGA 256 Color
PC Windows 95
Required CPU
486-25
Required RAM
8MB
Required Audio
Yes
Supported Video
VGA 256 Color
Mac System 7.1
Required CPU
Mac II
Required RAM
5MB
Supported Video
13″ 256 Color