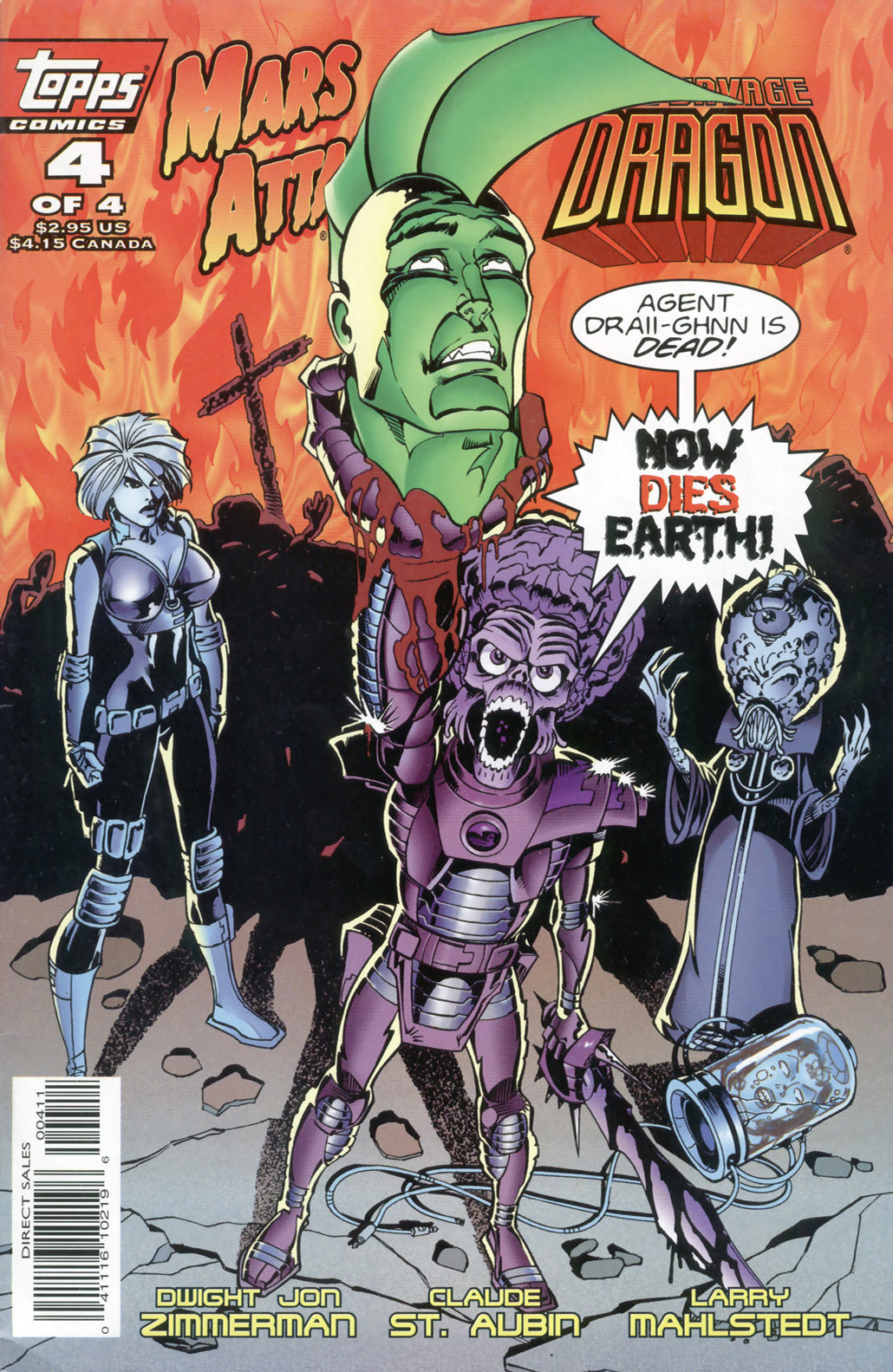 Mars Attacks the Savage Dragon #4
Cover Date: March 1997
Cover Price: $2.95 (US) / $4.15 (CAN)
Format: X-Pages / Color
Cover: Jean-Claude St. Aubin
"Hard Rain!"
Pages:
Credits
Story: Dwight Jon Zimmerman
Pencils: Jean-Claude St. Aubin
Inks: Larry Mahlstedt
Colors: Digital Chameleon, Jessica Kindzierski, and Lisa Slykerman
Letters: John Costanza
Editors: Jim Salicrup and Dwight Jon Zimmerman
Heroes
Supporting Characters
Colleen Mackay
Villains
The Martians
Alternate Colleen Mackay
Summary
The Martian invaders rejoice at the death of their renegade agent Draii-Ghnn and prepare to use devices to fire loose asteroids in the vacuum of space at planet Earth as their mobile forces are being defeated by the superhuman resistance. Dragon is dismissed as being an alien but was simply the blueprint upon which his doppelganger was based.
The freak policeman then tears apart what is left of the alien's facilities and resources as Colleen Mackay uses her enemy's own machines to launch the asteroids at their planet instead, wiping out the entire race. She then uses a portal device to a parallel world where she begins a whole new campaign to wipe out another timeline's alien invaders… Dragon is left with the task of evacuating those in stasis and returning home to see how his beloved Chicago survived the invasion.
Story Notes
Collected Edition
Issue Extras
External Links
PREVIOUS ISSUE: ISSUE #3 NEXT ISSUE: N/A